Readit, PicHit.Me, Fitbit Tracker and more are your app highlights of the week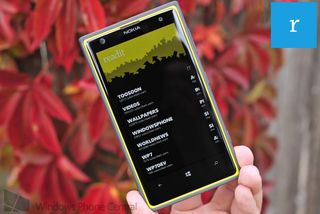 Another week has gone by and we've got a handful of great new apps in the Windows Phone Store. A lot can happen in the span of one week, so we're here to roundup and highlight any new apps in the Store. We'll also look at popular apps that were updated and any betas you should be aware of. That's right, it's time for another weekly app highlight from your friends at Windows Phone Central. We never want you to fall behind on what's happening, so let's get started.
New
Readit –There's no way around this, Readit is the most stunning Reddit client for Windows Phone. This app quickly took Daniel's spot as Editor's Choice for best Reddit client. The app is not only gorgeous, but packs a ton of features. You're getting things like live tiles, lock screen backgrounds/notifications, toast notifications, and much more in this app. Are you a Redditor on Windows Phone? You need to download Readit in the Windows Phone Store today. (Trial/$1.99)
PicHit.Me –Want to turn your Windows Phone photography into some extra cash? You're going to want to join PicHit.Me for Windows Phone today then. This new service has been met with rave reviews from the community. It's helping create a marketplace where someone needing a particular photo can utilize the vast network of smartphone cameras out and about at any given moment. Get this app in the Windows Phone Store. (Free)
Spare Phone –Google and Windows Phone don't exactly have the rosiest of relationships. They're essentially giving Microsoft the middle finger by not developing apps for Windows Phone. Thankfully we have a strong community of third-party developers who step up to the plate. Spare Phone will allow you to make free VoIP calls using your Google Voice account. It works over either Wi-Fi or a cellular connection. It worked fine for us when we were testing it out. Use Google Voice and want to make calls? Get Spare Phone in the Windows Phone Store. ($3.49)
InstaBlender –Don't judge, but we're pretty big fans of social photography sites like Instagram. InstaBlender is an app that will help you create pictures to stand out from the sea of filters imitating analog photography. It works by letting you combine two images into one, super imposing the images together to create something truly unique. It's free, works well, and is recommended for anyone with a creative bone in them. Get it in the Windows Phone Store. (Free)
PicFeed –Speaking of Instagram, PicFeed is an app that you can't go without if you're big into the social network. It allows you to create custom feeds for Instagram based on either users or hashtags. It's a powerful way to stay abreast the millions of pictures on the network. Get it in the Windows Phone Store. (Free)
Updated
Fitbit Tracker –Both Daniel and myself just picked up a new gadget this week. While our new Fitbit Force won't sync to our smartphones like on iOS and Android, it's still one of our favorite activity trackers and nothing touches the Fitbit Tracker app on Windows Phone. This is as close as you can get without being considered official. The updated this week makes some changes to reflect new directions in the Fitbit ecosystem. For example, Active Minutes have been added to replace the Activity Score. We're also getting toast notifications with this app that will alert you when you hit your goal, change a rank on the leaderboard, and more. It's really great and any Fitbit user should get it from the Windows Phone Store. (Free)
Beem –Den Delimarsky is a pretty stellar developer. When he's not busy finishing up his last year of undergrad, he's making some killer apps for Windows Phone. We may officially have Digitally Imported available for Windows Phone, but his unofficial client Beem is still hugely popular and even has some features the official one lacks. However, the official app had a handy sleep timer for when you wanted some music to lull you to sleep. Beem picks up that feature in the latest update and still stands as an incredible Digitally Imported app. If you want it be sure to grab it from the Windows Phone Store. (Beem)
Zomato –Want to find a restaurant when you're out on the town with some friends? Zomato for Windows Phone picked up an update this week that makes the app worth a download for when you're wanting to find a place to eat. You're getting a brand new UI in this latest version. Plus new features like mood-based recommendations from inside the app. Get it in the Windows Phone Store. (Free)
Amazing Weather HD –Here's a weather app for Windows Phone that has been hugely popular ever since it first came out. Amazing Weather HD is by far one of the most gorgeous weather applications you'll find around. This update fixes some lockscreen issues and adds Simplified Chinese and Hungarian as available languages. Want this beautiful app? Grab it in the Windows Phone Store. (Trial/$1.99)
Beta
Snapback –Another app from Den, this time an unofficial Snapchat client coming soon to Windows Phone called Snapback. We've been in the beta for a weeks now and are pretty impressed with this app. So far we're seeing feature parity with the official Snapchat app on both Android and iOS. The only thing missing are Toast notifications, Live Tiles, and a Lens. We'll let you know when this app hits the Store.
Games
Trouserheart –Another gem from game developer 10Tons Ltd. Trouserheart is an awesome adventure game in which you look for your pants. Controls, graphics, and gameplay are all top notch and make this game worth picking up in the Windows Phone Store. (Trial/$1.99)
Star Wars: Tiny Death Star –If you're a Star Wars fan we've got another fun game for you. Disney Mobile has produced an entertaining and "cute" game on both Windows Phone 8 and Windows 8. Take control and build the Death Star layer-by-layer in this game. Get it in the Windows Phone Store or the Windows Store. (Free)
And there you have it folks. Your apps and games not worth missing from the past week. Which one is your favorite so far? Did we leave an app out that deserves to be on here? Let us know below!
Get the Windows Central Newsletter
All the latest news, reviews, and guides for Windows and Xbox diehards.