Microsoft threw a real-life Forza Horizon Festival and took us along for the ride
To celebrate the launch of Forza Horizon 4, Microsoft threw a real-life festival at Britain's iconic Goodwood Estate.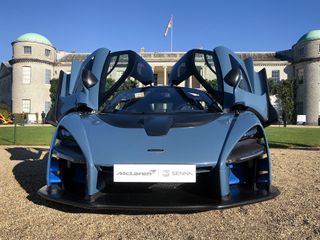 Besides the open world nature, the festival setting and atmosphere is one of the biggest difference between Microsoft's Forza Horizon and Motorsport franchises. Both share the same tech to produce stunning racing experiences, but while one is a serious track-based affair, the other is a chance to let your hair down and get crazy.
And it's just this that Microsoft did with the real-life Horizon Festival, thrown to celebrate the launch of the company's highest rated-exclusive game of this generation. People came from the four corners of the globe to take part in the event, thrown at the beautiful, historic, and iconic Goodwood Estate.
Here's a little peek behind the magic.
The venue
Goodwood is a famous name in the motorsport landscape, hosting the famous Goodwood Festival of Speed and the increasingly popular Goodwood Revival every year.
While there is a proper race circuit at Goodwood, its hillclimb route is perhaps better known, and it also has a rally course in the sprawling grounds and a race course for the four-legged kind of horse power.
Goodwood itself is a stately home on a huge estate in the south of England, just outside the town of Chichester. Neighbors include Rolls Royce, with the prestige car maker's factory just minutes away.
Goodwood is not only an incredible place, but the perfect location to bring the Horizon Festival to life. The setting is a great fit for the British countryside depicted in Forza Horizon 4 and most importantly, there's space to play.
Supercars and Hoonigans
The UK isn't only home to the setting for Forza Horizon 4, but also its cover cars. Naturally, the star attraction was the McLaren Senna, the million dollar hypercar that only a lucky few around the world will ever be able to call their own.
For those of us in attendance, Horizon at Goodwood would be probably the only opportunity to ever touch this incredible machine. Probably handy they hid the keys, though.
Up close, it's impossible not to be awe-struck. It's also easy to see why a car like this is perfect for the cover of Forza Horizon. On a technical level it's a masterpiece of engineering, but it's also exactly the sort of car you'd put posters of on your wall as a child. The rear wing is almost comically large, acting not only as a wing but an air brake, but from the gullwing doors to the sheer size of the thing, it's enough to make any car fan go weak at the knees.
While no-one was out in the Senna, the next best thing was being driven around in a McLaren supercar by one of the company's professional drivers. My ride? A bright orange McLaren 720S. The numbers alone make your eyes water, with 710 bhp from a 4 liter twin-turbo V8 with a 0-62mph time of 2.9s. It's pretty handy that McLaren provided a driver because not only were the roads a little damp, the car itself is absolutely savage.
It truly was a real-life Forza experience, because accelerating that fast on British country roads gives your eyes the same kind of motion blur as you'd get in the game. Needless to say it was a hell of a rush.
Microsoft also flew in the Hoonigan, Ken Block, for part of the festivities. While mainly filming promotional material, one neat little moment for those of us in attendance was using a high frame rate camera to film a slow-mo scene where we would be thrown out of the way of the Hoonicorn.
Or as I called it, falling over.
I wanna go fast
The most amazing thing about the event was the unique experiences. I've been out in supercars and race cars before, both as a driver and a passenger, but the backdrop certainly made the Horizon Festival that bit more special.
A couple of firsts as well: I've never been in a hot air balloon before and I wasn't terrified (promise), and I got to drive a very old version of the other Forza Horizon 4 cover car, the Land Rover Defender. If you ever think driving is too much hard work, a 60-year old Land Rover will put everything into perspective.
Goodwood also transformed parts of the estate into actual Forza Horizon 4 experiences. One of the signature features, the changing of the seasons, was produced around Goodwood's rally stage, with parts representing each season, and even some fairly brave actors at the side of the track bringing everything to life.
As a first-timer in a rally car, let me say it's nothing like a video game. It's uncomfortable, actually terrifying but nevertheless, an incredible experience that provides a real "can I go again" response. It doesn't matter how fast you've been, going fast over terrain like that, often sideways, is unlike anything else.
The other off-roading experience was a recreation of the showcase hovercraft race from the game. In this instance, the hovercraft was smaller and the car much bigger, but the idea was still the same. Ford had very kindly provided the only Raptor in Europe, but only Ken Block was allowed to drive that for some reason, so everyone else went out in the still impressive, but slightly tamer, Ford Ranger.
Can you say Hollywood grandstand finish? Oh and a word of advice to anyone who may ever go in a hovercraft: Wear glasses and keep your mouth closed. Thank me later.
Game time
Not everything was outside, and while I was privileged enough to have spent the week prior to the event playing the game for my review, there were some new experiences on hand.
By now everyone playing Forza Horizon 4 will be familiar with the Team Adventure multiplayer mode, but the Horizon Festival was my first chance to play it properly with a team of people I was in communication with. Regardless of any bugs or features we'd like to see added, one thing was immediately clear and remains so to this day: It's definitely best played with friends.
The experience of chatting with your friends as you play Team Adventure is a big part of the experience. It's rare that any of us will be playing on LAN with a full team, but it was a unique way to play Forza Horizon 4, and being able to look at the people on your team that smashed into you and send them an actual scowl makes a difference.
The most interesting part for me was trying out Forza Horizon 4 in a racing rig with a wheel, and in one case, full motion. Horizon isn't a race series I'd ever normally play with a wheel, I appreciate the more casual, arcadey nature of its gameplay and enjoy using a controller.
Trying with a wheel is transformative, and actually really hard work. Circuit races on roads are pretty fun, but if you go off road things get a lot more serious. And a lot more physically demanding. If you have a wheel I definitely recommend trying it out at least once, but it's not necessarily something I'd recommend for regular play. Forza Motorsport 7 is a much better fit.
Living the Horizon Life
Bringing one of my favorite games to life was a unique experience to be part of, and while it was a massive amount of fun, it was also clear to see how much Forza Horizon is important to Xbox. From the marketing videos being filmed there to the sheer scale and expense of putting on an event like this, it's no small thing.
Forza Horizon 4 has since launched to rave reviews, getting the highest rating on Metacritic for a Microsoft exclusive in the Xbox One generation. The shared world is a new approach to the series, but the fresh content keeps on rolling, like the recently launched route creator and the forthcoming Fortune Island DLC.
From a personal perspective, a massive thanks goes out to Microsoft for the invitation to be part of something so spectacular as they launched what is definitely one of my favorite games of this generation.
Forza Horizon 4 is available now for Xbox One and Windows 10 starting at $60.
See at Amazon (opens in new tab)
Windows Central Newsletter
Get the best of Windows Central in in your inbox, every day!
Managing Editor - Tech, Reviews
Richard Devine is a Managing Editor at Windows Central with over a decade of experience. A former Project Manager and long-term tech addict, he joined Mobile Nations in 2011 and has been found on Android Central and iMore as well as Windows Central. Currently, you'll find him steering the site's coverage of all manner of PC hardware and reviews. Find him on Mastodon at mstdn.social/@richdevine
Is that a crew 2 cap u are wearing ? :D

It looks like it is one :P

You know it. Hoped it might prompt someone to hand me a Forza cap. It didn't work :(

You, lucky blighter! 😂👍. Hopefully we see more of these fan events and competitions. They could make some participation via Xbox dashboard only as a reward for Xbox gamers and some via the Windows digital store *hint* *hint*😂.

Wow! What an event! Wonderful coverage of it as well, Richard :)
Xbox (and Microsoft) is really pampering their gamers by now.
And I'm glad to see there is no Microsoft-naysayers in the comments either - Because this really should just be taken in and appreciated :) And this comes from someone who never plays racing games :)

I've got a G920 racing wheel and pedals at home. I don't generally like the arcade feel of Horizon. Does it feel more realistic with the racing rig? Great article by the way
Windows Central Newsletter
Thank you for signing up to Windows Central. You will receive a verification email shortly.
There was a problem. Please refresh the page and try again.