5 reasons to buy Surface Go and 2 reasons to pass
It's certainly a fine device, but the Surface Go isn't for everyone.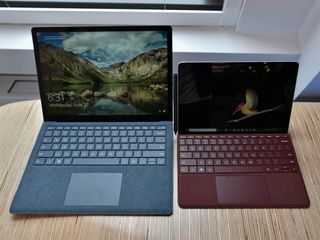 Microsoft's Surface Go, expected to be released August 2, 2018, is a tablet with attachable keyboard and Surface Pen compatibility. It's more affordable and portable than the Pro line, though its size and hardware inside will no doubt turn some away. Let's take a look at the reasons for and against investing in this hardware to help you make a final decision.
See at Microsoft (opens in new tab)
Reasons to buy Microsoft's Surface Go
There are a lot of good reasons to choose the Surface Go.
Surface Go is available at a relatively cheap price
Starting at about $399 (opens in new tab) for the 64GB configuration and about $549 (opens in new tab) for the 128GB configuration, the Surface Go is more affordable than its Surface Pro sibling, which starts at about $799 (opens in new tab).
Though it doesn't have a lot of the same stuff that makes the Pro such a beast — Intel Core processor (CPU) options, higher-res display, more storage, and more RAM — it's still a perfectly suitable device for those always on the move or for enterprise and education sectors. Those who want to get their hands on a Surface device can now do so for hundreds less than before.
Surface Go is portable
Weighing in at just 1.15 pounds (522 grams) without the Type Cover attached, the Surface Go is hardly noticeable when carrying it around in a backpack or even under your arm. It's likewise just 0.33 inches (8.3 mm) thick and measures otherwise 9.65 inches (245 mm) by 6.90 inches (175 mm), meaning it's not going to take up much room no matter where it sits.
Add in the fact that LTE support is coming to some future models, and you might find that you can't leave your Surface Go at home.
Surface Go is compatible with Surface Pen
I don't know at this point if I'd buy a Surface device without Surface Pen support, and thankfully the Go won't make us decide. It's sold separately for about $100 (opens in new tab), but if you're into sketching, jotting down notes, or using any of the myriad apps created especially for it, the Surface Pen is a no-brainer.
Like the Surface Pro, the Go has a magnet built into its side to keep the Surface Pen in place when not in use.
See Surface Pen at Microsoft (opens in new tab)
Surface Go has an attachable keyboard
Like the Pro, the Surface Go has its own custom Type Cover that attaches magnetically when you want to use the tablet as a PC. It's also sold separately, ranging from about $100 to about $130 (opens in new tab), but it unlocks the full potential of the device.
It has an Alcantara covering, it has full-sized backlit chiclet keys, and it has an enormous touchpad — in line with the size of the Surface Pro Type Cover — so you don't feel jammed up when using it.
See Type Cover at Microsoft (opens in new tab)
Surface Go runs Windows 10 S mode
To aid the hardware inside in getting the best performance possible, the Surface Go runs Windows 10 in S mode. You still get all of the main features of Windows 10, including security perks, virtual desktops, and built-in apps, but performance is kept more regular across the board.
Like other devices running Windows 10 S mode, you can do a one-way switch over to a standard version if you find that the lighter version of the OS is no longer cutting it, or if you find that you absolutely need an app or program that isn't in the Microsoft Store.
Reasons not to buy the Surface Go
There are likewise a couple of good reasons why you might want to opt for a different device.
Surface Go doesn't have the right performance
For anyone who needs a PC for heavy multitasking, the Surface Go might cause frustration. Its Intel Pentium Gold 4415Y CPU isn't necessarily a poor performer; it simply won't match the performance from a Core i5 or Core i7 CPU as found in the Surface Pro.
The Surface Go's baseline configuration is using 64GB of eMMC storage — you can also choose a 128GB SSD and there's supposedly a 256GB model coming in the future — so if you like to keep all your data in-house, you might find that the drive is a bit crowded. The solution? Grab a Surface Pro (opens in new tab) for better overall performance, or consider adding additional microSD storage to the Go.
Best microSD cards for Surface Go
Surface Go doesn't have enough ports
On a device this small, it's understandable that there aren't a lot of ports. While you might want to stick with a larger device with more built-in ports, what you do get — USB-C 3.1, microSD card reader, 3.5mm audio, and Surface Connect — sets you up for some interesting possibilities for expansion.
The Surface Dock (about $200) (opens in new tab) hooks up with Surface Connect and offers for ports Ethernet, two Mini DisplayPort, four USB-A 3.0, and an additional 3.5mm audio jack. There are likewise quite a few USB-C adapters that can come in handy, and which are far more portable than the Surface Dock.
Best USB Type-C adapters in 2018
Bottom line
The Surface Go should prove to be quite popular, offering up a portable design that holds onto a lot of the features that makes the Surface Pro such a hit. It works with the Surface Pen, it has its own Type Cover, and it's your best bet for an affordable Surface device. However, some might need better performance — in which case the Pro is a perfect alternative — and some might need to expand the port selection with an adapter or dock.
See at Microsoft (opens in new tab)
More resources
Windows Central Newsletter
Get the best of Windows Central in your inbox, every day!
Senior Editor, Laptop Reviews
Cale Hunt is formerly a Senior Editor at Windows Central. He focuses mainly on laptop reviews, news, and accessory coverage. He's been reviewing laptops and accessories full-time since 2016, with hundreds of reviews published for Windows Central. He is an avid PC gamer and multi-platform user, and spends most of his time either tinkering with or writing about tech.
As a university student in accouting, I'm debating between 64gb emmc or 128ssd with more ram :/

If you are going to work on it that I would suggest the 128 ssd one, since it also can write/read page files faster when memory is full and I guess it is more durable. The 8gb memory also helps a lot if you want to e.g. edit big spread sheets, multitask etc.

Find a refurbished Surface Pro, Surfacebook, or XPS13. 10" is too small to really be productive. Surface Go would be a nice secondary machine.

Productive for whom? Maybe not for you. As a Surface 3 user for many years all I can say is that it is more than enough for me. Either of us are only right or wrong in our own context. The same applies to all this concentration on speed and resources. A few people no doubt really need them and care. Arguably, note the qualifier, most people who are genuinely productive with words or spreadsheets or general correspondence have no need for the power. Any more than they need a car which is limited to a mere 155mph in a country where the national speed limit is less than half that. Note the word "need". I am not against their enjoying their machismo.

I really appreciate your analogy (if I can call it like that), going to think twice before choosing the configuration

I would always choose the most storage you can afford.

Personally I'd go for the SSD over eMMC any day. If price is a concern, have a look at Costco's model: $550 for 4GB/128GB SSD with keyboard included.

Honestly don't fret about the type of storage EMMC vs SSD. As an avid Surface 3 owner, Everything chugs right along when running Excel with two windows running side by side. My only concern is the stupid size of the drive. I can't live without the 128GB. I barely have anything on my PC at the momnent and i'm pushing 73GB. I always keep my most recent excel docs on HD do to the lag in starting a doc thats loaded in the clouds. Besides i you use One note to keep track of lectures ( i use it constantly as a teacher, its amazing) you will start taking notes and adding pictures from lectures and text books using office lens. Don't hesitate purchasing the 128GB SSD drive. You won't regret the added security. If possible grab a good dongle for miracasting to your college room TV. That way you can have a full fledged experience for large spreadsheets.

I like your post. I'm a teacher too. But why the dongle? Can't we Miracast straight from the Surface Go? Or are you saying the dongle is for something else (or maybe Miracast doesn't work on Windows 10 S)?

I think Brian is talking about a MS Wireless adapter for the TV as most TV's don't support Miracast or WiFi direct.

I got to demo one of this over the weekend and fell in love. It's incredibly small (moreso than I thought it would be) and a perfect companion tablet for a desktop or work machine. At first, I didn't think it would be worth the money since I have a Xiaomi mipad 2 (Windows 10) but the performance boost was amazing and the size was barely bigger than the 8 inch I have already. Will save and buy one in the future for sure

I am possible interested in this one as well, though a bummer the entry version has eMMC instead of a SSD.

People keep saying the eMMC one will be slow, but nobody has done a real comparison yet. The latest Samsung eMMC 5.1 64GB chips are 330MB/s so you might hardly notice a difference for many tasks.

That's a fair point, it'll be interesting to see the benchmarks. I keep harping on this, but a 4GB/64GB model with keyboard is $500. The Costco exclusive is $550 for 4GB/128GB SSD with keyboard. I'd still say that's $50 well spent.

the Costco bundle is a great one.

Good to hear, I will wait for the LTE version, and yes, it is noticeably lighter and smaller than the Surface Pro. So as you mention, a possible use case for the Surface Go is as a secondary device even for professionals for mobile use, including travel. The Surface Go is something you can have with you all through the day. I think the arguments presented in the article pro and con are fair, but perhaps it should be mentioned that an important factor in your choice should be whether the Surface Go is intended to be your main/only PC or to serve as a secondary device - depending on the use case of course.

It felt a little cramped and I don't have large hands by any means. But, I would be content typing an article or paper every so often. Just would want something larger/more standard size.

I figure that with a USB-C hub, I could use this as a desktop replacement with a single connection. USB-C hub are readily available with hdmi, ethernet, multiple USB ports for less than 100$

Or pick up a Surface Dock on eBay for the around same amount.

Can we charge the Surface Go via the USB-C?

Can you please publish a subject about how to upgrade Lumia 1020 from win 8.1 to win 10 .. Insider app is not working anymore on win 8.1.

If you're still rocking the 1020, it's time to buy a new phone. ;-) Just sayin'

I have W10 on my 1020, I just use it as a wireless device or Camera now. W8.1 seemed better as a phone. I have a 950 XL now, you are better off with the 1020, but Win 8.1 mobile is no longer supported and neither is 10 Mobile. You just want to go from the pan to the fire. I am going to tough it out for awhile as I love having my phone, tablet, laptop and desktop all linked and synced.
I don't want Droid or Apple, but I maybe can get a good trade on my 3GS iPhone. It was not terrible for the time.

I checked out an 8G/128G burgundy colored Go at the Microsoft Store at the Burlington Mall in Burlington Massachusetts. For the short amount of time that I spent on the fully loaded unit, I liked what I saw. My decision whether or not to purchase one will hinge on reviews...particularly ones that compare it with the Surface 3. If it is an improvement, I'll donate the S3 to my Church and bring home a Go.

One overwhelming reasons to avoid this thing: w10.

Windows 10 is awesome by now. It wasn't fully ready in 2015 when it launched, but now it's worlds better than the second best OS out there.

I did order the cheapest version. It will be for my wife and I am thinking it will replace her Surface 2 which uses Window 8 RT as a OS. The Surface 2 does all she wants. I did not and will not order a type cover, she does not use them on her Surface 2 nor her Surface Pro (5).
She does need a screen protector which I have ordered, and missing from accessories is a case to protect somewhat from dropsies, a condition she is afflicted with.
She will keep the Surface 2 and use all three tablets I would guess. It is just a present for her, no occasion.

I would like to see a comparison of the Surface 3 with the Go. As I regularly use a 3 out on site, it would be nice to see how much of an upgrade this would be. The Pro's are too big to hold/balance in your hand for long periods of time.

One point that I didn't mention in my earlier post was a question about the life expectancy of the battery. I owned an Insignia NS-P08W7100 tablet. The device sported an Intel branded battery that could keep things running for about 7 hours (depending upon what was being done). With the frequent recharges, the battery started to wear out after about a year. Soon, despite being more than 90% charged, the tablet would keep shutting down. Running with the charger connected was a viable work-around for a while, but, even it got to the point where the battery was too far gone. 😦 I ended up doing a factory default on the tablet and putting it out for recycling.

Surface battery is generally durable. I'm using Surface 3 for 2 years now with >600 cycles. Only 8-10% degraded from the report.

I'm still waiting for a 10" tablet with Pro specs... Why do they always make small ones less powerful...

One good answer > Thermal.

4 or 8 RAM? What do you guys think? Anyone try the keyboard yet (in the event you've been to a Microsoft Store that has it)?

It felt a little cramped and I don't have large hands by any means. But, I would be content typing an article or paper every so often. Just would want something larger/more standard size. For example, the Amazon basics keyboard for much more frequent or longer writing sessions would be fine and cheap.

Does the Surface Book 2 charger work with this? I'd consider it as a more 'on-the-go' option if it could use the same charger