Reckless Racing Ultimate for Windows 8, feeling the need for Xbox speed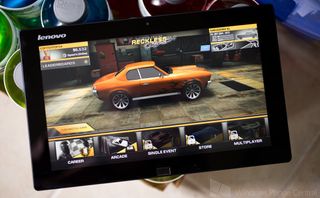 Reckless Racing Ultimate is an Xbox Live title for Windows 8 that has you behind the wheel and tackling a wide range of road and dirt tracks.
Reckless Racing Ultimate features 24 vehicles, 20 career mode cups to win, 50 arcade challenges and more than 150 customizable events. Graphics are outstanding, game play challenging and Reckless Racing Ultimate is an entertaining game for your Windows 8 computer, be it a laptop, desktop or tablet.
Reckless Racing Ultimate is centered around your garage. You can launch races, access gaming options, view your Xbox achievements, and fine tune your vehicles.
Gaming options include a help/about menu, graphics settings, control options, audio settings, and general game play options. Control options include on-screen controls (best for tablets), keyboard controls (for laptops), controller options (for USB Xbox controllers).
Reckless Racing Ultimate has two modes, career and arcade challenges. The career mode has you competing to earn the twenty career cups. Each cup is a series of races that progressively get more challenging. Arcade mode is a collection of fifty challenges for your to complete. There is a multiplayer mode where you can challenge your Xbox friends.
As you complete races you'll win money that can be used to purchase, upgrade and customize your vehicles.
Game play with Reckless Racing Ultimate isn't much different than any other racing game. You have tracks ranging from street, dirt, gravel, and a mixture of conditions. Controls are nice and responsive but the on-screen controls do take some getting used to. The vehicle handling is fun with drifting through turns and even when you spin out of control if you hit things too fast. You can use some barricades (and other race cars) to help control your skids but some barricades are temporary and will give way to the weight of your car.
While game play is entertaining, Reckless Racing Ultimate has very impressive graphics. From garage view to the road signs that snap when run into to the cars burning rubber, it's very hard to find anything bad about Reckless Racing Ultimate's graphic quality.
Overall, Reckless Racing Ultimate is a fun, challenging, well presented Windows 8 Xbox title. The weak point on tablets is the controls but not to the point of driving you nuts. It just takes a little time to get used to the orientation. Shame you don't have a control option to use your accelerometer for steering. Bottom line, if you like racing games Reckless Racing Ultimate for Windows 8 is well worth checking out. It wouldn't make for a bad Windows Phone game.
There is a free trial for Reckless Racing Ultimate that gives you access to the first racing cup, one arcade challenge and access to car upgrades. The full version of Reckless Racing Ultimate is running $2.49 and you can find it here (opens in new tab) in the Windows Store.
Windows Central Newsletter
Get the best of Windows Central in your inbox, every day!
George is the Reviews Editor at Windows Central, concentrating on Windows 10 PC and Mobile apps. He's been a supporter of the platform since the days of Windows CE and uses his current Windows 10 Mobile phone daily to keep up with life and enjoy a game during down time.
Windows 9 Xbox title?
I love this game though. Wish Real Racing came out for Windows 8 though. Or Forza (ala Spartan Assault) Also title says ultimatate

Does it have controller support?

I misread the title, I thought it was finally coming to windows phone :-\

That would have been awesome. More across the platform unity would be great. Games on W8 available for WP8 and vice versa.

"UltimaTAte" little mistake in the title

Downloaded This game yesterday, one of the best games for Windows rt yet!

Somewhat related question!
What is the BEST overall racing game for WP8? I love Forza 4 and Horizon, but what is similar for our mobile platform?

Real Racing 3 is the closest thing to a Forza/Gran Turismo feel for WP8

Is RR3 on WP8? I thought only RR2 was?

Sorry. RR2 is what I meant to type. I wish RR3 came out but it hasn't happened yet.

Thanks for the recommendations! RR2 is pretty sweet, so I'm glad I finally found a good racing game for my 928!

I enjoy how we have gone back in time with what is considered "good". These graphics and length of gameplay pale in comparison to a console game. I remember a time when devices were even larger than they are today and we were complaining they were too big. Eventually they got smaller and smaller...now they are getting bigger and bigger again (albeit much lighter, thinner, and more powerful than 20 years ago).

When I look back to the first NFS game I ever played a decade ago on a low-midrange laptop that certainly wasn't set up for gaming, I'd much rather play that again. I remember in 2004 playing some NASCAR game my college roommate had for PS2 that knocks the socks off this game. When you look at Mario Kart 64 (1997 NA release), I would rather take those graphics over these. The exception might be if I was looking for realism, then the car in the garage in Reckless Racing Ultimate is way more impressive than a cartoon car. The gameplay graphics of the original Mario Kart (21 years ago) is obviously lacking a small amount in graphics. That's just the thing though- a game that can legally drink is not that behind a new release. I look at the graphics in the garage and I'm impressed. I see the gameplay screenshot and I'm thinking it's a totally different game. I see a game like Royal Revolt or Royal Envoy 2 and I can say, "these look like games that could be on a newly released kids console game." I guess I'm just a bit depressed that what we find impressive has fallen. I have a number of modern/metro games on my Windows 8 desktop that I feel fall in one of two categories: XBox-worthy graphics or SNES-worthy graphics. Royal Revolt or Samarai vs Zombie Defense.

Wait, you're ACTUALLY complaining about the fact that a mobile device doens't have the graphics quality of a gaming-centric console? You know, many of these games get ported to Windows Phone, meaning they cannot be top-line games that have stellar graphics. Also, don't think for a second that console titles all have great graphics. Plenty of the indie titles have sub-par graphics, and many of these mobile games are from that same indie vein.

One: the graphics are quite obviously nicer than what the SNES can do. Look at polygonal SNES games like Starfox and get back to me. Two: there are multiple XBLA racing games for 360 that use a similar overhead view. It's a classic style of racing game that some people enjoy, and it won't go away just because you don't. Downloadable titles like this are much lower budget than a $60 racing game and don't necessarilly require hardware-taxing graphics in order to be successful.

What car brands is in the game? Shame on you Paul for still not taking notes about this in car games. No worries though, your still the best. :-)

No real cars in this game.

Quick scan of article and seeing ultimatate in title and reference to windows 9. I am not reading the rest. Get some proof reading skills guys!

Love this game. Almost finished career mode. It kinda reminds me of playing Ivan Stewart's Super Off Road.