Reminder: You'll lose access to your Microsoft Store books soon
Say goodbye to your digital books.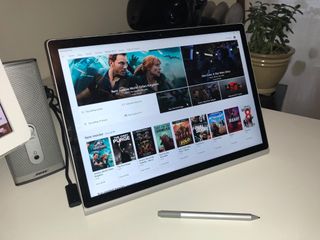 What you need to know
Microsoft is revoking access to books purchased from the Microsoft Store this month.
Refunds will be given out for all book purchases.
This follows the closing of the Microsoft Store's books category in April.
Microsoft began the process of shutting down the Microsoft Store's "books" category in April, and now it's moving on to revoking access to any previously purchased books. While Microsoft never gave a hard date by which people would lose access to their books, its support document (opens in new tab) cited "early July" as the cutoff.
If you had any books purchased from the Microsoft Store in your collection, Microsoft will be issuing refunds. From the accompanying support document:
Microsoft never gave a reason for the closure of the book section, but it's likely the majority of people reading digital books were mostly opting to do their reading on devices like the Kindle. Microsoft Edge was the dedicated reader for books from the Microsoft Store, but with the browser making the move to Chromium, that integration was likely on the chopping block. Without a dedicated mobile app, it probably wouldn't make sense for most to purchase books via the Microsoft Store.
Though books on the Microsoft Store may be going away, Amazon and Apple's platforms are likely the best alternative for doing your digital reading.
Our favorite computer speakers for less $100
Team Windows Central wholeheartedly recommends each of these computer speaker setups, because they all bring the NOISE and will not wound your wallet.
Bose Companion 2 Series III speakers (opens in new tab) ($99 at Dell)
If you want great sound quality and value, then you want Bose. You too can have room-filling, immersive sound, so Bose says in every advertisement.
Logitech Z313 speaker system with subwoofer (opens in new tab) ($49 at Dell)
The Z313 comes with a powered subwoofer and two satellite speakers to deliver 25 watts of total power. That's enough to fill your room and then some.
GOgroove BassPULSE (opens in new tab) ($50 at Dell)
These are clearly the coolest-looking speakers recommended here, but they're not all flash and guile – these speakers can produce amazing highs and lows, for just $50.
Dan Thorp-Lancaster is the former Editor-in-Chief of Windows Central. He began working with Windows Central, Android Central, and iMore as a news writer in 2014 and is obsessed with tech of all sorts. You can follow Dan on Twitter @DthorpL and Instagram @heyitsdtl.
Did anywhere outside the US even get books?

And everyone says that digital-only products are the future. At least with physical items they don't become unusable when the service is discontinued

That's why I still buy CDs.

Only when they get scratched or damaged.

Book rots. Disc damages.
Need space, need maintenance.
Can't view by more than 1 person in different places at the same time... The only good thing about physical stuff is you can resale I guess.

I think the fact that they're refunding purchases tells you how much of a failure the books platform was. I don't think they're going to lose a lot of money on this - because so few purchases were made. (Makes you think how much - or how little - other platforms are making off of books.) Reading a book in your browser never made much sense to me. Why not a dedicated app, even if it's built off of Edge? Anyway, I got my $1.29 refund - thanks MS.

I think partially because edge was already a pdf reader and allowed for things like "reading mode" for websites, so in some ways I get just consolidating it into one thing made it easier. Plus edge browser was/is already on android, iOS, and windows 10 - then there's no need to download another app.

Then why do all the other reading services have separate apps? Why not just bundle them in with the browser? I think the answer is: Why the hell would I prefer reading a book in a browser? Unless it gave me an experience as good as reading in Google Play Books or the Kindle app - which it didn't - then there's no reason for the consumer to even consider it. It made no sense from the beginning, except as a product differentiator for Edge.

Completely agree. It was bloating "Legacy" Edge. Hopefully in Edgium they stick with the KISS approach. There should only be functionality that is useful to a MAJORITY of ppl. No need for: Hover over tabs for thumbnail, Reading List, Set Aside Tabs, and at this point I find the whole "Make this site an App" to be ridiculous. They should get rid of it before they go to prod. There's one maybe two sites on the entire internet that qualify as "apps". The rest are web "sites". If/when a web "site" truly qualifies to be called an "app" then package it properly and publish it to the MS Store. But in Edge, stick with Pin to Taskbar and Pin to Start Menu and call it good.

I still can't comprehend why Amazon doesn't want to sell Windows users eBooks. There would have been no need for MS book sales if there was a good modern Kindle app. It really stinks. The win32 app is just awful, to the level of unacceptability. It's also especially terrible on a tablet. Adding in the fact that they had a Kindle app in the store that worked fine for basic books, and then pulled it for no apparent reason, and it's even more confusing. I don't think they actually make much money on Kindle hardware do they? I thought the whole point was selling the content?

Yeah I wish there was a good kindle app for windows 10. I'd be reading on my surface all the time if there was one lol.

Completely agree. Same thing applies to newspapers and magazines. I can't for the life of me understand why my local newspaper has an iOS app, an Android app, but no MS Store app. Pure content providers should be meeting subscribers on the device of <i>their choice</i>, not demanding they purchase iPads or Samsung tablets. What possible argument, can large companies like Gannett or Advanced Communications (the owners of most of the nation's local newspapers), make for not wanting to tap into users of Surface Go, Surface Pro, ACPCs, or 2 in 1s? No wonder newspapers are going the way of the dodo, when they can't seem to comprehend something so basic.

Because there are billions of phones in use, and a maybe a couple million "Surface Go, Surface Pro, ACPCs, or 2 in 1s" in use. Which market would YOU go after? Windows PCs are simply not the target market for books. Which explains why Microsoft got out of it.

Since you asked, yeah I would go after the market the same way public libraries have gone after the market with Overdrive and Libby... on EVERY device I possibly could. This is especially so with content that is better consumed on a device larger than a 6 inch phone, such as news and magazines. Besides, your numbers don't factor in 850 million active Win 10 devices, YoY growth of the Surface line, nor the fact that it would cost them all of about $25K at most to build a fairly non-rocket-science PWA news app that would cover ALL platforms.

But a good percentage - perhaps 50% - of those 850 million active Win 10 devices, are work PCs. Again, people don't drag around Windows laptops to read books. It would be easier to carry a real book. There are no Windows phones, and a couple million at best Surface devices is not worth the effort. People read books on tablets and phones. Something that is easy to use and carry around. Again, Windows is simply not the target market for books. Why do you think Microsoft got out of it? If it was popular, they would have kept it going. Kindle already has 95% of the market covered with iOS and Android apps. The rest is simply not important enough to warrant a new app. Plus, the problem with a "PWA news app that would cover ALL platforms" is, now you have to TEST on all platforms AND all browsers. Who wants to do that? "Write Once, Run Anywhere" quickly becomes "Write Once, Debug Everywhere". Remember JAVA?

Exactly. Amazon makes little to no money on physical kindle devices. They make money from books. I just hate the fact ebooks cost almost same as physical copies. If there was some kind of standard policy of half price or something like that. More and more people will buy ebooks and there is environmental benefit too. Physical copies will become less and less relevant.
Windows Central Newsletter
Thank you for signing up to Windows Central. You will receive a verification email shortly.
There was a problem. Please refresh the page and try again.