Remote Desktop updated for Windows Phone, makes Mouse Pointer default input mode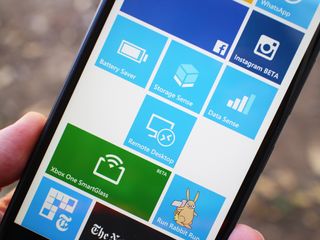 The official Remote Desktop app for Windows Phone has been updated. Head into the Windows Phone Store and you'll now find the app at version 8.1.5.17. Today's update is notable for making the Mouse Pointer the default input mode on all connections.
Here's the full changelog for today's Remote Desktop update to version 8.1.5.17:
Mouse Pointer is now the default input mode for all connections
The SHIFT key is now available on the extended keyboard
A resume button has been added to the app bar to return to the last active session
Bug fixes and other improvements
Today's update changes the default input mode from Touch to Mouse Pointer when connected to systems running Windows 8 and later. Existing connections will retain their saved input mode and you can of course change between the two input modes.
Many of you will be happy to have the SHIFT key added to the extended keyboard. The SHIFT key will work just like the CTRL and ALT keys already available.
Another new feature is the addition of a resume button on the app bar. This is a useful feature when you're using Remote Desktop with multiple sessions at the same time. Press the back button returns you to the Connection Center without disconnecting the sessions. The new resume button will allow you to quickly jump back to the last active session.
You'll also find regular bug fixes and performance improvements throughout the app. Download the latest version of Remote Desktop for Windows Phone and let us know what you think of the new features!
Via: Remote Desktop Services Blog (opens in new tab)
Thanks for the tip everyone!
Windows Central Newsletter
Get the best of Windows Central in your inbox, every day!
That should be an option that people could choose. I use mouse pointer only few times but the pointer is default input method...

Still waiting for MS to add the phone using RDP as remote network device for easy file transfers.

Name is now also Remote Desktop Preview. Is this an old thing? Been using teamviewer and just noticed I have Remote Desktop installed all along

Disregard, It's still named the same after updating. But the title in the store is different

Good. I don't like MS remote desktop because of how it works input-wise. Much prefer the other app called Remote Desktop I have, where they brilliantly solved the problem with a virtual mouse and virtual keyboard (and where you have better zoom options).

I just have a problem with it asks me for credentials. What are credentials and how to get them to access my comp?(remote)

Your username and password for the machine you are remoting into.

But how should i enter the username and password of the user ib windows 7 i have several users and i dont have a password

The fact that you asked this shows that you need to do a bit of research. It is more complicated than can be explained here.

Use your hotmail account username and password. Not complicated enough!

I used my hotmail account and password it said wrong credentials i use windows 7

I don't know the answer then, it worked for me. Make sure your hotmail account is allowed, and in system properties/remote, I did uncheck the recommended option there..

Can u give me the path on windows 7 where this uncheck option thingi is here

I guess computer -> properties -> remote settings. You may have to watch some relevant, ytb how to, videos

Ok man thx a lot for the tips! :)

First thing you need to do is give all users passwords,then create ONE administrator account. Your computer is an infection waiting to happen, sounds like it.

No it works i saw it somewhere maybe in a help page section. I have connected but it still need credentials?!

Bing/Google it. Seriously.

Hey can anyone help me.. I still dont know how to use this. My pc is not connecting.

Exactly, I can't get it to connect... Why are other programs was to use, and this one so hard?

I've had similar problems on my 8.1 computer. They cannot detect each other for some reason.

Try connecting using your PC's IP address. If your network uses Active Directory, you may need to specify adname\username as your username. Once connecting using IP address works, connecting by machine name may require using machinename.domainname.com. See the results from ipconfig for machine names that might work.

Lol!! That just sounds a little hard for the average consumer.. I just don't understand why other RD apps just require you to log in in both apps, and you're in business.. Why do the work so easily, and this one requires so much configuration.. I mean, I'm not exactly computer illiterate, so if I'm having trouble the a know a lot if other people would've gave up a long time ago..

So... I'm downloading my 8.1 pro, after a year with 8.1 single language. I'll try that app.

does it work with 8.1 single lenguage?

Works only on Professional and Enterprise.

I have what might be a stupid question. Using the remote desktop can I access websites like wwe network and Hulu to watch videos on my phone? Also can I play games that are on my PC on my phone?

Yes, but you may have a sad face with the quality of the outcome

With the video and games or just games?

Games and videos require a high bandwith. Remote desktop does not provide this. There are better solutions for this.

it really depends on your network, for games you will alway feel the lag and it's always at least a sec or two, for video it works better in the sense that lag would be fairly constant so you don't really notice it a few seconds in (since every frame is nearly equally lagged), but there are a few problems too, image quality usually isn't as good (which is a relatively minor problem with web videos...), you "could" have a problem where the image and audio is out of sync too xxxneoxxx is right, there are better alternatives if video is what you are looking for, i'm not sure about games though

Just for operating the desktop, Not games, not video

Still no Remote Desktop Gateway. I just don't know what that development team is thinking.

This. Still laggging behind android features.

Dude, they can't fix the scrubber-noise bug in Xbox Music app in 11 iterations, you are asking too much here! And no Cyan didn't fixed it either. Now they don't have an alibi, its proven to be their shitty app's fault. All other multimedia apps play music without that crappy noise (while moving scrubber and changing tracks). The problem with MSFT is that the folks their just tend to appreciate their coworkers, no matter how crappy work they have done. Nobody reports issues. Some bureaucratic bullshit ongoing..

Does it work with Windows 7

It did in the past. Don't see what an update would change about that..

I can't help but notice that the mouse input change was not requested on the uservoice site

Still no 1080 support.. hopeless..

Still no wake-on-Lan? Come on Microsoft. Can't be that hard.

Use voice wake it works well.

Can I run remote dekstop on my Phone to control my pc without lock my user? I want it to control Netflix with my phone.

There are other apps for that, Remote Desktop is NOT good for that, as it locks the desktop on the PC. Try the app PC Remote, which I like a lot.

Oh.. I'll try it. Thank you!!!! :)

Has the Glance bug been fixed finally?

Always get error 204x0 , my credentials are right

Really they have 512mb support next youll be saying it works on 802.11g

I could never get this to work... The tutorials are bad, and don't directly correlate with W8.1..

Multiple monitor support?
No?

Does it remember connections, between installations, yet?
Probably not.
Until then, it's ConnectMe for me.

RD Gateway still missing. This really does render the app as good as useless for me.