Composer Michael A. Levine reveals the secrets of Resident Evil 7's haunting theme song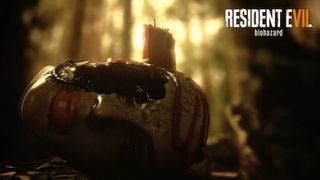 Resident Evil 7: Biohazard is one of the most frightening games around, a first-person survival horror experience like no other. The theme song 'Go Tell Aunt Rhody' plays a part in establishing that creepy mood. Find out how composer Michael A. Levine created Resident Evil 7's haunting theme song in this in-depth interview.
As a special bonus for Xbox gamers, Resident Evil 7 also happens to be an Xbox Play Anywhere title. If you buy the game digitally from the Windows Store, you get access to both the Xbox One and Windows 10 versions, with full cross-save support.
See on the Windows Store (opens in new tab)
Paul Acevedo: Hi, Michael! Can you tell us about how your interest in music developed?
Michael A. Levine: My older sister and brother both played piano so I just thought it was just something you did. (Later, I switched to violin.) My whole family, but especially my mom, played records all the time. It was an enormously eclectic playlist including classical, jazz, Broadway shows, musical satire, protest folk, blues, roots, and even, occasionally, pop and rock.
Paul: When did you know you wouldn't have to do other kinds of work outside of music?
Michael: Still wondering if that's true, and pinch myself daily to make sure I'm not dreaming. The idea that people would actually pay me money to make music still feels like the biggest scam in the world.
Paul: One of your big successes was composing the Kit Kat "Gimme a Break" jingle. Kit-Kats are great! Especially the Japanese flavors. But besides Kit Kats, do you have a favorite candy?
Michael: I'm not a big candy eater – although I'm very grateful others are, particularly Kit Kats. I love fresh baked oatmeal cookies made with dried cranberries instead of raisins.
Paul: Dried cranberries are so much better than raisins! Anyway, you were hired as the composer for Star Wars Detours, an animated series that was cancelled during development. How much music did you compose for the show before Disney pulled the plug?
Michael: It actually was not cancelled – it never aired. [I scored] 39 fabulous, hilarious episodes. The fact that this brilliant series – which involved the talents of Seth MacFarlane and Seth Green with George Lucas producing – has never been seen is dumfounding. A crime against humanity! Somebody needs to petition Disney!
Paul: You co-produced Lorde's cover of 'Everybody Wants to Rule the World,' which was used to memorable effect in the Assassin's Creed Unity E3 trailer (among other places). Can you tell us a little about your experience on that project?
Michael: My former assistant, Lucas Cantor, and I were asked to do a dark and spooky version of that zippy Tears for Fears 80s pop song for a trailer. I slowed it down, straightened out the rhythm, and changed it to a minor key. Then I had my daughter, Mariana Barreto, sing it. [We did this] to find a good key for a woman to sing, as they had a young girl no one had heard of lined up to sing it. (Mariana also sang all the background vocals).
We completed the track and sent it to the young singer – the not-yet-famous Lorde – in New Zealand, where she overdubbed the lead. When we got it back, I nearly panicked. She was singing an octave lower than [Mariana's version]! Then we realized it was actually Very Cool that way. They didn't use it for the [original] trailer, but later it was picked up for Hunger Games: Catching Fire and became quite popular after that.
Paul: You wrote and produced 'Go Tell Aunt Rhody,' the memorable theme song to Resident Evil 7. How did you land the job from Capcom?
Michael: I am fortunate that one of my agents, Koyo Sonae, is Japanese American. So he both speaks Japanese and, equally important, understands the culture. I think Capcom may have already been aware of the Lorde track, and wanted a similar transformation of a familiar song into something menacing.
I am what's called an "Edokko," someone born in Tokyo. So I knew that 'Rhody' had a Japanese counterpart, a song called 'Musunde,' which is the same melody with different lyrics.
Paul: Sugoi! So, what guidance and/or requests did Capcom give you before you started the project? Or was your version of the song already in the bag?
Michael: This song was most definitively not "in the bag" beforehand. Both 'Rhody' – and especially 'Musunde' – are rather innocent songs small children sing. We revised it perhaps 20 times, each time getting darker and scarier.
Besides changing the line "the old grey goose is dead" to "everybody's dead," I created a verse that refers to events in the game. At one point, there were actually two verses. But then the song felt too long.
Paul: Resident Evil 7 is one of the most frightening games of the last few years. Were you able to experience any portion of the game as you worked on the song?
Michael: I worked from a written description and a storyboard (drawings). That was scary enough!
Paul: 'Go Tell Aunt Rhody' is a traditional folk song that originated hundreds of years ago. What brought it to mind as a suitable song for Resident Evil? What other changes did you make in this darker version of the song?
Michael: 'Rhody' originated in France in the 18th century, emigrated to England, then the United States, and finally, in the 1870s, to Japan. There are many sets of lyrics to it which have nothing to do with an Aunt Rhody or a gray goose. Changes I made initially were to slow it down, put it in a minor key, and write new verses that told some of the story of the game. But as we worked on it, we made it more abstract and sound-design like and less traditionally musical.
At first, the aforementioned Mariana Barreto sang the lead. Her voice is beautiful, light and airy. (Check out this album we did together called Samira & The Wind). This played off the song's innocence. But as we worked on it, we felt we needed a more invasive and unsettling voice and were fortunate enough to find the enormously talented Jordan Reyne. All the background voices are still Mariana.
Paul: How did you select Jordan Reyne for the song? Did you work together on the recording?
Michael: I put what I thought was a very cryptic casting call on a composer community Facebook page. Only a few hours later, Capcom saw it and became concerned people would figure out what the mysterious project was. So, I deleted the post. Fortunately, by then, one of Jordan's representatives had seen it.
We probably reviewed 100 singer demos. Many were excellent, but hers was the one that seemed most compelling and appropriate for this project. The recording session was [a unique] experience.
We started at 10 am in Los Angeles (where I was), which was 6 pm in London (where Jordan was), and 2 am in Tokyo (where the Capcom team was), all connected via the internet. We finished about 4:30 am Tokyo time. Those guys are tough!
I am enormously grateful for my Japanese agent, Koyo, who served as translator – both language and culturally – throughout.
Paul: From start to finish, how much time did you spend with 'Go Tell Aunt Rhody' for Resident Evil 7?
Michael: I'm not sure. Is it over? (Real answer: A few months, on and off.)
Paul: Resident Evil 7 has been a huge success for Capcom, thanks in part to your work on its theme song. What other projects do you have on your plate?
Michael: Besides promoting the Samira & the Wind album with Mariana, I have [songs in] several films that are either out now or coming out soon:
Landfill Harmonic, a documentary about the Recycled Orchestra of Cateura from Paraguay, currently on HBO
City 40, a documentary about the city that functions as Russia's largest stockpile of fissile materials, currently on Netflix
Served Like a Girl, a documentary about female veterans competing to become Ms. Veteran America, premiering at SXSW
The Summerland Project, the film version of a science-fiction play about a man whose wife's mind gets implanted in an artificial body
[Lego DC Super Hero Girls High School](/e?link=https%3A%2F%2Fclick.linksynergy.com%2Fdeeplink%3Fid%3DkXQk6%252AivFEQ%26mid%3D13923%26u1%3DUUwpUdUnU46986%26murl%3Dhttps%253A%252F%252Fwww.lego.com%252Fen-us%252Fthemes%252Fdc%26ourl%3Dhttps%253A%252F%252Fwww.lego.com%252Fen-us%252Fthemes%252Fdc-shg&token=n8hi2U20 'A Case of the Mondays,' an animated special coming out in August
A huge thanks to Michael A. Levine for joining us!
Resident Evil 7: Biohazard is a game that fans of horror games won't want to miss. And because it's an Xbox Play Anywhere title, Windows 10 gamers won't have to miss out either.
For help with your playthrough(s), check out our Achievement Guide, Speedrun Guide, Files Guide, Antique Coins Guide, and Mr. Everywhere Statues Guide. You also don't want to miss our full review!
See on the Windows Store (opens in new tab)
Get the Windows Central Newsletter
All the latest news, reviews, and guides for Windows and Xbox diehards.
Paul Acevedo is the Games Editor at Windows Central. A lifelong gamer, he has written about videogames for over 15 years and reviewed over 350 games for our site. Follow him on Twitter @PaulRAcevedo. Don't hate. Appreciate!
I like this guy, he sounds really down to earth. Great interview.

Love the game but actually hate the opening theme song.

I wish they released star wars detours, it looks like it would have been better than the resent movies

Very interesting. Also, I had no idea Star Wars Detours existed, that definitely needs to be made available!

That was a great interview! The Kit Kat jingle is very iconic. I loved the Tears for Fears cover in that Unity trailer when it came out, as well. Michael is very talented.

Perfect song for the game

Sugou! Didn't know you did an interview ~ the kitkat song tho is epic lol

Pretty interesting to hear the thoughts of the one who composed the music of a game :) Great interview!

Nice interview. I didn't know the composer was so much into nerd culture. Star Wars and video games, a one-two punch.

intresting. sound is a vital part of any game.