Review: BlueAnt Supertooth II Speakerphone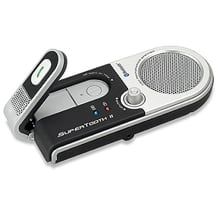 One of the places I use my BT headset the most is in my car. Unfortunately, this is also one of the places that I always have the most challenges with the other person hearing me as well. Wind and car noise can kill the reception of even the best BT headsets. I have been on the receiving end of friends who have BT built into their cars and they sounded pretty good, enough so that I was envious. So I wanted to try a BT speakerphone to see if it could do well in a car. I have to be honest and say I had very low expectations, as I would think that a BT speakerphone would be more prone to falling victim to car road noise than a headset would be. Again I learned never to prejudge on preconceived expectations.
Read on for the full review of the Blueant Supertooth II Bluetooth Speakerphone ($84.95).
No exageration: after using the Supertooth II, my professional life will never be the same. I have been using this BT speakerphone for over 2 months now and I have come to depend on it on a daily basis. I use it both in the car as well as in conference call meetings at work. If you have trouble using your BT headset in the car, then here is the solution for you.
Physical Layout and Installation
It comes with a mono earpiece and a wall plug, as well as a car charger, which is a nice touch that is often left as an extra expense to the consumer. It also came with two black metal clips that fit on your visor in your car. The only extra item that would have been nice is a carrying case to help protect it while traveling.
On the back of the speakerphone are two strong magnets that securely attach it to the metal clips. I was a little apprehensive about this at first, but once in place, there is no fear of it falling off. If you need to move your visor down, you can easily move the speakerphone from one side of the clip to the other when the visor is down, because it secured by magnets.
The unit itself is a manageable size. It is big enough to use during a meeting setting as a speakerphone, but still small enough to fit nicely on a visor without being in the way. Here is what it looks like with the visor up and with the visor down:
To turn the unit on, you simply lift the microphone arm up. This is nice because when it is flat on a table, as in an office conference call situation, it positions the microphone towards you. Also in the car while attached to the visor, it does the same thing. The only thing you have to remain aware of, is not to whip the visor down with the arm out or it will hit the windshield.
The unit feels very solidly built. The speaker is more than loud enough on my end with an easy to access volume knob to adjust as needed on the fly. There is a lighted button on the arm that is used to answer calls, hang-up, activate voice prompts, or to call last number. There is also a reject call button that is visible and accessible when the arm is extended.
Overall, I am very satisfied with the build of this speakerphone. The design is very logically laid out. They do not skimp on the extras as they include a car charger and wall charger and two metal clips which makes it easy to transfer between cars.
Physical Layout
Physical Installation
Pairing
In order to use a BT headset you must pair (sync) it with the phone you are going to use it with. This is simply a digital introduction to each other so they know that they should work nicely with each other.
I opened the box in my car and attempted to set it without looking at any documentation. Sometimes pairing a device with your WM phone can be an adventure to say the least, but pairing this speakerphone with my Sprint Mogul was very easy. I was able to figure it out within 30 seconds without referring to the documentation. I then verified that the documentation adequately walks you through the pairing process as well.
Pairing
Using the Speakerphone
Okay, we have determined that it has a nice layout, it is easy to install and easy to pair with your phone, but none of that would make a difference if the sound quality of the phone did not deliver. I was very happy to find out that my fears of horrible sound quality while using a BT speakerphone in the car were totally unfounded. For the two hours, I probably made at least 15 phone calls while driving in town and on the freeway. When I asked how I sounded, everyone said fine. In fact when I told them I was using a BT speakerphone in the car, several people did not believe me at first. My only complaint is that once in a great while there will be a feedback with the person I am calling where they hear their own voice delayed by few seconds.
I am really impressed with the noise canceling technology with this speakerphone. When I rented a convertible I had the top down, driving on the freeway at 70 mph and was still able to make calls with no complaints on the other end. When I said I was on a BT speakerphone in a convertible with the top down they were very impressed. In fact, as a result my uncle went out and bought one for himself.
The sound quality on my end is all but perfect. It is usually so loud that I have yet to turn up the volume all the way when using it. It connects to my phone fast when turned on, and it is easy to answer and hang-up calls with it. In order to call the last number, you simply hold down the answer button for 3 seconds. There is also a reject call button that is easily accessible under the arm.
The Supertooth II supports voice activated dialing if your phone also supports it.
Though I did not test this, the BlueAnt website reports that you can connect the Supertooth II to a PC or Mac that supports the Headset or Hands-free profile to use it for VOIP calls (phone calls placed over the internet from a computer). To do this you need to have Bluetooth enabled in your computer by using a Bluetooth USB Dongle or have a computer that has Bluetooth built in. Depending on the Bluetooth Software, the connection process is different. Simply put the Supertooth II into Pairing mode, then search for it using your computer's Bluetooth Software. Enter the Passkey "0000" then start the Headset/Hands-free service.
The range of use is fairly extensive. I can easily be 20 feet away in line of sight of it and use it, though I start to get static between 12-15 feet.
Overall, I am happy and very impressed with the sound quality and usability of the Blueant Supertooth II Bluetooth Speakerphone. If it was not for the rare voice feedback with the receiving end of my phone calls, I would have giving it 5 out of 5 stars.
Sound Quality
BATTERY LIFE
The battery life is claimed be 15-20 hours talk time and 800 hours (33 days) standby time. I initially thought this was more boasting than reality. But I have come to believe it. Since I have yet to make a 15-20 hour call and since I cannot go without using it for 33 days, after my initial full charge I purposely never turned it off and used it as much as I could while I was in the car. For just over two weeks, I was waiting for it to die. It just kept on going and going. This is nice as I never have to worry about taking a charger on a trip less than week long. I am one to say that you could always ask for more battery life, but in this case I can't do it with a clear conscience.
Battery Life
Summary
I have to admit that I love it when I pick up a new product with serious personal reservations only to learn to appreciate it and discover that I have come to depend on it. This is exactly what happened with the Blueant Supertooth II Bluetooth Speakerphone. I was fully expecting to be writing this review complaining about its sound quality and being unable to use it effectively in a car, only to find out that I will never leave home without it.
It has superior sound quality on both ends while in the car due to its noise canceling technology which detects voice only, eliminating excess background noise. It is easy to use in the car as well as in an office conference situation. The battery life will give me over 15 hours of talk time with up to 33 days of standby time.
Its suggested retail is $129.99. Mine from WMexperts was only $84.95, which still places it in the upper end range for the cost of a BT Headset, but right in the middle range of a BT speakerphone. If you spend a lot of time in your car or make a lot of conference calls at home or in the office, I would personally recommend the Blueant Supertooth II Bluetooth Speakerphone.
TECHNICAL SPECIFICATIONS
You can see the product manual here (pdf link).
Supertooth II Product Specifications
Bluetooth Standard Bluetooth V1.1, Class II
Frequency 2.4GHz
Maximum communication distance Approx. 30 feet (10m)
Operating Talk Time 20 hours
Operating Standby Time 800 hours
Charging Time About 3 hours
Bluetooth Profiles supported Hands-free, Headset
Battery Type Rechargeable Lithium Ion
Speaker 2", High Power Neodyne type
Microphone With built-in noise canceller
Weight 4.7oz (without clip)
Dimension 5.4" x 2.3" x 1"
Other Comments A Full-Duplex device

Supertooth II Product Features:
Compact size
Compatible to all Bluetooth Mobile phones and PDA's
With a Smart Digital Signal Processor (DSP) for Noise Cancellation and Echo Suppression
Supports Voice Dialing (if phone supports)
Supports Re-dialing (for Hands-free profile only)
Supports Multi-pairing to 2 Devices
Single Pick-Up/Hang-Up Button
With Call Reject Button
Adjustable Volume Control
0º, 55º, 210º Swivel Arm orientations for easy access of the microphone even when the sun visor is up or down

Swipe to scroll horizontally
| | |
| --- | --- |
| Ratings (out of 5)Physical Layout: 5Physical Installation: 5Pairing: 5Sound Quality: 4Battery Life: 5Overall: | ProsNice size.Easy to install and pairExtremely long battery life.Includes all the accessories you will need.Clear and good sound quality in noisy car environmentsConsOccasional feedback on the receiver end of the phone call.It would have been nice to have a carrying case to help protect it while traveling. |
Windows Central Newsletter
Get the best of Windows Central in your inbox, every day!
[size=2][table=80%][tr][td][img=18,18]http://www.turboalta.com/images/1.gif[/img]Our company turbocharger products are sold around the world, [img=18,18]http://www.turboalta.com/images/1.gif[/img]Our company turbocharger products of good quality. [img=18,18]http://www.turboalta.com/images/1.gif[/img]Our company turbocharger varieties complete. [img=18,18]http://www.turboalta.com/images/1.gif[/img]Our company turbocharger on security services. [img=18,18]http://www.turboalta.com/images/1.gif[/img]Our company Turbine shaft product price concessions.[/td][/tr][/table][/size]

[size=2]$17 to $73 In 9 Minutes?Process SamplesGot 9 Minutes? Make 17 to 73 (then repeat!)Make your annual salary in a month.It's time to break free.[/size]http://www.topbusinessus.com

hi
I just bought this device , bluethooth II
I like to connect it to my PC .
plz tell me ,things I must do
thanks alot

tiffany rings Tiffany rings tiffany rings Tiffany rings tiffany rings
tiffany rings

tiffany rings Tiffany rings tiffany rings Tiffany rings tiffany rings
tiffany rings

links of london Friendship Bracelets links of london Friendship Bracelets links of london Friendship Bracelets links of london Friendship Bracelets links of london Friendship Bracelets links of london Friendship Bracelets links of london Friendship Bracelets links of london Friendship Bracelets links of london Friendship Bracelets links of london Silver Chain links of london Silver Chain links of london Silver Chain links of london Silver Chain links of london Silver Chain links of london Silver Chain links of london Silver Chain links of london Silver Chain links of london Silver Chain links of london Silver Chain