Quick Review: Brando Power Jacket for Nokia Lumia 920
Packing a lot of power, the Brando Power Jacket is a nice solution for those who don't mind the extra bulk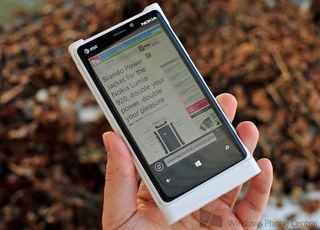 Back a few weeks ago we reported on Brando bringing their seemingly high quality Power Jacket to market for the Lumia 920. The $37 item features a massive 2200mAh battery that "wraps around" your precious Nokia phone, allowing you go all day and night all at the price of extra size.
Our 'Jacket showed up yesterday and we've been toying around with it. Verdict? For $37 we think it's a good deal. There's no doubt that it makes the Lumia 920 even huger but let's be clear, this is for specific moments where you need extra power—traveling, long hikes, camping, power outages, etc. For that reason, it's quite a nice addition.
Head past the break to see our video review and photo gallery.
The stats on the Brando Power Bank includes 5V input voltage, 1000mA output current, 81.5g in weight and a charging time of 5 hours. For those curious, you can certainly have the sleeve on and charge both it and the Lumia 920 at the same (Lumia 920 takes precedent). Likewise, you can just charge the jacket with the Lumia 920 connected or when it's separate.
The kickstand is nice but definitely flimsy, in fact it feels like it can snap off. It does work well though and it's better there and cheap then not there, we suppose. Build quality over all is high—though it's a light plastic, the sliding-lock mechanism feels solid and we like how it complements the Lumia 920 design. It will protect against drops but you have to be careful as the top corners are prone to cracks (yes, we accidently dropped ours about 3 feet up onto concrete—the Brando did not break but there is a hairline fracture).
Coming in black or glossy white, for $37 we feel we got our money's worth. We don't expect to be using it every day due to the size but for those rare situations, we're actually kind of glad we have it.
You can order from Brando here with a 7-10 day delivery schedule. Be sure to watch our hands on video above to see it in action.
Daniel Rubino is the Executive Editor of Windows Central, head reviewer, podcast co-host, and analyst. He has been covering Microsoft here since 2007, back when this site was called WMExperts (and later Windows Phone Central). His interests include Windows, Microsoft Surface, laptops, next-gen computing, and arguing with people on the internet.
Does it support wireless charging?

Just to be clear, you cannot charge the phone wirelessy with this on, correct?

Absolutely cannot charge wirelessly. Waaay to thick.

Nope, doesn't charge wirelessly with the case, got mine and tried it first thing.

Thanks for the review. Glad I didn't order one.

I ordered this on Feb 2nd. Still hasn't come in yet.

Mine just showed yesterday, so it should be close.

Do you know if they will make one for the 8X?

I ordered on 1st, still waiting too :/ (USA)

its HUGE but very cool at the same time. i like anything with a kickstand like the oldschool htc hd7

HTC Surround had a kickstand too. Good sound, but bad screen. Would love another phone like that.

Got mine a couple of days ago... It will be great for long trips/flights. I like having it as an additional power source on the go.

I ordered one and recieved it yesterday. I only need it for when I travel. I agree with everything you said about it.

@daniel, do you really use shazam instead of the bing music identifier?

I use both. I find Shazam often to be faster and more accurate though.

Me and you Mr. Rubino have a very different opinion on that :D

I think it depends the type of music you're sampling. I like how Shazam force cuts the sample. Sometimes Bing can go for what seems like forever to get a song ID.

Bing has impressed me, though. Identified music played in stores, from the tv, even old punk songs.

yeah maybe and i do agree on the second point but that isnt all the time. very rarely actually lol.

Honestly, for me, it depends on the audio quality. I use Bing and soundhound exclusively. Bing when the music is clear with no other sounds and soundhound as a backup if Bing can't find it, or if there is a lot of background noise, or if it's a variation of the version, or if I just want to hum a song I sort of remember (its not perfect for that but it's way better than the other two). I feel shazaam has similar functionality to Bing but the later is more convenient.

ditto to what duffau said

I ordered mine when you first mentioned it, it arrived but doesn't work. Doesn't charge phone, pressing button on case either does nothing or only switches to power phone for a split second and then stops. If you keep pressing and trying to get it to charge phone the case lights eventually go off as if run of charge. If you then charge case it always shows as 75% charged. Wait till it shows 100%, try above again and still nothing. To top it all off I've tried contacting supplier multiple time to get a replacement and they have just ignored me! Not a happy customer.

Will definitely get 2 of these for my upcoming trip

Daniel... Lumia 620 review? please? pretty please? :)

Generally speaking, how long can a device like this retain its charge? Basically I want to charge up the Power Jacket and then put it in my car glove box until I need it one day. Could that day be 6 months, or even a year down the road and still have charge?

I hope it has Electrolytes....

It's what phones crave ;-)

Lol, glad someone else liked that movie :)

I ordered one when you did the first article to make mention of the product. It hasn't arrive yet though.

Same here. Tracking says it shipped, but nothing yet.

Received mine yesterday and the review is accurate. It will come in handy for those occasions when there won't be an A/C charger available. Between this and our power bag I can make sure our kids have their electronics juiced. Now I'm just wondering how long it keeps its charged on off mode after being fully charged.

Cheaper than the mophie? Wow!

I've ordered from this company and haven't received any confirmation, the received my money willingly though. I hope it comes soon.

This is awesome for two reasons. I've been looking everywhere for a case with a kickstand AND I always carry around a spare battery to plug into my 920's USB port since I go into datacenters with terrible signal quality for long stretches of hours. In many cases I have to use my phone as a hotspot there as well. This case solves both annoyances, I'm ordering one now.

this is like Tony Stark with the Hulk Armor on

If you want lots of backup energy but don't want a case try the Ankor Astro3E. It has a 10,000mAh battery and can charge a fully depleted Lumia 920 at least 3 times. It also has two outputs. Amazon has had them for $39.99 with free shipping. Also, note that due to the double voltage conversion not all the battery energy will make it into the phone battery. 3.7V -> 5V out of the battery then 5V -> 3.7V into the phone. Ankor says only about 70% makes it into the phone battery so that 2200mAh battery most likely won't completely charge a fully depleted Lumia 920.

I'm just happy to see the costs for these things dropping to more reasonable levels.

I just got this yesterday. Great to bring to stadium and other events involving photo shooting outdoor.

Thanks for the review. Had a Yellow 920, can't decide whether to get a black/white one?

HAD ordered it 2 week back. Still stuck in Frankfurt for last 1 week. Donno when will it reach me.

Nice concept, but I'm still wary about the flimsy kickstand. Just got it today and I'm pretty impressed, except for the larger size when using my Lumia 920. Now there's an awkward rectangular bulge in my jeans when I go to work. Nonetheless, I'll be going around and recommending this case to others.

Looks good, definitely going to pick up if it is ever on sale in the uk as my 920 battery life isn't as good as I'd hoped.

I'll get one just in case I need it but my battery in my 920 has been nothng but outstanding. But I'm watching what app I install on it vs my 900. Some apps do go rogue on you and turn your battery into an open air market.

Got mine. Love it. Get one.

got mine. was wondering why it didn't come with an instruction booklet. now i know. emailed brando, hope they'll send one. thanks for the review. am also curious how long will it retain a charge.

I had mine delivered just last week, for an emergency backup supply or for periods of heavy use it is just great, as mentioned in the review the build quality other than the kick stand is very good, I would recommend without any hesitation!

Mine arrived on the 14th. The case/power bank makes the phone BIG, but still manageable. It looks okay on the yellow 920. I'm pretty disappointed it only charged the 920 by 59% (from 5%). I used the phone moderately during the charge though. I think it's pretty expected since it 'only' have 2200 mAh and the charge depleted while I'm using the phone.
I agree that this case/power bank will be useful during travel or emergency situation.

disappointed with mine also. charged it for five hours and got only a 60% charge. and there wasn't any instructions in the box. emailed them three days ago still no response.


Very cool for what it is. I am going to be doing a bit of travel next year, so maybe I will pick one up before then.
What I would really like to see is a car mount with wireless charging on it. That GPS kills the battery so fast when driving a lot, and I can't tell you how many GPSs I killed due to power plug fatigue over the years. But I would love to have a car mount with a cable that goes to the lighter outlet, and then when I jump in the car I can simply toss the phone on the mount and still have a full charge when I get to my destination. Perhaps an NFC tag that automatically opens Nokia Drive as well?

Nice review. My battery usually last long enough but for $37 this would be nice for a backup when I am away from home and really using my phone. I will order one.

When you guys turn the power jacket on for it to start charging your phone, does the battery icon change to and remain at the charging image or does it keep going from the battery image to the charging image and back and forth....?
Also my phone and the power jacket become very hot while charging the phone, any of you experience the same thing?


This heats up my phone as well and it concerns me a aweful lot

Just so you know, the site itself says this
"* Please Charge the Battery Case and Nokia Lumia 920 Separately. (Do Not Charge the Battery Case and Nokia Lumia 920 At the Same Time)"
So that may cause problems?

Got one for my birthday, like someone said earlier in the post, not all the power goes to my phone. The sleeve with a full charge will only bring my batter up 50-70%. It also takes forever to charge, longer than charging the lumia itself. But like said in the video it's great for those long days where an outlet is nowhere in reach. The only thing that bugs me is that it heats up the phone, near the power button of the sleeve. this concerns me because my lumia heats up while running some apps to begin with. The heating is enough to make me use and recommend this sleeve less.

It's pretty great when I need extra battery, but when I need to talk to somene, it doesn't work too well. My voice isn't clear and people get complain to don't listen to me. That's the only thing it sucks.

Is this available for Lumia 820?
Windows Central Newsletter
Get the best of Windows Central in in your inbox, every day!
Thank you for signing up to Windows Central. You will receive a verification email shortly.
There was a problem. Please refresh the page and try again.