Review: Lenovo's IdeaCentre B540, an all-in-one for the entertainment lover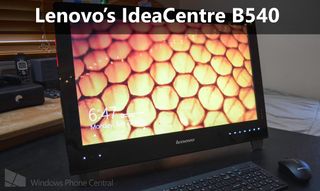 It's not hard to see that Microsoft latest operating system, Windows 8, screams for a computer with a built in touchscreen.
This week we took a look at Lenovo's latest IdeaCentre all-in-one, the B540, to see what the Chinese multinational technology company had up their sleeves.
Design
Upon pulling the 23 inch multimedia touchscreen PC from its box, you see exactly what you were hoping to find – a sleek and well-designed machine.
The front of the PC is an edge to edge 1080p multi-touch display accompanied by minimal branding; the silver colored Lenovo name sits quietly under the display, while "IdeaCentre" sits off to the side in orange – complementing the black bezel of the unit.
Sitting in the lower left hand corner of the bezel sits four indicator lights – hard drive activity, Bluetooth, Wi-Fi, and "TV" (did we mention this unit has HDMI pass-through?). I myself did not find a problem with the indicator lights, but a good friend of mine felt they were slightly distracting during use of the PC. It would have been best for Lenovo to place the tiny white LEDs on the side of the machine, but no points are taken off for putting them on the front.
The lower right hand corner of the bezel holds a selection of capacitive touch buttons to control volume, brightness, coloring, input source, and monitor power. We found the monitor power button very unique and helpful at night, we could easily leave the PC on to perform tasks and the monitor off to save energy – smart thinking on Lenovo's part. The capacitive touch buttons light up white, but are off by default and will come alive with the soft touch of a finger.
The monitor itself does not touch the table, but instead rests on two translucent pieces of plastic. Due to the translucency, the pieces blend in and do not pull your eyes away from the gorgeous 23 inch display. It should be noted that the legs are not removable and if you choose to wall mount the unit, they will remain - an odd design choice for the Lenovo team. As we said previously, at least they are transparent.
The right side of the unit houses a DVD or Blu-Ray drive, depending on which model you select. The drive is tray loading and in this day in age we much rather would have one that was slot loading.
On the left side of the unit sits a collection of ports for easy access including two USB 2.0 ports, a headphone jack, a mic jack, a card reader (MS/MS Pro, MMC, SD, SDHC, SDXC), and the power button. We are a bit dumbfounded as why Lenovo chose to put USB 2.0 ports on a multimedia machine that sports an Intel core processor. The silver power button that blends in nicely with the units silver strip, lights up white when the unit is on and blinks rapidly when the unit is in standby. The speed at which the light blinks will most likely be a bother if you keep the machine in your bedroom at night, so you will want to shut it down before tucking in for the night.
The back of the unit houses a majority of standard ports including Ethernet, four more USB ports, and an HDMI out Jack. If you chose to purchase the unit with a TV tuner you will also be given an HDMI-in port, TV RF-in, power port, and a selection of composite ports (you know – the red/yellow/white cables). Unfortunately our unit did not come with a built in TV tuner, so we are unable to tell you how well the source switching works.
Remember the four USB ports on the back we just mentioned? On a few models, two of the USB ports are actually USB 3.0. Once again, we are not sure why Lenovo chose to make the USB 3.0 optional and why they choose to stick them in the back of the unit. If I have a USB 3.0 flash drive that I wish to use, I have to break my arm around the back of the machine to plug it in.
Overall, besides the USB 3.0 mess, the IdeaCentre B540 packs a decent port selection and those looking to use their computer as a TV or hook up a video game console will love the optional HDMI-In port.
Lenovo's website claims that the unit has a "space-saving design" – we have to strongly disagree. The stand on the back of the machine sticks rather far out and takes up a nice amount of desk space compared to other all-in-one units like the IdeaCentre A series or even Apple's iMac. The stand legitimately scared us when we pulled it out of the box as you had to exert a massive amount of force on it for it to click into place – I was very worried I would break the unit at first.
Under The Hood
One of our favorite aspects of this all-in-one unit is its ease of maintenance ability; the back cover easily slides off to allow access to some of the B540's internals. Users can easily swap out the DDR3 RAM, SATA hard drive, multimedia drive, and BIOS battery. Did we mention that the entire unit has a screw-less design – those IT professionals in the crowd are cheering right now. Removing the cover also displays the unit's two downward facing stereo speakers.
The IdeaCentre B540 keeps itself cool with intake and outtake vents on the bottom and top of the unit. During our use, even while playing video games, the unit kept cool and quiet – something that we were very happy about.
Included in the box is a Lenovo branded USB optical wireless mouse and wireless keyboard. The two devices communicate wireless to the PC via a single USB dongle. The average user might find the keyboard and mouse suitable for their day to day activities, but as a heavy ThinkPad user, I found the keyboard extremely mushy and threw it aside right away. Same goes for the cheap plastic mouse. If you are a heavy typist, check out some of the mechanical keyboards we reviewed last week or pick up a higher quality keyboard and mouse set from Lenovo. It was nice of the company to throw the accessories in the box, but we weren't fans.
Overall from a design standpoint, the B540 is a stunningly beautiful machine. We simply wish Lenovo would have taken a different approach to its rear desk space eating stand.
Performance
The unit we received packed an Intel Core i5 processor running at 2.7 GHz, 8GB of DDR3 RAM, an NVidia GeForce 615 1GB graphics card, and a 2 Terabyte 7,200 rpm drive.
The unit faired very well during performance testing. Day to day tasks, such as editing multiple documents and multi-tab web browsing, flowed seamlessly. Working in Adobe Photoshop CS6 and Lightroom 5 were rocket fast thanks to the 8 GB of RAM and fast hard drive.
Gaming was also quite decent on the Lenovo IdeaCentre B540 and I was able to carve out a civilization in Minecraft, go questing for the Horde in World of Warcraft, and shoot down the terrorists in Counter Strike Global Offense, without a hitch. I personally do wish that the unit had a bit more kick to it so I could blast the graphic power all the way up, but for the all-in-one's price range – the performance felt to land right on the nail.
What's the most important part of a modern day Windows 8 all-in-one PC? The touchscreen of course! The 1080p full HD screen looked great with vivid colors and nice contrast; watching the latest music videos and movie trailers on YouTube all looked superb.
The touchscreen was very responsive and we never felt the need to tap more than once. Lenovo has used the IdeaCentre B540 to set the standard for touchscreen responsiveness.
We should also mention that due to the units built in NVidia GeForce graphics card, the unit support's NVidia's 3D vision technology. You will have to purchase the 3D Vision kit with glasses separately for around $149.99, but if you love your 3D Blu-Ray movies – this is a super plus.
While watching the latest flick on the unit, sound is also important. This all-in-one packs dual Stereo sound speakers that are enhanced by Dolby's "Advanced Audio" software. I have to personally say that I was quite impressed at how well the unit's built in speakers actually sounded. Usually I find the noise that comes out of built in speakers unbearable, but somehow Lenovo has gotten these little bad boys to sound good. There is even a decent amount of bass to the audio played (imagine that, built in speakers with decent low frequencies). Now, I'm not saying I would run out and dump my THX certified Logitech speakers in the trash, but for those who want to save some desk space or simply don't feel they need top of the line sound – these internal speakers will do.
Preloaded Software
Like most OEMs, Lenovo chooses to through some of their own software onto the PC for you to use. Some of their software feels useless like the "Lenovo Companion" Windows 8 app which simply shows you advertisements and a basic getting started guide.
Other applications included like "Lenovo Settings" are a bit more helpful. They provide additional features that go hand in hand with the system's hardware. Configure your webcam or disable it for privacy, enable or disable ambient lighting, or adjust your microphone settings to achieve the best Skype conferencing with grandma.
Like other Lenovo machines, the IdeaCentre B540 includes the company's OneKey Rescue System technology to easy back up your system and recover it when needed. While the software other OEMs provide for this same procedure can be a background resource hog or complicated to use, Lenovo's software only runs when needed and is easy to setup for the average consumer.
Finally Lenovo decided to throw in a new piece of software that I have never heard of before – the Lenovo Eye Distance System; this tool can be enabled in the background and alert you if you are sitting too close to the screen. We feel this is mostly a gimmick, but some parents may find it useful to remind their kids to sit back.
Value
Let's talk price and availability, currently the machine is only available with the configuration we tested above. We are told by a Lenovo sales rep that the additional models featuring Blu-Ray and a TV Tuner will be out in the coming weeks. The system is listed as starting at $1,199, but Lenovo's website ALWAYS has a deal going and the unit currently sells for $959. Amazon does show the same unit, but with a Core i3 CPU, 5 GB of RAM, and a 1 TB 7200 rpm Hard Drive for $649.99.
Comparing Lenovo's IdeaCentre B540 to other all-in-one touch screen desktops with other products from Acer, Dell, and Sony show a great value. You won't be overspending with this Lenovo unit – you will be receiving performance, design, and support well worth its pricing.
Conclusion
Overall the Lenovo IdeaCentre B540 was a blast to use. The machine truly stands out as one that has been built for Multimedia consumption and I only wish I was able to test the unit with HDMI-In. The excellent build quality, responsive touch screen, fast internals under the hood, and price all make this machine one that you want to have on your desk.
If you aren't a fan of hard disk drives then you will enjoy the ability to swap out the included 2 terabyte SATA drive with a smaller, yet faster, solid state drive.
If you do end up picking up the unit with a built in TV tuner we suggest adding on Lenovo's Enhanced Multimedia Remote for an additional $30 or so. It will easily let you control the unit from across the room and is easy to see at night thanks to its backlight palm-sized keyboard.
Want More? Check out my guest post over at Lenovo (opens in new tab) to see how I used the B540 during my review!
Get the Windows Central Newsletter
All the latest news, reviews, and guides for Windows and Xbox diehards.
How long have you been reading wpcentral? It was said a LONG time ago they would cover ms news as a whole.

Then start paying attention.

No need to tell us. Move along, and hopefully you find the right one.

I'm not going anywhere, but if the site is covering the whole Windows ecosystem, it should probably have a different name. Just a bit incongruous.

I get what you're driving but If they change the name , they'll loose a lot of visitors. They started off with Windows Phone coverage but as Microsoft's ecosystem gets closer together, it makes sense to cover Microsoft as a whole.
There is only so much Windows Phone that can happen in a day . Android Central covers Chromebook and other non-android Google stuff. Heck you'll even find some Microsoft news on CultofMac from time to time.

Read the comments.. How many times does this need to be explained to some of you❔
http://www.wpcentral.com/battle-mechanical-keyboards-razers-blackwidow-u...

The 649.99 deal is great. Thinking about finally getting rid of my iMac and moving fully to the Windows ecosystem.

Nice deal. I'm trying to replace my wife's computer and this is in the price point. How timely WPCentral. Thanks.

How is Lenovo as a brand? I still have an hp and it works great but it's not touch.

Wow, why? As far as I can tell, Apple still makes the best All-in-ones by a wide margin. As someone in the opposite position (with a PC, thinking of going to Apple), why are you looking at moving away from Apple?

Well you can't get an iMac for $649 that's a BIG reason. Likely the only reason for cost conscious consumers. :P

I gave up my iMac not too long ago for a Windows 8 desktop a few months ago. Glad I did. That was my last Apple hardware I owned since 1993. :( Good times, but glad to move on. :D

Nice review but still partial to my mammoth 27" Dell XPS One with Windows 8 though :) that thing can be seen from another room in the house lol

Very glad to see other price points are being addressed though so that others can see the fun in using Windows 8 - whether it's with touch screen or keyboard/mouse. My kids and I have found good use for both methods.

How's the Dell XPS 27? I'm considering buying one. (is the "one" the model with touch screen?

I just wish 10 point touch screen monitors would come down in price so I can use my current desktop fully.

Does it has Wacom chip for pressure sensitive inking? Can't see it at official website too.

Question... Can a user down the road upgrade the processor and graphics cards as well on these type of machines?

I doubt it. They're probably soldered on - then again it sounds like they're desktop chips, so its a possibility.

No, you cannot. Also, good luck trying to find a replacement cooling fan for these retarded "All-in-One" abominations once your warranty expires and the existing fan starts to rattle or "slow down" or seizes up completely...

I have a hard time with the fingerprints on my phone let alone all over my monitors :(

The legs aren't removable? My good sir... Everything is removable...

My father in law has a Lenovo IdeaCenter A720. Also saw the A730. Even more beautifull and....a lot more expensive.
Not an issue but I wonder. On the A720 when I swipe the screen, it stops moving as soon as I release my finger. On my Surface RT (and VivoTab Smart and Lumia's) the screen keeps moving/scrolling a little longer after releasing my finger.
Is swiping on the the B540 the same as on the A720 or is it like on the Surface RT?

Idk. I love the fact that my screen keeps sliding after I let go

when it comes to touchscreen PCs Dell XPS One 27 looks much stunning than this. i'm aware of its omega 27 inch but would love to see a review on that too. just to persuade me more on getting it :P

Nice machine, esp. with USB 3.0. Still, I'm partial to my i7 Sony Tap 20, a perfect giant tablet for the whole family.

My boss has been using a B540-25681JU since September 2012. It came with W7 intalled. I've not been able to convince her to upgrade to W8.....yet.

I'm the IT guy where I work. The B540 has been working flawlessly since purchased. We run Office 2010 Pro Plus. I've been using a Surface Pro 128 as my daily driver for the last several months. W8 on the Lenovo should be really sweet.

No complaints on the stock wireless keyboard. She does use a wired trackball.

Overall an excellent system. We paid $1000 back in 2012. i5, 8GB, 1 TB 7200 RPM HDD, W7 Home Premium (since upgraded to W7 Pro).

As Michael stated, very easy to get to the HDD/RAM for upgrade/service.

Why would you want to wall mount a touchscreen all-in-one . Can't really use the touchscreen if it is on the wall, unless you are just using it as a kitchen computer.

Mine wall mounts over the kitchen table using a full motion wall bracket.

I have the A720 and have absolutely loved it. I have it at work and at home and both have the TV tuner. Couldn't be happier.

Why is it so hard to have a built-in cablecard slot? A tuner is worthless without this.

This is not a review - no useful data such as benchmark graphs (for example the FPS graphs for games you have played) or detailed tech specs or even monitor's brightness/contrast or color temperature or accuracy (Delta-E) values... Just a thinly veiled Ad attempt. Not that I expected anything as useful as on Anandtech and other sites and I understand that you have to write SOMETHING but come on...

I've been looking for an AIO and this may THE one. Dell has a good one as well

How can i switch on the HDMI Mode to play with my PS3 on it ???