A quick look at the 3D-printed Microsoft Band Charging Stand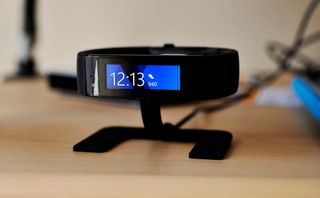 Last week, I reported on the innovative 'Band Stand' accessory for the Microsoft Band. For just $15, you can order up one of these 3D-printer manufactured stands, which lets you run the standard Mircosoft Band magnetic charging cable through it to hold your Band while charging.
Mine showed up late yesterday, and I have to give it a thumbs up.
The order shipped relatively quickly, arriving 7-10 days after the initial order. Packaging was excellent, as both stands were in a bag wrapped in thick bubble wrap to protect it during shipping.
The stands themselves are light and if you are familiar with 3D printed materials, it has that grainy plastic feel to it.
The magnetic charging cable (not included with the stand, but standard with the Band) snaps into the head-mount. It is a very tight fit, requiring perfect alignment of the charger. However, this is a good thing as once this is in, you are unlikely to remove it again. Moreover, you do not want the magnetic charger loose or to pop out.
The rest of the cable runs underneath the stand, and it does not quite clip in, although it is pretty close. The stand is relatively stable without the weight of the Microsoft Band. I may end up using some rug tape on the bottom to make it a little more permanent on my desk for mounting.
The Takeaway
So how well does it work? The Microsoft Band Charging Stand is as advertised. In the newly released video of the Band stand (see above), you get what you see. The Microsoft Band mounts well, and it can give your desk a cleaner, more organized look (plus you could see any notifications, in theory, with it mounted).
The price seems fair for the Band stand, but I'll leave it up to you if you think you need this accessory. At the very least, I can give it a thumbs up if you were curious as to its quality and usefulness.
If interested, you can order up your 3D-printed Microsoft Band Charging Stand direct from Idle Hands Development.
Windows Central Newsletter
Get the best of Windows Central in in your inbox, every day!
Daniel Rubino is the Editor-in-chief of Windows Central, head reviewer, podcast co-host, and analyst. He has been covering Microsoft since 2007 when this site was called WMExperts (and later Windows Phone Central). His interests include Windows, laptops, next-gen computing, and for some reason, watches. Before all this tech stuff, he worked on a Ph.D. in linguistics, watched people sleep (for medical purposes!), and ran the projectors at movie theaters because it was fun.
If only we could get the band here in India......

If only it was available for longer then 5 minutes shit!

You will be far better off with mk2 version of this. First models are quite uncomfortable and hardware/software will improve greatly. First models are definitely Beta and it shows. All the negative reporting and any flaws that tech sites are stating atm will all be used as positive great innovations once apples watch is in the wild, after all apple created everything first... Oh wait

Eh, the 'comfort' thing is very personal. I know a few people with the Band who have no issues, including myself. It's like recommending a pair of shoes. Software will improve on the Band with firmware and backend stuff, no need for 'new' hardware. Of course a verison 2 should be better, that is just the nature of tech. The question is, is it good enough now and stands on its own? I'd say 'yes'.

They could make it much thiner and have the screen slightly curve to hug the wrist better. At this point I would be afraid of getting it hoocked on something and ripping it off. Also some type of gorilla glass for the screen, the screen protectors should be a mandatory add-on. So far Microsoft has demostrated great improvements with their Surface line. One was great, 2 was much better, and 3 put both to shame. If they bring those effors to the band, it's a win. Then again, Microsoft is pushing their Health platform, not the hardware, as they are doing with the Surface.

Battery makes it alot thicker. We need new battery technology.

I wake up in the middle of the night and take mine off. If the batteries had a softer material on them it would be more comfortable

I agree with Daniel. Fit and comfort has not been an issue at all with me, and I can't remember the last time I wore something on my wrist everyday. Near as I can tell, the step and HR counters have been spot on. The sleep reports are sometimes off a bit, but that is because the device has to rely on secondary measurements (e.g., HR and movement instead of brain waves).

Just checked.... My Band stand is out for delivery. I almost forgot about this little guy.

Very nice. Will grab one of these once I have my band.

I have to give it to idle hands, it looks very well made (or printed). Clean looking design. I'd have ordered one if I could find the damn band to buy :)

Pretty cool little stand. Ordering one now.

This looks very cool. I've got two on order. Both my wife and I have the MS Band. Both of us love the Band. Hopefully Microsoft becomes aware of the hit they have on their hands and gets move Bands in stock quickly. I know a lot of people who have seen mine and want one.

Thanks for the post Daniel, I will use this design to craft my own from aircraft alloy (7075 t6) on a cnc. Are there any cad files related to this?

Might have to talk to the guy who made it. I'm sure something is floating around.

Hey, willing to make two? Haha Email me - sean@idlehandsdevelopment.com, we can talk about the design files. This would be quite the chunk of material to machine though. The fit is also based on shapeways flexible plastic so you may have to change the tolerance for metal.

That's cool. I would buy it.

I just ordered one for my school. Pretty excited to see what we can do with it. :)

Nice cut out detail on the foot there.

How do you get the battery level indicator to show up? First time seeing it in this video.

It shows when you charge the band

Really, all i see is the battery/plug icon indicating it's charging but never a % of the battery level. Nevermind, found it. You have to have Watch Mode on to see it.

The price on the stand was originally $10/$11 for the White or Black plastic (respectively), they eliminated the option for the white plastic and raised the price. If you were lucky, you got this early.

Glad it's worth the money. Mine is out for delivery today. I was a little concerned about it sliding all over my desktop since it's made from that light 3D printer plastic, but I'm sure I can find a fix for that.

I'd have a band by now if they didn't sell out on the 2nd day. But since they did, my tech lust dissipated and I read enough so-so reviews to wait for the 2nd or 3rd Gen of the band

I want Bandstand, Bandstand!

I should create a TV show and call it that, but I don't think that it would be popular

Props to the maker behind this, it's awesome! Next step: Microsoft buys the design from this person, and offers it up in a Microsoft Store with two options, (1) Buy one premade for $15 or (2) they make it for you in front of you using the 3D Printer on hand. No more useless printing of plastic toy tools, or chains, or houses, or dinosaurs. Use it to MAKE something!

I just get mine, yesterday, the only thing now missing is the damn band. Greeting from Spain

They should update the band and phone software, such that if I am doing a workout and have my phone with me and they are sync'd, it can use the phone as the GPS device. Since my phone has a better battery life and always charge it nightly anyway.

Order mine !! Great idea, and very neat product !! Received my band yesterday.... From Canada.... J-F

Love the band! Love the stand! Both first rate products. I have the band over 2 weeks now and I got another for my sister in law. I can see my emails and texts without removing the phone from my pocket. Just great!

You must love your in laws. and reading texts and not responding is kind of rude.

The way I see it, there're 3 problems stand for the band: 1) Its not confortable enough to be worn 24/7...(will you sleep with it?) 2) Its not waterproof, thus also can't be used when swimming, Taking Shower, etc, 3) It can only last for 2 days max. It should be a device which is designed to take note of our condition 24/7... Why would I buy it If I can't wear it all the time?

Mine arrived today, good timing as my band arrived from the states yesterday :D Love it! My first bit of 3D printed tech!
Windows Central Newsletter
Thank you for signing up to Windows Central. You will receive a verification email shortly.
There was a problem. Please refresh the page and try again.