Review – Microsoft Sculpt Ergonomic Desktop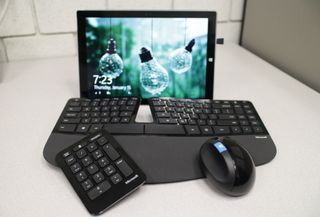 These days, when it comes to peripherals for computers, a lot of attention is given to mobile keyboards and mice for tablets and laptops. But what if you are one of the remaining desktop computer users or use your laptop or tablet on a dock as your primary computer in your home or office? You will likely want a full-size mouse and keyboard to fill out your command center.
The Microsoft Sculpt Ergonomic Desktop is a fresh and comfortable setup that combines functionality, versatility, and style.
The Sculpt Ergonomic Desktop consists of three devices, a keyboard, a mouse, and a number pad that all connect through a single USB dongle. Each piece has been thoughtfully crafted to maximize utility with Windows 8.1, while simultaneously providing a comfortable user experience.
The keyboard
The Sculpt keyboard, which runs on two AAA batteries, is the signature piece of the set, clearly recognizable by its distinct split-key design and ergonomic wave shape. The wave, along with its padded rest, make typing comfortable and less stressful to your hands and wrists. The Sculpt also comes with an optional riser that attaches to the bottom with magnets, should you want raise your hands higher off the desk.
The keys on the keyboard are all slightly raised and spaced just the right amount to cut down on the number of typos. They also give off enough of a clicking sound when pressed without being obnoxious. They are by no means mechanical, but they are not completely soft clicking either. Key travel is low to mid range.
Along the top, the F1-F12 keys double as your typical Windows 8 controls, like music playback/volume, search, share, devices, and settings. There is a Fn Lock switch to toggle between the F1-F12 functions or Windows controls as the default.
Despite its ergonomic shape, the Sculpt keyboard is even pleasant to use for those of us who don't quite type "the right way." For anyone who does, though, it's a dream.
The mouse
Not to be outdone by the oddly formed keyboard, the Sculpt mouse has a unique look of its own. Affectionately referred to by some as the "hamburger mouse" for its bulbous design, it is just short of being circular in shape. The Sculpt Mouse is also one of the tallest, and deceptively comfortable mice that you will ever come across.
It curves into the palm of your hand, turning it enough that the outside of your palm and wrist rest comfortably on the desk. The rest of your hand is elevated sufficiently to keep it from feeling strained in any way.
The "hamburger" has your traditional left and right mouse buttons, as well as a scroll wheel with middle-click functionality. In addition, there is a back button at the tip of your thumb and a Windows button just above it that performs the same function as its counterpart on your keyboard.
At first, I was skeptical that I would like using the Sculpt Ergonomic Mouse, but I was instantly proven wrong. The shape keeps your hand in a natural position, even when moving the mouse around. The left and right buttons have large areas of activation, so you don't need to reposition your fingers at all to click. Whereas many mice force you to use your fingertips to click, this one allows you to just push nearly any part of your finger down.
The result of it all is less hand fatigue and a stress-free computing experience.
The number pad
The final component of the Sculpt Ergonomic Desktop is the stand-alone number pad. Unlike its sibling devices, the number pad looks pretty standard. It's a svelte, no-frills pad with all the typical buttons. It also includes a pre-programmed button that calls up the calculator in Windows.
Frankly, there isn't anything special here, but it is a welcome addition to the set, since the Sculpt keyboard doesn't have a number pad of its own built on it.
In summary
The Sculpt Ergonomic Desktop has just about everything going for it. First and foremost, it is extremely comfortable to use, even for long stretches. The ergonomic design of the keyboard and mouse keep your arms and hands in a perfect position to minimize strain.
This setup is also chock full of functionality. It is geared for Windows 8.1, complete with all the keyboard shortcuts you need, as well as the built-in Windows button on the mouse. However, the Sculpt Ergonomic Desktop will also work fine with any other operating system, just without the added perks.
And finally, the Sculpt desktop set just plain looks cool. It's great that Microsoft put function before form, but they were also able to give it a novel appearance that complements just about any office setup.
The Microsoft Sculpt Ergonomic Desktop retails for $129.95, which, though pricey, is easily justified for such a high-quality set. The good news is that you can find it heavily discounted on Amazon, fetching just $69.99.
Get the Windows Central Newsletter
All the latest news, reviews, and guides for Windows and Xbox diehards.