Review: Motorola S10-HD Bluetooth headphones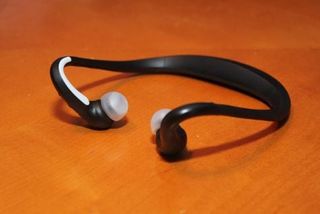 Bluetooth headphones come in a variety of shapes and sizes. I've had the opportunity to review several different models in the past, and they all have different strengths. My Samsung SBH600 headphones are perfect for listening to music or watching a movie for a long period of time while the Motorola S305's are my personal favorite in terms of comfort and portability. When it comes to using Bluetooth headphones for exercising, Motorola's S10-HD sets the bar.
Design
Like the Motorola S9 and S9-HD before it, the S10-HD is created from the ground up to be worn while active; specifically while exercising. The headphones are designed to be sweat-proof, with rubberized surfaces and buttons. The earpieces are also lined with a rubberized material to prevent slippage and increase comfort.
The buttons that control music playback and calling features run up the side of each earpiece; the lone exception being the power button, which is on the rear of the headphones. The playback control buttons are somewhat difficult to interact with due to the rubber layer over the top. An LED indicator is also located next to the power button, and is protected under the rubber layer as well. The headphones are designed to go over the ear and behind the head, with the back of the headphones "floating" over the back of your neck.
Sound Quality
The S10-HD comes with four separate ear gels that are not only different sizes, but different shapes. The result is that you should be able to find a solution that fits your ear effectively, which is an important factor for in-ear headphones. The S10-HD puts out plenty of volume, which is a must for many exercise scenarios; though the sound range isn't as broad as I'd like, it is good enough to meet the needs of most people.
Conclusion
The Motorola S10-HD is specifically designed to be used while exercising and being active. The sound quality isn't the best that I've ever heard, nor are they the most comfortable headphones on the market; but in terms of meeting the needs of someone with an active lifestyle, the S10-HD is a great choice. The S10-HD is running $79.99 and can be found at retailers such as Best Buy (opens in new tab).
I have a pair of their non HD predecessor. They don't fit your head very well, the continuously falls out of your ears. The sticky substance holdig the rubber on leaks out after a while and gets all over the place. Not very good at all.

What about battery life? Do phone calls come out through both earpieces? This review could've answered these questions. What this review can't answer is about durability.I wonder if Motorola has learned the lessons from their previous "active" headphone models. The S9 was atrociously uncomfortable, sent phone calls through one earpiece only, had poor battery life and after a few weeks of sweating, the buttons on each side of the headphones stopped working. Not a good experience so as to motivate me to try their S9 HD model, and still not convinced the S10 HD are worth a try, unless Motorola has actually learned from their previous mistakes.

I agree, battery life should definitely be addressed.

I have the non-hd's as well. I get 5+ hours of music and I've had them for years so I doubt that these have any less.Re: mvierling I don't think mine have any goo in them, but I do agree that they could fit a little better.But that doesn't change the fact that I love them and they're some of the best headphones I've owned. With a good phone you can use them through walls, in the shower, jogging or exercising. They feel great. The call button works as redial or voice commands. You have to speak clearly or sometimes it doesn't pick you up. But you can actually talk with your mouth closed and people can hear you, the microphone is in the right ear.

Can you watch video using this?

What a disappointment. I had the s9, and it was horrible. I couldn't believe it was even released as a product--unfortunately, there's not a lot of selection with these types of devices. I've heard better sound in a seashell, and what's the point of a headset designed for exercise that drops the sound every time your foot hits the pavement when running?My thinking in buying the s10 was that Motorola would have to have been so embarrassed by the last model, they would certainly have made this one right. I haven't been running yet, but again--the sound quality! It might even be worse than the s9! I searched for an equalizer or downloadable software to manipulate the sound quality--thinking there just HAS to be something I'm doing wrong here. Nope. Everything is as it's supposed to be. The product just sucks. This just has to be a prank.Oh to have been born a genetic mutant with all thumbs, so I could point ALL of them DOWN!Isn't there a way to give negative stars on this?
Windows Central Newsletter
Thank you for signing up to Windows Central. You will receive a verification email shortly.
There was a problem. Please refresh the page and try again.