Review: Plantronics BackBeat 903 Bluetooth Stereo Headset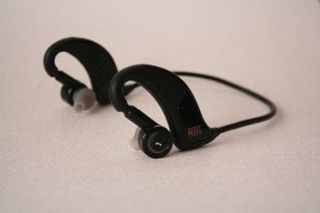 The first time I saw Plantronics' BackBeat 903 headphones was at CES in Las Vegas in January 2009. As the PR Rep showed me the various features and described the functionality I began to violate the 10th commandment ("Thou shalt not covet…"). To see why, keep reading.
Design
Right off the bat, there are some major design elements of the 903 that are distinctive. I would put the design somewhere between Motorola's S9-HD and S305 stereo headsets. The earpieces are designed to fit down inside your ear, sealing in the sound and reducing outside noise. All of the weight is placed behind the ears, making this a fairly comfortable headset to wear. Between each ear is a shielded wire that is flexible enough to make wear comfortable and to allow for use while lying in bed or leaning your head back against a headrest while not being so flexible that the wire will get tangled during storage.
Features
The BackBeat 903 provides the standard controls that we've come to expect from Bluetooth headphones. The right earpiece includes all of the music playback controls, while the left gives you your call button. The play/pause and call buttons are placed on the outside of their respective ears, causing the earpiece to be pressed against/into your ear when these buttons are used. Volume controls and track forward/back controls utilize a single switch on the bottom of the right earpiece; a short press for volume and a long press to change your track. The microphone, power button and charging port are all located on the left earpiece.
Because of the physical design of this headset it is very secure on your ears, to the point where getting it off of your head can take a few seconds. The designers realized that this could be an inconvenience if you are listening to music and have someone start talking to you. Instead of sacrificing the fit of the headphones, they came up with an innovative technological solution that they cal OpenMic. If you pause the track while listening to music, the microphone activates and pipes the sound through the headphones. This allows you to switch between your music and a conversation with minimal effort.
Quality
Sound quality with this device is exceptional. The fact that the sound is funneled into your ears greatly improves bass response and allows you to hear the full range of your music. I also noticed that when you take the headphones off while your music is still playing there is almost no sound projected. This tells me that coworkers and spouses won't be annoyed by your choice in music while they are trying to work or sleep. As a hands-free device, noise cancellation is accomplished using Plantronics' dual microphone AudioIQ technology, which is found in their Voyager Pro headset (which is what I use on a daily basis).
If you're looking for a headset to use during exercise, the BackBeat 903's would be an excellent choice. One complaint that I had about the S305 was the fact that the speakers were covered with fabric that made them comfortable, but absorbed sweat. The 903's are primarily plastic and rubber, making it fairly easy to simply wipe down.
Conclusion
Plantronics has another winner with the BackBeat 903. The headset is comfortable and flexible, even capable of being used on a single ear if that is desired. Sound quality is more than adequate and Plantronics is one of the best at designing functional, usable headsets. If I had to come up with something to complain about it would be the placement of the volume/track control switch. The switch is placed on the bottom of the right earpiece and is most easily manipulated with the thumb, but finding the switch and then getting the desired effect out of it takes some getting used to. Also, it would be nice to have a couple of different choices in ear gels in order to more effectively customize the headphones for a specific user.
Head on over to the WMExperts store to get a set for you or someone you know. $89.95 will get you one of the most feature-complete Bluetooth Headsets I've come across.
George is the Reviews Editor at Windows Central, concentrating on Windows 10 PC and Mobile apps. He's been a supporter of the platform since the days of Windows CE and uses his current Windows 10 Mobile phone daily to keep up with life and enjoy a game during down time.
I got these as a warranty replacement for my plantronics voyager 855. I was pleasantly surprised at how much of an upgrade this headset is. The call quality is not quite as good as the voyager 855, but these are primarily earphones with a secondary phone function. Makes sense since there is no boom on it. Good to see it reviewed so well as I have been enjoying them for a while now. Keep up the good Tim!

Read that last line: Keep up the good work Tim!

The headphones do have excellent sound, in my opinion. One thing to be noted is that the volume cannot be controlled by the phone; you are restricted to the volume controls of the headset (tried with both a TouchPro 2 and an HD2). This is particularly an issue with low volumes since the minimum volume is now still fairly loud and cannot be tweaked with the phone. Can Windows Mobile adjust the volume of any bluetooth headset? This function pretty much works on all other phones (Blackberry, Android). All in all, not a major inconvenience, but probably should be mentioned.

the issue is with the phone most likely. i have jabra headphones that work awesome with my Q9H. when i use them with my tilt 2 the volume control only works on the headset. it's annoying. hate to say it but blame htc..... :(

Amazon consumer reviews of these headphones are very lukewarm. There are many buyers who report that the headphones were great out of the box but failed very quickly. It would be interesting if you followed up this review with a long term test and tell us in 3 months how they're working out. See
http://www.amazon.com/Plantronics-903-US-BackBeat-Headphones/product-rev...

I'm still using them after several months and they still work flawlessly. I don't use them constantly, but frequently. The one complaint that I have is some of the surfaces are rubberized and this can hold on to dust and dirt.

I just purchased this headset from the WMExperts store, so I will do a follow up post after I have used them for a couple of months

This headset lets you to break away from the wires and listen to your music and dance around without carrying the wires.The headset features an integrated microphone that allows for hands-free mobile phone usage.With a rechargeable function and its lightweight design, you can travel everywhere.

Ultra comfortable wireless headphones gives rich stereo sound from your stereo Bluetooth enabled mobile phone or MP3 player, while smart dual-mic AudioIQ voice technology offers exceptional clarity for your cell calls.

This headset does almost everything I need and headphones. It acts as a hands-free headset with your phone, play stereo music, the BlackBerry Curve. The only adjustment I made to shorten the wire, which passes through the back of my head,

The best iPad Video Converter software can convert to iPad format from AVI, WMV, MPEG, DivX, XviD, VOB, 3GP, FLV, SWF, etc. to iPad MPEG-4, H.264 MPEG-4, MP3, AAC, AIFF and WAV. Meanwhile, it can be so easily realized to split file into clips, alter video dimension, brighten video and strengthen contrast. Users could customize individualized videos with your text logo or image. Free download the iPad Video Converter and enjoy unprecedentedly pleasant enjoyment.
iPad to Mac Transfer
iPad to Computer Transfer
DVD to iPad Converter
iPad Manager
iPad Transfer
iPad Converter for Mac

I have been enjoying this headset for a little while now. Not bad @ all considering... :)

Is there a difference between Planatronics version an Altec Lansings version...besides the price and the label?
Windows Central Newsletter
Get the best of Windows Central in in your inbox, every day!
Thank you for signing up to Windows Central. You will receive a verification email shortly.
There was a problem. Please refresh the page and try again.