Review - StoryLeather Side Flip Stand case for HTC One for Windows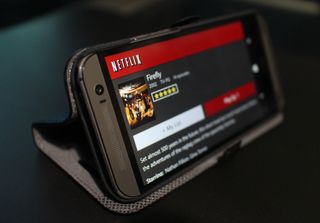 With the HTC One (M8) for Windows graduating from a Verizon exclusive to being available on AT&T and coming soon to T-Mobile, we've been reviewing some cases to give you a taste of what's out there.
Next up is the StoryLeather Side Flip Stand case for the HTC One (M8) for Windows. It is a premium leather case that acts as both a stand and mini portfolio for your smartphone.
First and foremost, the StoryLeather case is very high quality. The outside leather cover is textured with a pebble surface to give it a look and feel of a professional portfolio. Two magnetic tabs come together on the open side of the case to form a clasp to keep it shut. Opening it is as simple as flipping it with your thumb.
The leather cover has cutouts for the HTC One's speakers, rear cameras and flash, while protecting the front-facing camera.
Inside you'll find a suede lining that helps keep the HTC One's screen free of dust and lint. The inside of the flap also smartly includes a well-crafted pocket for holding a credit card, money, or business cards. Opposite the front flap is a hard shell that the HTC One (M8) snaps into. This shell holds the phone in place and protects it from the impact of drops.
In hand, the StoryLeather case feels good. The textured leather makes it comfortable to hold. Like just about any flip case, this one is a bit awkward to hold when the cover is flipped back to make a phone call. However, it is still better to hold than its brethren, like the HTC Flip Case.
In addition to acting a tiny business portfolio, the StoryLeather Side Flip Stand case also doubles as a stand. When placed with the front flap down, the hard shell slides forward to stand the phone up in landscape mode.
StoryLeather has crafted a top-notch case for the HTC One (M8). It just as easily feels at home in a business meeting or a nice restaurant. It's so nice, in fact, that I feel odd using it while wearing my usual cargo shorts and band T-shirt. But if you're more of a suit and tie or business casual, kind of person, the StoryLeather Side Flip Stand Case will serve you well.
The StoryLeather Side Flip case is available in the Windows Central Store for $49.95.
Make sure to check out our other HTC One for Windows Case Reviews right here!
Windows Central Newsletter
Get the best of Windows Central in your inbox, every day!
The M8 feels so nice in the hand, I'd hate to put a case on it.

Yup. Although the prospect of it dropping on concrete is terrifying, lol

If the camera suddenly gets a higher sensor because of that, it'd be my next WP

That's the back and forth I go through in my head everyday.

Do not bother - bought last December a Lumia 1020 case for $69 and after three months of use it wore so much that is was unusable. Contacted support and I was told that this is normal with leather products. I was offered 20% for a future purchase. Bad experience

Can you take calls with the cover closed? I'm sure the speaker cut out is fine but can people hear you with the cover closed?

I'm getting the M8, I just plan on not dropping it 17 times.

Omg am I not the only one who drops his phone like a million times!!!

He was referencing a previous article in which the writer dropped his m8 17 times.

If I'm not mistaken, this is designed so that you can talk to someone on the phone while the case is closed. I have a similar case for my 1520 and I do that all the time. Makes talking on it more natural.

Damn I saw the picture and thought that Netflix got an update lol then I read the title and realized its just some case :/

Noni t-mobile would just let me buy one Posted via the Windows Phone Central App for Android

Why don't HTC and Samsung make international version of their WP flagships? We're stuck with Lumias -_- Posted via the WPC App for Android using LG G2

Dreadful. Why people feel the need for these hideous cases is beyond me. It's like buying an Armani suit and then wearing a yellow anorak over the top.

Nice cameo of the outdated Netflix app. Will probably need to wait until Windows 10 universal app until we finally get profile capabilities.

Will HTC accessories for the Blu Win HD? I'm not sure about the size, but Blu definitely ripped off the style of the HTCs.