WaterField Bolt Crossbody bag for Surface Pro, Surface Laptop or Surface Book is worth the price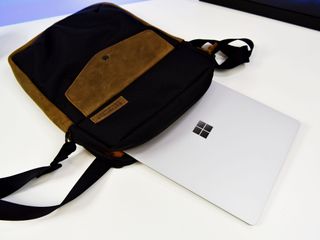 When it comes to protecting your new Surface Laptop, Surface Pro, or Surface Book you can go a few ways – cheap, with questionable longevity or expensive and quality. WaterField falls into the latter category as they are handmade in San Francisco, often being made to order.
I've reviewed WaterField's Dash Sleeve, Outback Solo and I own the Field Muzetto bag. Now, the company has a brand-new one that is very exciting: Bolt Crossbody. Here is my review.
Bolt Crossbody – Fit and style
The WaterField Bolt Crossbody comes in three sizes including small, medium, and large. I grabbed the large version, which takes the Surface Laptop, Surface Book with Performance Base, Razer Blade, and it can even fit the Dell XPS 15. For Surface Pro owners, the medium size will do if you want a snugger fit.
Bolt Crossbody is what I would consider a day bag plus some. Whereas the excellent Brenthaven Collins Vertical Messenger Bag is ideal for a few hours the Bolt Crossbody lets you pack significantly more without turning into a full duffle bag. You can pack this for a few days with an Xbox controller, AC power plug, your laptop, tablet, phone, magazines, travel info, pens and more. Or, you can just put a Surface in it and use it for the day. The point is you get more flexibility with the Bolt Crossbody.
Image 1 of 2
The Bolt Crossbody is similar to the Field Muzetto bag, but I like it better for a few reasons. The top pocket is zipper versus the Field Muzetto's flap. The Muzetto's flap is convenient, but your PC could slide out when the bag is laying down, which makes me nervous. There are also more pockets – both large and small – with the Bolt Crossbody.
For pockets, there is one large compartment that opens from the top. Within there you have a slot for your laptop or 2-in-1 – that area is padded on both sides too to protect the upper and lower areas of the device. There is the central area, where you could technically fit a second laptop but would most likely hold your AC charger or even an Xbox controller - if you're like me - and still, have room to spare. Along the inner-outside pocket, you have a deep, universal pocket and two pen holders.
The outside of the bag has another pocket that looks like it buttons but is held by a strong magnet. That pocket could hold an 8-inch tablet or a magazine, with a smaller pocket for your smartphone. That smartphone pocket is larger too holding my massive HP Elite x3 with protective cover.
The back of the Bolt Crossbody has a sixth compartment that zip closes. It is big enough to fit multiple large-sized magazines, travel documents or anything else that can lay flat.
For carrying, there is a shoulder strap with adjustable D-rings allowing for maneuverability. There is also an excellent "grab handle" on the back, which I adore. The Field Muzetto is missing this making it cumbersome to grab when laying on the seat next to me. Now, I can grab the Bolt Crossbody and since everything is zipped not have to worry about my items spilling out.
Materials and quality
WaterField is a well-known premium brand for bag making. You buy it once and keep it for a decade or more, and they can even fix your bag if something did tear. I have never had an issue with their bags, and you can go read customer testimony or their reviews. In fact, the Bolt Crossbody currently has a five out of five-star rating from 17 reviews.
For the Bolt Crossbody there are multiple options for materials:
Waxed canvas – Basically, this is the traditional leather bag in three trims including Chocolate, Grizzly, or Black leather.
Black Ballistic – This is a very thick and sturdy nylon with the same three Chocolate, Grizzly, or Black leather trims as options.
Both styles are water resistant and very durable. The one I tested here is Black Ballistic with Grizzly Leather trim as I think it gives an excellent contrast.
The inside is a gold cloth, which is an interesting choice. WaterField chose this so that it was "bright" on the inside versus a traditional brown or black. That decision means items at the bottom of the bag contrast and is easier to see. I like it a lot.
The zippers are sturdy, worked well and never jammed. They all have a leather grab on them too for easy finding.
While wearing the bag, I could access all the compartment and slots without having to remove it. I appreciate that at airports or trade events when I don't feel comfortable taking the cross body bag off for security reasons.
Image 1 of 2
The Bolt Crossbody can be worn – as its name implies – across your body, or just over the shoulder. I prefer the former style as it can sit against my hip and not bounce a lot.
Expensive, but worth it
I won't beat around the bush the Bolt Crossbody is very expensive. It starts at $199 for the small and goes up to $219 for the large. That is quite a price jump from the typical $20 to $60 range people spend for a laptop bag.
Nonetheless, WaterField makes these in small batches right here in the US with premium materials and well-thought-out designs. These are the kind of bags you buy once and keep for a very long time. Since the large style fits even up to a Dell XPS 15 if you move on from a Surface to something else the bag retains its value.
Personally, I've been trying to move to buying American-made, higher-quality items as I get older instead of lower-cost things I can throw away. Of course, not everyone can afford a WaterField bag, which is understandable too.
Out of all the bags I own so far, the Bolt Crossbody is now my favorite. While the Brenthaven Collins is a lovely day bag, that latch has worn a bit over time, and the quality of the Bolt Crossbody blows it away. I also feel I can pack more into the Bolt Crossbody like an AC charger, Xbox controller, a few smartphones, and even another PC without feeling like it is overpacked. Alternatively, I can just use it for the Surface Laptop, my phone, and a mouse without feeling like I'm carrying too much bag for the job.