Ride a flying ostrich as Joust joins Xbox One backwards compatible list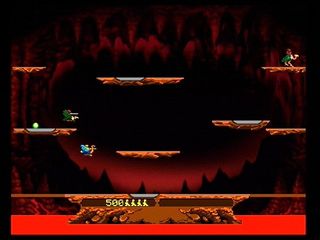 Microsoft has added the Xbox 360 version of the classic arcade video game Joust to the list of games that can also be played on the Xbox One via its backwards compatibility feature.
The arrival of the game to the Xbox One was revealed, as usual, on the Major Nelson Twitter page. The original Joust was released in 1982 by Williams and was one of the first Xbox Live Arcade games for the Xbox 360 in 2005. Classic gamers are likely to remember Joust as one of the quirkier early arcade titles, with players riding on either a flying ostrich or a stork to battle others in the 2D platformer. The game features both offline and online multiplayer for up to two gamers.
Will you be playing Joust this weekend on your Xbox One? Please let us know in the comments!
Windows Central Newsletter
Get the best of Windows Central in in your inbox, every day!
Had this game on the BBC computer as a kid, I loved it! Gonna bring back some good memories! Posted via the Windows Central App for Android

This was one of my favorites in the 80's. The grand pappy of the Chocobo.

Used to play this hours upon hours on my ol' XT. 128KB of RAM and a CGA screen baby! Hellova machine :)

This is a major plot point in the book (soon to be film) "Ready Player One" - I keep meaning to have a go.

that's weird, because this game isnt in the store (or it shouldn't be because there is a williams compilation) i do have it, (and have a 15 million point score on the leaderboard).... and it's good that it's out, but it's still a strange choice to add.

I thought this game has been delisted

I did too. but it looks like they relisted it for $4.99 https://marketplace.xbox.com/en-US/Product/Joust/66acd000-77fe-1000-9115...

I love Joust... So fun playing on arcade machines ;)

Wow, I remember this one from the Coleco Vision

I had this for my Atari 600 & 800XL computer I played this game for Hours loved it.
Definitely getting this game. WOW AWESOME

Played this in the Arcade a lot. Fun little game.

I went through a lot of quarters (and skipped classes) playing this back in the day of mall arcades.

How much does it cost? If it's free or really cheap, I'll probably get it. Otherwise, I already have it on NES, Atari 7800 and Atari 2600 - all three in hard copy, and so if it's more than a couple bucks on XB, I'll probably just stick with those.
Windows Central Newsletter
Thank you for signing up to Windows Central. You will receive a verification email shortly.
There was a problem. Please refresh the page and try again.