Right Left Up – a fast paced arcade game is today's AdDuplex HERO App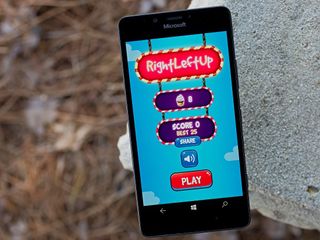 The Windows Phone Store is packed full of arcade styled games and Right Left Up is on such offering that hopes to catch your eye. The Windows Phone game has you guiding a sheep up an endless mountain of cubes. The challenge comes into play with several dangers that include exploding cubes and runaway doughnuts that will ruin your sheep's day.
The game plays out a lot like the classic game of Q-Bert and had decent graphics and a brisk pace. You have to plot your moves carefully to avoid boxing yourself in and first impressions are good for Right Left Up.
Right Left Up launches this month's HERO Apps program, which is a promotional campaign for Windows Phone and Windows developers on the AdDuplex Network. The program partners AdDuplex with myAppFree, AppDeals, PluralSight and Windows Central to deliver a host of benefits to the top apps and games each month. Our role in the HERO App campaign is to offer a little exposure to these titles by sharing them with you, our readers, and today we shine the spotlight on Right Left Up.
Right Left Up isn't a very complicated game, but that shouldn't mean it is a cake walk. The main menu will display your cupcake score, best score (as far as distance is concerned), a mute button and a Play Button that will send you into game play.
Game play is presented in infinite runner style in that you climb the wall of cubes for as far as you can until your sheep gets blown up, knocked off the cubes or otherwise meets his demise.
You control the sheep by tapping the left or right side of the screen to have them jump up to the left or right. You lack the ability to go backwards, which makes choosing your path up the mountain of cubes more challenging. It is easy to jump your way into a corner, surrounded by danger and then get flattened by a giant doughnut.
You are targeting safe cubes to land on (those without the skull and crossbones) with many of these cubes offering bonus items. These bonus items include super jumps, shields and more. Along with the deadly cubes you will have to navigate around, you will also have other dangers such as runaway doughnuts to avoid.
The goal of the game is to climb as high as possible while collecting as many cupcakes that are scattered on the mountain. Beyond being a scoring measure, I do not see any other role the cupcakes play but it would be nice if you could spend them on accessories for your sheep or maybe power-ups to help your sheep survive longer.
All in all, Right Left Up is a decent time waster of a game. Graphics are good, game play challenging and the pace of play has a little zip to it. When I first played Right Left Up, the classic game of Q-Bert came to mind and if you like that style of arcade games, I think you will like Right Left Up.
If you have tried Right Left Up, let us know what you think of things in the comments below.
Download Right Left Up from the Windows Phone Store (Free)
AdDuplex HERO Promotion
AdDuplex is a fantastic resource for the cross-promotion of Windows Phone and Windows apps. AdDuplex has launched a new program designed to help developers promote their apps even further with free access to various tools and resources from AdDuplex.
The HERO Apps promotion partners AdDuplex with Windows Central, myAppFree, AppDeals and PluralSight (opens in new tab) to provide additional benefits to the top apps every month that include:
Vouchers to advertise on AdDuplex
One month subscription to Pluralsight Plus
A featured campaign with myAppFree
A featured campaign with AppDeals
A review here on Windows Central
If you are a Windows or Windows Phone developer, you can sign up for the HERO Apps program here at AdDuplex's website. To participate in the program, you will need to apply within thirty days after your app or game has launched on the AdDuplex network.
Windows Central is already partnered with the myAppFree campaign and is proud to be partnering up with AdDuplex with the HERO Apps program. It is another excellent opportunity to help promote both the Windows Phone and Windows platform.
Keep in mind that the HERO Apps are different than what you find with the myAppFree deals. The HERO Apps are free, ad-supported titles that often have the option to remove the ad-support via in-app purchases. The myAppFree deal delivers a paid app or game at a discounted price or for free.
Windows Central Newsletter
Get the best of Windows Central in in your inbox, every day!
George is the Reviews Editor at Windows Central, concentrating on Windows 10 PC and Mobile apps. He's been a supporter of the platform since the days of Windows CE and uses his current Windows 10 Mobile phone daily to keep up with life and enjoy a game during down time.
First to comment, so special :-)

Plzz DEVELOPERS make some standard Games For WINDOWS PHONE 10 OS Like HOMERUN BATTLE 2..8BALL POOL..SUBWAYS SURFERS..PRINCE OF PERSIA..SHADOW GUN...etc...We R Not Kids who play This Type Of Games...UNDERSTTAND OUR FEELING AND REPUTATION DEVELOPERS..if u make these types of games in future we will definetly never takeover Hangdroid Or IOS...SORRY FOR SAYING..

Wtf are u talkin 'bout? I love these games, and many more.
If you want serious games go buy an Xbox!

So you mean to say windows phone users don't have kids and all are grown ups?! Dats a very lousy comment. All platforms should and they do have games of all genres and for all the ages. People should just skip the title and move on if they are not into it...

You have understand everything you say is based on your own opinion. These things are popular on all platforms for a reason. You're not the one making the shots. No one tailors specifically to you. The world does not revolve around you. Now try the new epic game by game troopers. It's quite refreshing.

We need mountain goat from Zynga
Windows Central Newsletter
Thank you for signing up to Windows Central. You will receive a verification email shortly.
There was a problem. Please refresh the page and try again.