Rise of the Tomb Raider coming to PC on Jan. 28 with exclusive Windows 10 features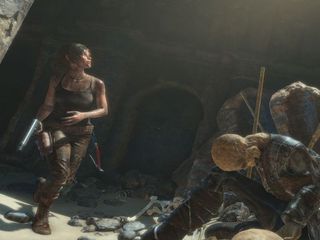 As promised, Microsoft will help bring Rise of the Tomb Raider to the PC on Windows 10. The action-adventure game from developer Crystal Dynamics that was first released for the Xbox One and Xbox 360 consoles in late 2015 will be available on the Windows Store, Steam and other retailers on January 28.
The Windows 10 version of Lara Croft's latest adventure will get some extra features:
We have no idea what "VXAO" means, but hopefully that will be revealed before the game comes out later this month.
Source: Xbox Wire (opens in new tab)
Windows Central Newsletter
Get the best of Windows Central in your inbox, every day!
They aren't adding dlc, all the extra features are graphic related meaning more powerful hardware is required. Even if they could theoretically enable a feature it's not like they have the headroom to do so without sacrificing something else. Every half decent PC port adds graphical features to take advantage of the more capable hardware.

of course they wont add extra DLC, the wait time was just 2 months. PS4 version will propably have all DLC included (or not if they are clever and want to make some more money)

Seriously I pray my AMD A6 APU 6310 with Radeon 4 graphics can handle this.

My Nvidia GeForce GTX Titan X will burn !!

Looks like about time to upgrade my X700.

great i have it allready.

Nooice,
i just nooiced your notice.

My 730 will burn to he'll!!:D

Why 730?? The game is launching on pc, not phones.

I'm pretty sure he means his Nvidia GT 730 video card...

In the end, those of us who bought it on Xbox One, will probably be long forgotten. So much for the "exclusive" hype. *sigh* Don't wanna buy the same game again, even if it gets incredibly updated visuals.

Seriously? Why does this mean they will "forget" Xbox One buyers? No idea what you're talking about.

I think he's saying because he won't get it for free on PC he's forgotten. He should call Square Enix and ***** to them, not us.

Well, like the title says, "...exclusive Windows 10 features" So definitely these won't come to Xbox One, even though the game was a Xbox One exclusive to begin with. Yeah, I know Xbox One won't be able to handle all those graphics improvements, but still it hurts a bit.

One of those exclusive features is "4K", since the XBox1 ca't do it...people aren't missing it on the console. The other features? who knows what they are..just upgraded visuals? content? I guess we'll find out when it's released.

I am assuming this will be a buy-once-deploy-anywhere (Xbox 1, XBox 360, PC) situation?

There is no reason to expect that.

Has there ever been a game, in the history of games, that you could buy on Xbox and play on PC? Short answer: No. Long answer: No.

It was not announced as a Universal app so this will most likely be PC only.

I guess that "VXAO" is some thing for HoloLens and virtual reality headsets...

No, it's a new ambient oclussion technique.

And this will be the start of a better Store and great opportunity for Windows to give users amazing future. even Minecraft, while not as open as java version, it's an amazing game on the store, and soon Fable Legends (which hasn't had a beta in a while) and Gigantic will join, making the store better and better. also Gears of war and Killer Instinct. it will be the year of Windows store for sure, you have to start somewhere and Tomb Raider and exclusive features sounds like a nice deal.

A huge missed opportunity by Microsoft to not announce cross-buy. If they have any hope of surpassing Steam on PC and Sony on consoles, they need to take advantage of their strength--and that is the unique ability to unify gaming across all devices (consoles, computers, tablets, phones, HoloLens, etc) and offer gamers an incentive to ditch those platforms and buy into Xbox instead. But that will not work if you make consumers re-purchase the content they already own. Announcing that all of their games on Xbox One will also be available as Xbox games in the Windows 10 Store with cross-play, cross-buy, and cross-sync would put them in a huge power position. Instead, as this Rise of the Tomb Raider on Windows 10 announcement seems to imply (and which the double cost of Minecraft: Story Mode on Xbox One and Windows 10 has already intimated), they are going to drop the boat on this one. Big mistake.

The cost justification may not be there. the infrastructure to support that would need to be built and its unknown how many people would go back and forth playing on one or the other, so the benefit may not be as awesome as it sounds to the entire audience as a whole.

Tomb Raider is not their game, it's not up to them to include a cross-buy option.

It is up to them, they can just say that from now on all Xbox games will be playable and downloadable from the Windows 10 store just as they are on the Xbox; if publishers want to put a game on Xbox they would have no choice in the matter, and no publisher is going to pass on selling on Xbox. Simple as that, the only problem is Microsoft does not seem to have the balls to do something like this, just as they had no balls to say **** you to carriers and implement WP updates direct from the begining of WP7, not when its way too late with W10M.

If Microsoft made such a drastic statement to their partners you can be assured that they would all abandon Xbox very quickly, or at best launch everything on PS4/PC first and come to Xbox later, for blockbusters and indies alike. Xbox is still important, but not nearly as important as it once was and thus can be pushed to the side with limited repercussions from non-MS companies, and anything that would threaten the relationship between MS and video game creators could start a significant crisis for the Xbox brand. Now is certainly not the time to be telling other companies how they have to make their games. Now is still the time to help other companies release their products as they want to release them. Posted via the Windows Central App for Android

That is wrong on so many levels. There is no way any publisher would sacrifice half of their revenue just to prove a point; not to mention the fact that publishers that want to publish on Xbox already have to comply with a laundry list of requirements imposed by MS; same as with Sony when releasing on PS4.

The Xbox One doesn't account for half any publishers revenue (besides Microsoft, of course). For example, only 12% of Ubisoft's sales in a six month period ending this past September were from the Xbox One (27% were PS4 and 20% were PC in that same time period). That is actually down 3% from the same time period the previous year. Source: http://www.gamespot.com/articles/ubisoft-ps4-game-sales-double-xbox-one/... Of note, publishers wouldn't do what I said they would do to "prove a point". They would be doing it to protect their own interests. Yes Microsoft has its list of requirements to launch on the One, but none are as onerous as forcing them to publish to another store on another platform and guarentee compatibility with a myriad of PCs. They might have been looking to skip PC entirely, or publish the game on PC at a later date (Activision with Destiny, Ubisoft typically, Rockstar with GTA V). Other publishers don't want to add their game to a storefront like the Windows Store because it directly competes with their own storefronts where they can make more money from the consumer (EA, Valve, and Ubisoft notably). Those are the issues your system will create that publishers will gladly pass the Xbox One over for if it means maintaining their desired strategies and protecting their interests.

Publishers can still target Windows..you do know that Steam exists, right? EA has Origin, and any publisher can set their own system.

So you want Microsoft to sh*t on publishers and force them to sell 2 versions of their game for the price of one? Good luck with that.


It would be one version that works on both PC and Xbox; Xbox is basically a PC and now even runs a version of Windows 10, publishers would not have to develop two versions. The choice would simply be to publish as an Xbox/Win10-store game or publish on Steam or DRM free or whatever else system they want to use. The Win10-store would simply merge with the Xbox brand. People need to stop pretending that the current gen or future gen consoles are going to be anything other then a custom spected PC running a custom OS, or in the case of Xbox not even that, since its pretty much Win10 already.

Tell that to Rockstar you know the company that sold the same game 3 times first to old gen then to current gen then to pc. Oh and what about the fact they literally made 2billion using that scheme.

R* are pricks, thats why I still haven't bought it, as I am waiting for the PC version to be under 20eur. Whereas if they released it on PC together with the 360/ps3 version they would have had 60eur from me in a pre-order, their loss, plenty of other steam games in my backlog for next several years, so I can wait them out. Bottom line is they get away with it because most people are not willing to wait a bit.

As far as i know Xbox one is not a PC, but a hyper-v box running Xbox OS for games side by side with a Win-8-10-ish OS for laggish Apps and dashboard stuff. Games deployed as Apps don't make sense in this scenario.

No, it is not going to be the same exact version of the game. The Xbox One has unique hardware despite it essentially being an x86 PC and developers optimize their games for that specific hardware set. Things like memory management are handled differently too since your PC doesn't use ESRAM. It's not as simple as how a universal apps work.

"exclusive Windows 10 features" More like features that you get when you game on PC

Except it won't work if you're gaming on a Windows 7 or 8 machine.

i think he's making a point about comparing PC to console, not the Windows 10 part of it.

Yes, it will. At least 4K will be an option.

Really, tell me how someone will be able to access these features on a windows 7-8 machine, which will require Directx12 to work?

4K is neither a DX12 or Windows 10 feature.

As a whole, yes you are correct, but if it's left out of the game unless you buy the W10 version, it certainly is a W10 feature. Are you really that dumb, or just trying to be a jerk?

That's not going to happen. Xbox Wire is the only source that lists 4K as a Windows 10 specific feature. Every other article I've read states Windows 10 AND 4K support. But what do I know, I'm just a dumb jerk.

Right, because the source that is run by Microsoft is the unlikely source to be correct. I guess the question really is, what do you know?

I'm using logic and precedent. 4K is not a DX 12 or Windows 10 feature, like I originally said. Purposely locking out a feature such as playing at your monitors native resolution doesn't make any sense, especially considering there would be a workaround on day one for the other platforms. Not to mention, the game is being released on Steam on the same day.

Earler you said you were using what was quoted in other articles, so which is it? The proof is in black and white, the Windows 10 version will exclusively support 4k resolution. If you can proove otherwise with an annoucement from a credible source that says otherwise then we can have a further discussion. Otherwise I'm done with you arguing something that is clearly printed in this article.

wow... really? do you not understand these are "Windows 10-specific" features?. ​If you read the article you wuld notice these are features that will only work on Windows 10, not exclusive to Store but they will be exclusive to Windows 10. did you miss the "developed in partnership with Nvidia" and logically we have to think Microsoft is not stupid enough to give everyone the same feature, just like they have Directx12 exclusive for Windows 10. if it wasn't Windows 10 specific they wouldn't mention, because what Microsoft wants it's poeople to see benefits and upgrade. so no, not everyone playing on a PC will get these features.

4K is not a Windows 10 feature (don't know about VXAO), unless they lock out the higher resolution settings for no reason. Microsoft has only mentioned Windows 10 while talking about this game for PC even though it'll be available for other versions of Windows too.

It is simple like drink a glass a water: You have win10 pc > you can play RoTR - you have win7/8 pc > no way to play RoTR. There is nothing to discuss about, it's so clear. At least if you want to play it and have a Win7/8 pc you have three options: Upgrade for free to win10, buy an xbox one (or a 360 but with lower quality visuals) or wait a year to play it on a ps4.

Stop spreading BS; just look at the official specs for the game http://store.steampowered.com/app/391220/ MINIMUM:
OS: Windows 7 64bit Processor: Intel Core i3-2100 or AMD equivalent Memory: 6 GB RAM Graphics: NVIDIA GTX 650 2GB or AMD HD7770 2GB DirectX: Version 11 Storage: 25 GB available space Windows 7 is just fine!

So simple and clear that you're absolutely wrong. The minimum requirements have already been released and the game requires Windows 7 and up. I have an Xbox One and Windows 10 PC so it doesn't really matter to me.

VXAO hmm the first thing that comes to mind is "Wax on - wax off!"

Does the Windows Store version have Xbox Achievements?

Ohhh if this makes a noticeable difference and it's truly exclusive to the Windows Store version, a lot of gamers, including myself, will be mad about this

Its not exclusivde you can already pre-order the Steam version.

I know. I don't mean the game itself.
I mean these specific features.
Did you forget what they did with the textures in the PS4 version of the previous game? They didn't release them for PC.

It won't be exclusive to the store.

Exclusive features for the ppl that bought the game from the windows 10 store, or exclusive features to all windows 10 users no matter where they bought the game? I'm asking because I want to buy the game from steam.

the age of Xbox​ Windows 10 exclusives are upon us.

You do realise you can buy the game from Steam right now on pre-order, do you?

VXAO = Virtually eXtensible Artificial Optimization. You want to know how I know this? I Binged it, got no results. I didn't want to try Google, so I just made something up. Sounds legit, so I went with it. :P

No its a ambient occlusion technology using voxel shaders and not pixel shaders ;)

Vxao is a ambient occlusion technology based on voxel shaders and not an pixel shaders as in hbao ;) nvidia loves their voxel technics like they use in fire works ^^

It'll be interesting to see how the Store version compares to the win32 version.

Hopefully there will only be a Windows Store version or this might just be the shortest exclusivity deal MS overpaid and overhyped for...

VXAO is guaranteed to be an overhyped performance destroying ambient occlusion setting. This coming from an nVidia user.

If this game uses Nvidia game works then I am pretty sure it will be buggy broken game. Posted via the Windows Central App for Android

Currently playing through Tomb Raider DE, cannot wait to jump into RotTR! Posted via the Windows Central App for Android

I laughed at the author's comment on VXAO!
Good one xD