How to roll back Windows 10 Mobile from Fast and Slow Ring to Production release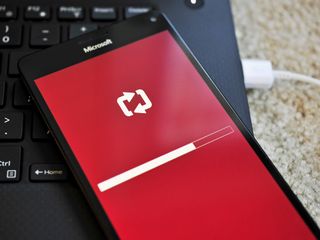 Microsoft is deep into developing the Anniversary Update for Windows 10 and Windows 10 Mobile. The Anniversary Update is known internally as Redstone 1 (Redstone 2 is due early next year) and many Insiders on PC and Mobile are already using the preview OS on their daily devices.
Today, we'll walk you through on how to roll back your phone from Redstone (from Fast or Slow Ring) to the more stable production release. While not a hard process you will need some time, a USB cable and a PC.
Should you use Redstone on your primary Windows Phone?
At this time, it is hard to recommend Fast or Slow Ring Redstone builds (14295+) over the production build (10586.218 as of today) if you are looking for a smooth, bug-free experience. Redstone is in the early stages and is more akin to running Windows 10 Mobile last July than necessarily a mature operating system.
Personally, I keep Redstone on a secondary device for testing while for my Lumia 950 I prefer Production. Windows 10 Mobile build 10586.168 and 10586.218 have been fantastic to use and if you just want the best mobile experience you should go with that.
If, however, you want new features then go with Redstone. Just understand that Microsoft is refactoring the OS as the Mobile and PC versions begin to overlap heavily in features and functions. Current Insider builds will likely sharpen up closer to June at which point you may want to consider jumping back into the mix.
Let's say you are on Windows 10 Mobile build 14295 (or later) and want to go back to Production (10586) – How do you do it?
Can you just switch Insider Rings?
If you launch the Windows Insider app on your phone and choose a different Ring e.g. Production instead of Fast or Slow, you will stop getting Insider builds. However, this will not revert your OS to an earlier version.
Currently, if you are a higher build of the OS the only way to go back is to use the Windows Device Recovery Tool (WDRT).
This will wipe your phone! Back it up
Before we begin let's be very clear: this process will erase your phone and install the old OS (and maybe some firmware if not yet distributed over-the-air).
You will lose all data on the phone (SD cards are untouched).
Remember to copy any files to your PC or storage card on the phone (if supported) and to use Windows Phone Backup (Settings > Update & security > Backup > More options > Back up now).
What you need to start
Before we begin let's see what you will need for this rollback process:
Windows Device Recovery Tool (WDRT) PC software from Microsoft (Download file and more info can be found here

(opens in new tab)

)
A Windows PC or laptop
USB data cable for your phone
Phone should have the battery charged 50% or higher for safety
High-speed internet to download your phone's recovery files
About 15 to 30 minutes to spare depending on PC and internet speeds
Once you have downloaded and installed Windows Device Recovery Tool, you are all set to start the rollback process.
How to roll back
You should allocate around 30 minutes for the restore process.
Launch & ConnectLaunch the recovery tool and connect your phone using a USB cable. If your handset isn't detected, click My phone was not detected to force the application to rescan for and detect the phone or choose from the list of manufacturers e.g. BLU.
Verify phoneOn the next screen, click your phone, wait a few seconds, and you'll see your phone information and the software available for download to roll back to a previous operating system. To continue, click Reinstall software.
Reminder: Back up!Next, the recovery tool will warn you to backup all your data, settings, and apps before proceeding further, as the rolling back process will delete all the previous data on your phone. Click Continue to move forward.
SurveyTake the optional survey on why you are rolling back your OS
Download & InstallNow, the recovery tool will download the image from Microsoft's servers and replace Windows 10 Mobile that is currently on your phone. The process will take some time depending on your internet connection and the hardware in question.For a Lumia 950 XL, the download package is 2.76GB for reference.
Note: Phones sold with Windows Phone 8.1 who upgraded to Windows 10 Mobile will revert to Windows Phone 8.1. They will then need to upgrade to Windows 10 Mobile again. Phones sold with Windows 10 Mobile pre-installed e.g. Lumia 550, 650, 950, 950 XL and other phones like Moly X1 will go back to the production release of Windows 10 Mobile.
After the tool completes the process, you will receive a message saying "Operation successfully completed." At this point, the phone will reboot, and you will have to go through the Out-of-Box-Experience (OOBE), like on any version of Windows. Then, you'll need to sign-in with your Microsoft account, select to restore your phone from backup (if this is something you prefer), and after a few additional questions, you'll be back to an earlier version of Windows.
Check for updates!
In some cases, your phone will roll back to a build of Windows 10 Mobile that is too early. For example, my Lumia 950 XL went back to build 10586.107 even though 10586.218 is the latest release. No worries, just run Phone update on the device to grab the latest version: Settings > Update & security > Phone update > Check for updates
If you check for updates and there is nothing new then you are on the latest release.
Restore from backup?
One interesting question we get a lot is should you restore from a backup during the Out-of-Box-Experience (OOBE)?
Yes, it should be fine as that is what it is designed to do. Remember, however, that you are now adding an extra layer of complexity to the situation meaning another area where things may not go right. There is no risk of damaging your device, but some users have claimed that doing a clean install and just manually rebuilding your phone and software is a better choice.
Personally, I'm agnostic on this issue, but I do not restore from backup as the majority of my things are on the SD card (e.g. music, photos, documents) or in the cloud (OneDrive). I also like starting fresh as I tend to reconsider app choices, layout, etc.
However, if you have game saves etc. that you need you may want to think out your options.
I should mention that restoring also takes much longer as your phone will then re-download all your apps and games and install them while merging saved data. If you have 100+ apps and games on your phone, this could take some considerable time depending on your internet connection so set aside a good 30-60 minutes (once again, it will vary on the number of apps and phone's processor) along with an AC plug for your phone to keep it charged.
Remember, if you have more questions about this process you can always hop into our vast user forums where there are tons of user experiences around this issue along with various tips and more!
Please Bookmark & Share! If you see someone asking about how they can roll back their phone's OS to a more stable build please share this article! It will save them a lot of time!
Windows Central Newsletter
Get the best of Windows Central in in your inbox, every day!
Daniel Rubino is the Editor-in-chief of Windows Central, head reviewer, podcast co-host, and analyst. He has been covering Microsoft since 2007 when this site was called WMExperts (and later Windows Phone Central). His interests include Windows, laptops, next-gen computing, and for some reason, watches. Before all this tech stuff, he worked on a Ph.D. in linguistics, watched people sleep (for medical purposes!), and ran the projectors at movie theaters because it was fun.
I wish windows 10 mobile was available on wdrt for lumia 730,god knows why my download is failing every time with error code 801882d1

what are u talking, right now I am rolling back to 8.1 from Insider fast ring 14322... its my 2nd time. - From Windows 10 Nokia Lumia 730

Thanks Daniel Rubino for providing an article for those who don't know how to revert back :) Posted via Universal Windows App on W10

Just to confirm, once I complete the process of getting back to 164 or 218, what "Ring" do I click within Windows Insider to make sure I don't end up going up to 14295?? I really don't want to go back there!! Thanks for the guide and help.

Just don't install windows insider app or if you do select production build.

can I do this with my 2mbps internet connection and are there any chances of my phone getting bricked if the restoration process fails? I am on lumia 640 xl running windows 10 mobile build 14295.

Well, recovery files can be 2+ GB, so you do the math. Regarding can it get bricked? Sure, if you pull the USB cable while flashing or your PC/phone lose power (hence why I mention charging). Otherwise, the process has a very low failure rate and is considered safe.

Thanks. I mentioned about my internet speed because lot of people out there has said that u need to have a fast internet connection. However, my internet speed is just 2mbps but its stable and does not lose connection once connected. Anyways, Will download the upcoming build which is due this week and test the device. If everything goes well then will hold on or else will roll back to a more stable build.

He only says you need a fast connection bcus it's a 2GB file. So you can download it on a 1 or less mbps really, it's just the a lower the connection, the slower it'll download it :) +640 on Windows10Mobile

He only says you need a fast connection bcus it's a 2GB file. So you can download it on a 1 or less mbps really, it's just the a lower the connection, the slower it'll download it :) +640 on Windows10Mobile

Don't worry I had done it on my 512kbps connection, took me two days though. WDRT can resume downloads so you can download it in parts, WDRT will flash your phone only after download is 100% complete. Once download starts you can disconnect USB cable, but you should not disconnect once the flashing begins. There is another way to download firmware, once the download starts, you can fetch links using Fiddler and continue downloading using IDM or any download manager, this is bit cumbersome if you are not familiar with it.

Thanks. That was helpful. Sent using Lumia 640 xl running stupid w10m build 14295

Just one more question. I am on windows 7 pc. So, will wdrt work on windows 7 pc too??

Arjun is right, just wanted to confirm what he said, its very convenient that WDRT would only flash once the download is complete %100, you can even take the phone off once its starts downloading, did that myself, and once done %100 downloading you can connect the phone and flash it, if interupted the download resumes from where it was iterupted.

Windows 7 if the minimum OS requirement

Yeah if you lose connection they will require redownload have that with w8.1/10

It will take a very long time. It won't do anything to your phone until the file is downloaded and you go with the restore

Why is the Insider Release Preview not available for me? The only options are Slow, Fast and Production :/

Not really sure, but technically does not matter. Release Preview equals Production at this time for all Windows 10 Mobile devices and 8.1 upgrade phones. It'll likely come back if there is a difference again.

for many who choose fast ring and some for slow aren't seeing Release Preview, had to use WDRT back to 8.1 then do back process on Release Preview

My 950XL Dual Sim get recoignized by the Recorvery tool, but it never gets past the connecting screen, just spins and spins. Anyone else having this issue?

You know, I did have that problem for awhile, but it went away either with Windows 10 PC updates, WDRT update, or Redstone update... If you have a Microsoft Store near you they can also take a look.

Thtanks, applying Win 10 Updates and will try again. My other thought was to do a Reset on my phone and try the recovery tool again. Redstone is just too unstable for my daily phone.

There's a way, if you're interested. 1. Disconnect your phone.
2. Open WDRT and click on "My device was not detected"
3. Switch off your phone.
4. Select Lumia from the options shown in WDRT.
5. Plug your phone in (Do not switch it on) The phone will turn on by itself, and by the time the thing boots up, WDRT will hopefully detect, connect and check for your firmware on the servers.
This worked on 620, 625, 820, 730 and 640XL. Try it - Its basically zero risk, WDRT won't do anything to the device without your permission, and only after the whole firmware is downloaded.

This seemed to do the trick, although the phone stayed on the Nokia screen until I selected to proceed in the Windows Recovery Tool. It never listed which Lumia was connected, more of just a generic install. Will see what happens, but at least something is happening, ha. Thanks.

Its not a generic install. WDRT detected the phone model correctly, or else, it cannot compare your firmware with that available on the server. This is the correct course of events as far as this method is concerned. There is one other method - manually downloading the firmware and installing using command line. Its not safe for starters though.

Scratch that. Still ended in failure. I had just done a hard restart yesterday, which didn't totally fix the camera issues. Currently my videos and photos become corrupted. May have to give up for now.

Remove your memory card then. Copy media off it, and format it. Copy everything back - that's to get rid off all the app data and system files from it. Reset using the method mentioned here.

Very Good!!! My Samsung Ativ Se work terrible with a RedStone, just a question, This procedure also includes for Samsung Ativ Se, we modified to have Windows 10 with the tutorial right here in the central windows forum?

I'm not sure as Microsoft would need to have the recovery files for that device on their servers. They may, but they may not either.

If you have Apps on the MicroSD card, when you roll back and want to access the card a message says "You have apps from another phone on the microSD card which prevents access. In order to install new apps to the card, these other apps need to be deleted!" So you end up reformatting your microSD card to make it reusable!

Nope. The phone just erases your previous apps and that's pretty much it. Everything else in your SD stays. Basically, everything that is visible to you in the file system will be left unharmed. Even the Mapdata folder. I have done this enough times to be sure about it.

I love how "seems faster" is now a legitimate reason for switching build rings.

I generally have a very good understanding abount WP and how things work but a couple questions still remain, and would like to resolve them before i do my HR this Friday. Since I will revert to 8.1 on my L930, and then restore from backup, should i first let all the apps update completely, then check for win 10 upgrade, and check for a newer win 10 update again? Or how does it work exacly? Among the processes i just mentioned, where does the Factory reset come in? Also, should i restore from backup after the factory reset? So there is no point in doing restore from backup untill the latest, final update, correct? Unless factory reset doesn't give you an option to restore after? I'm sorry but really confused right now...

No, turn the auto update off. Upgrade to Win10m without restore and then let the phone update your apps. If after update the OS does not run smooth you can reset and apply the restore. I found this to be the smoothest process.

Thanks a lot for the tip. I will try it the way you just said. Take care man.

Anytime I've done a clean install the phone doesn't recognize the apps that are stored on the microSD card. It shows that space is being used but doesn't display any content on the card. Is this normal or is there a step that I'm missing?

It's normal for a clean install because it also resets the encryption on your phone.

That ruins the main reason I have the microSD. There are games that don't backup their data, and I would like to continue where I left off after the reinstall. Digfender is a great game, but I always have to start over. I'm considering doing a clean install again. I guess I could contact hte developer to see if there is anything I can do. I doubt it, but it's worth a try.

Yes, I have experience the same. You end up reformatting the microSD card. IF you do not have any apps on the card, only photos, videos, etc. then your microSD card should be re-usable.

I just did this whole process a few days ago on my new 950. All the app crashes and a few random reboots were driving me crazy. Back to the official release (plus yesterday's update), and things are working smoothly.

Nokia lumia 730 next update add this feature glance screen

My 640 went to .107 when upgraded from 8.1 as well... I just wish it would have given the OS version when I upgraded from 8.1 ... I mean as long as you have to do a hard reset after 8.1 -> 10 you may as well do it AFTER you get to .218 fwiw... In my case it seems to be ok.. Looks like Cortana via Bluetooth is still in disarray.... :( Shame cause it worked pretty well on 8.1..... ahem...

I rolled back. I liked the Redstone updates but with Win10 mobile so stable now I wanted that more than features. I can't wait for Redstone official release.

Did this with my Lumia 640. Had a few problems. First, the rollback to 8.1 sent ok. However, when I tried to update back to 10, I used Update Advisor and was told that my phone was not eligible. So I used insider to install.107, and upgraded to .164 on the slow ring. After that, I used Insider to set my phone to Production. However, I did not have neither Wi-fi m nor Hotspot capabilities. I sent into the SIM settings and saw that the APN was set to default. I added the T-mobile information and all was well. Performed the most recent update without any issues.

Ok. So here is my issue. I'm currently on .168 and have been prompted to dl 14295 (on fast ring). I cannot update due to storage issues and i don't want to either, but I cannot get rid of being prompted to update. Tried switching to slow/production, but it says I cannot since i have an update waiting. I've also uninstalled windows insider to no avail. Do I need to refresh to get rid of the update prompt and go to the .218 build?

unfortunately the update in queue cannot be rermoved... You have two options, (1) use WDRT to flash back, or (2) hard reset your phone.

Can I do it with virtual box for Mac?

Is it working for lumia 640?

On a Lumia 830 (and I assume most older devices) the process for getting off of 14295 (which was a disaster) was: WDRT -> WP8.1 Put WP8.1 on the Insider Preview Ring System Updates to upgrade to WM10 Build .107 System Updates to upgrade to WM10 .164 Factory reset .164 to get the backup to restore. Download or open the Windows Insider apps to make sure you're on the Insider Preview ring. Slow ring will put you back on 14295. This took most of a Saturday. Hopefully it's not three upgrades to get to Build .218. (I psoted this because the multiple upgrades and factory reset weren't mentioned in the article above).

I went from .107 to .218 today, just one hop.

Correct, but other steps are valid. You should add this in above artical as most of the phone are getting set back to 8.1

Is there any other way (other than WDRT) to get around 14295 if I haven't installed it yet? I'm in a similar situation as kr33m0. L640, slow ring, currently on 10586 and would like to keep it that way. I know, I should have dropped down to production ring a few weeks ago. I have the prompt that the 14295 update is ready and to schedule a restart. Insider will not allow me to move to the production ring at this point because of the pending 14295 update. I pushed the restart time out to Saturday, but that's as far as I can go. Any help would be greatly appreciated.

Factory reset before it reboots. I did the whole rigamarole I described above and ended up back in the Slow ring, with a notification that 14295 was already downloaded. NOOOOOOOOOOOOOOOOOOOOOOOOOOOOOOOOO! I factory reset and stayed on .164. Make sure you open the Windows Insider app and get off of the Fast or Slow ring once you've restored.

When you hard reset, the Windows Inside app does not get installed unless you also restore from backup in the process. Even then the App would be in an inactive state. You have to launch the app and choose what ring you want to be in....

Worked like a charm. Backed up to One Drive, Reset, Restored from One Drive. The L640 stayed on .164. Went to Insider and chose Production ring. Checked for an update and no more 14295 prompt. Instead, .218 was ready. Thank you!!!

Just tried this and it bricked my 950. Phone won't even attempt to turn on. No vibration, no screen flicker, nothing. Posted from Windows Central for Windows 10

Should still have a warranty on it. Sucks to hear but at least you got an option!

Ya, I've contacted Microsoft and they're going to let me send it in for repair. Supposedly it should take about 5-7 days. Posted from Windows Central for Windows 10

Reverting back to 8.1, then updating twice to get to the stable build is real pain with older phones. I think if windows 10 is in production, recovery tool should revert back to that production build, even for those older phones.
Or at least should give a choice, as it downloads over the internet. Sent from a black hole.

I did this about a week ago as I was having so many issues with 14295 on my Lumia 950. Issues were so bad I almost ent back to myAndroid phone....but I like WP10M so much more. Being back on stable 10586 was a relief and no issues since. In fact I don't even recall what I had on 14295 because 10586 is doing everything I want....and reliably.

I've seen folks in the forums complaining that SMS restore doesn't happen on Threshold (10586) or on Redstone (14295) builds at this time. I've experienced this problem myself. For those reading this article and have recently (in the last week or so) rolled back via WDRT for any reason: Have you seen any (or, preferably, ALL) of your text messages being restored? Twitter pings to Gabe and Jason were left without response (those guys are busy so I'm sure that tweets get missed) and there are Feedback Hub entires with 100+ upvotes so I'm surprised that there isn't more discussion/investigation around this. To be clear: Do I think that this is a "big deal"? For me, it really isn't. I dislike the loss of my historical text messages but can live with it. For other folks, this is not the case. That's why I'm curious. (EDIT: It's also worth noting that SMS backup is separate from the Backup function that the OS uses for apps and data stored on your device.)

I lost my SMS messages going from 14295 back to WP8.1 and then eventually up to build .164

I lost all of my SMS messsages (4 years worth) when updating to insider build 14295 on my Lumia 1520. I reset the phone but it did not restore the messages. The 14322 update did not restore them either and resulted in a multitude of new problems. I have now downgraded to 8.1 and some of my SMS messages returned (missing the last 7 months or so).

Agreed 14295 is a little rough as a daily driver. But I can wait a couple of days to see how 14322 works before I roll back to 10586.

THANK YOU Daniel-san
This led to much confusion for me the other day when the new build came out. I originally got in the preview platform to test new features, and because (I thought) im tech savvy and can deal with most problems. Back in the blackberry days with leaked builds, I enjoyed troubleshooting. But I have less time now to devote to this. And the builds that come bow always bring some new build instead of a new feature for me to play with/provide feedback on. This walkthrough is perfect for folks like me who are tired of being a beta tester and just want a phone that WORKS!

Pondering about reset so I can use my other phone on vacation due to its better network support

What is the red splash screen in Daniels photo?

It just fails for me. After "turning your screen to flashing mode" I get a error message saying "something happend". I've tried two different computers, different usb-ports and cables. Guess Im stuck on this buggy Redstone.

Anyone tried it with l520??

So if my phone reverts to 8.1, will I be able to get the production update for windows 10.

if your phone is getting the 10 upgrade

Off topic. Any idea when Windows 10 will be available on Windows device recovery Tool. ?

i m using lumia 730 dual sim in india.if i roll back to win 8.1 after that can i get os build 10586.218???? or what should i need to do????

i think they should try to add the option on older phones to choose windows 10 or 8.1 since the windows 10 is released now.

If my phone Lumia 620 is unable to detect by my pc, do anyone know how to solve??? It is in latest .218 build...

Check your USB cable. Make sure you are using a data cable, not just a charging cable.

Hah. My win 10 is so broken i dont even have the insider release preview haha . ******* windows 10

One more Redstone build and then I might do this... Incompatible apps and some basic features not working is not fun From Windows Central App for Windows 10

I've had a Lumia 830 since it was a new phone, just as a "fun" phone. I guess I'm out of the loop, but what is going on with windows phone? It's been a year since this windows 10 mobile preview has been available, but windows 8 is still the standard on my device. Why is this? Is Microsoft trying to perfect the OS? I have android as a primary device and I honestly like windows 10 layout better. Here in Canada people don't even know windows phone has ever even existed. It's sad really. Posted via the Windows Central App for Android

I know, in Canada I know more people with Blackberry's than Windows Phones lol. I think it's something to do with carriers? Last time I checked there wasn't a single Windows Phone available to buy om Rogers. So I doubt they'll push out updates. I have Windows 10 Mobile through the Insider program.

What I don't get is how there are bugs that have been fixed in 10586 that are still in the latest insider 14322 (and not even in the "known issues" list?) I'm primarily talking about Band 2 and Cortana not working. People who have "upgraded" to 10586 report it now works. I just "upgraded" to 14322 and it still doesn't work. I thought the Insider ring was where they tested fixes before putting them in production??

I am using windows 10 in my Pc and I have the latest version of windows device recovery tool but every time I tried to download error with proxy server error. How to solve this problem? In previous version of my windows 8.1 pc everything was fine but now I cannot do this. Why?

I am trying downgrade my Lumia 730 from Windows 10.14295.1 to Windows 8.1 using WDRT. but it show error. I tried this so many times , please help .

Only able to roll back to 8.1 for Lumia 930. I thought production 10 was available on 930. Had to go back to insider.

thanks for the info, I successfully downgraded to Windows 8.1 from Win10 on a Lumia 640, though the SMS messages are yet to restored. I think that part (of restoring SMS messages of our mobile carrier is still a bit buggy !)

ok, so i was on the latest insider preview build which i thought was not for me.rolled back using wdrt to8.1. now when i check for the latest update it says i am on it but ive checked and its still on 8.1. strange

How do I transfer my app from my device onto my SD Card in wp10?

This process bricked my 950XL, trying to revert from insider fast. It hangs at the installation step, less than 5%. Have to visit a MS store now. Posted from Windows Central for Windows 10

Fixed. Need to use a usb cable that supports data. The belkin one I bought doesn't work.

It's the most current build that is causing the Major problem with my 950 XL, when it's time to charge the phone doesn't detect that it's plugged into the wall outlet or the PC. I did a factory reset and it was charging while plugged into the wall outlet. The next night, when it was time to charge, the phone had the same problem, not detecting it was plugged in. I did a softreset and it charged again. Next time I will have to roll back to the previous build. I have been giving feedback on this problem.

How to switch to slow ring from fast ring? Does this also needs to revert to windows phone 8.1 using WDRT and then choose slow ring on windows insider app. Or it can be done simply by selecting 'Slow ring' in windows insider app?
Windows Central Newsletter
Thank you for signing up to Windows Central. You will receive a verification email shortly.
There was a problem. Please refresh the page and try again.