Angry Birds Epic now available for free on Windows Phone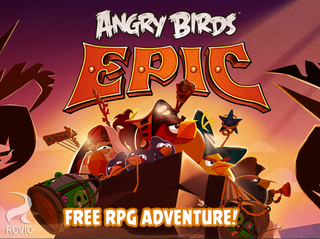 Rovio's latest instalment in the Angry Birds franchise is an RPG, which is quite different from the physics-based gameplay that has made the series an international hit. Called Angry Birds Epic, the game was soft-launched in Canada, Australia and New Zealand earlier this year, but is available globally now.
Angry Birds Epic follows a free-to-play model that is becoming increasingly popular with mobile game studios. The game follows a turn-based RPG format which sees players battling pigs with a team of birds. Along the way, players can acquire and upgrade weapons, potions and armor, level up and unlock new characters. Users also have access to a crafting engine that allows them to create new parts for use in battle scenarios.
Check out the trailer for the game below:
The game is a free download and comes with several in-app purchases. Head over to the link below to download the game for Windows Phone. Works on phones with 512MB of RAM.
Angry Birds Epic - Windows Phone 8 - Free - Store Link
This game is similar to Kingdoms & Lords in terms of fighting battles. Nice to see Rovio supporting Windows Phone platform.

Nice addition to the Windows Phone game catalogue.

True. Wanna try this one :D

Not having to wait years to get it on Windows Phone makes me happy :) I'll give this a try... But good luck getting any money out of me! I am staunchly defensive about paying anything when it comes to f2p.

I was expecting a 'coming to Windows Phones soon' at the end... But nope! Very good. =)

I'll take f2p ONLY if there is a resonable way to progress withouth investing any money. Could Riders is a good example of "resanoble" F2P game. My stronghold is level 6 , valor is about 800 with level 28 (29 soon) and I haven't invested a penny yet. GameLoft is on the opposite end of the spectrum. You'll get stuck with no way out mid game unless you start forking serious dough.

Havent played any Gameloft release except Asphalt 8 ... Have reached 765 stars without spending any money ... Yes ... there are days even one star seems impossible ... but you pull yourself through ... if only i had that much perseverance in real life !!!

Same here! I have 564 stars, need more time to play but it has been fun all the way! I play it on my 1020, Dell Venue 8 Pro tablet and desktop computer. Asphalt 8 is a great game.

Precisely the sort of folk these types of game hope to avoid. They should offer a flat out fee purchase option.

I have 899 without spending money and I have the silver lightning

I wasn't aware angry birds were even still a relevant thing now in the era of candy crush and stupid games like that.

That's what I thought. But I'll be honest Angry Birds Go was a good game , so were the bad piggies (even thou I thought that Bad Piggies was unresonably hard) ... yes you'll get bored quick if you don't invest real money but AngryBirds GO was fun even if you take free route... My only grip is that Rovio is kinda like Disney: you install game beeing baffled why it takes so much space. AngryBirds GO was ridiculous that way...

I've never tried the original angry birds or angry birds go but Bad Piggies was simply awesome game.

Hehe. And I wasn't aware that candy crush was still a thing.

I figured Angry Birds was still relevant considering its always at the top of app list in each platforms respective store. Further, I liken it to Pokemon. Sure the initial crazy hype died down. But now its become a well known, successful franchise in it's own right. Gotta give credit to Rovio for diversifying the brand and committing to all three platforms.

No Xbox Live integration? Move on folks, nothing to see here...

You're right, there's nothing in your comment worth paying attention to.

Yes move one, u both have nothing to say.

The three of you should move on.

It's all right, Shrek will feed them. Shrek is love, Shrek is life.

It's not Ogre. It's never Ogre...

Speak for yourself and only yourself.

Is this multiplayer??
gameplay trailer seems like kingdoms and lords &cloud raiders. EDIT: Gameplay is smooth, i guess it is multiplayer too as it has facebook login.

Wow.. And it still takes less than 10 comments for the first "no XBL, no brain" post. Jesus. I haven't tried the game yet, but it's definitely nice to see that it launched the same time it did on Android and iOS. Rovio seems to take WP seriously. Hopefully more and more app and game devs/studios follow suit.

But I didn't actually find it on my HTC one x, and my friend's HTC one (m7)
EDIT: never mind I had to go to "other apps from Rovio" to get
Didn't find it in normal search...

I'm not a fan of RPG's but my daughter finds entertainment in them, almost all games I have on my 1520 are for baby girl.

Good RPG is very entertaining but you have to invest time way beyond casual play. Sadly many of us don't have that time luxury...

http://hizliresim.com/rLzk8M

Downloaded ... But having issues resuming, this keeps popping up "failed to login try again"

i am not having issue now it is downloading 5 audio files.

Its free+optimised for 512 MB devices. This is what we need... :)

Thank god it came in Windows as soon as it came to IOS and Android. Maybe we are catching up faster than I thought

RPG... Eh. You can bet it'll steer heavily towards the 'pay or grind' approach. I think I'll finish my backlog of Final Fantasy games first tbh.

I wish they'd release more Final Fantasy games, and even the apps for Final Fantasy 14 like the authenticator. I hate needing to grab my keys every time I want to play.

I have Final Fantasy 4,6,7,8 and 9 on my PSP, so I'm all set either way =D

Sweet!! Works perfectly on 512MB devices.

Meh, If I want to kill birds, I'll just go outside with a slingshot :P I will give this game a try later on today.

If you go outside with slingshot you should be aiming at pigs no? ;-)

Got a few close by. Got that covered. Need to get some birds first tho and paint them in different colors.

+920 LMAO! See if you can put a pig on some poorly constructed structure. You're fun level will go sky high as all of a sudden you don't neceseraly have to aim at the pig...

Poorly constructed structure. hmm, these pigs are heavier tho. I think I need to use a bird cannon instead of a slingshot to knock em down. Maybe place them on a random house/building and Cannon AWAY! Might be better. This way it feels more like angry (dead) birds.

Here's a crazy idea: Play games just for fun.

Great one...works fine on my 720 too..!!:)

Can't play without an internet connection :'(

AngryBirds GO was the same way but there was a workaround. You start a game while on wifi , wait for a home screen to show up and press home button. Now you can go back at any time and play a game off line. (Pressing home button will suspend the game but when you go back to it it will not check for interent connection again since it will simply resume from "home screen")

No Xbox, well...it's ok. I play games for the fun :)

+1 I couldn't care less about XBL anymore

Just when I'm amazed that one company cares about WP by releasing their games at the same time as IOS and android, those stupid kids come along and moan about Xbox live integration....

They're given as comments for every game that comes out. It would appear that this is a religious experience for them. Laguh. Ignore. Move on and remember not to feed the Troll...

The worrying thing is they aren't even trolls...

It's actually a fine game. Really smooth and very intuitive. The birds and pigs sounds can get annoying tho.

Don't need to search . Just click on the link given in this article. If you are using WPC app, than swipe left to go more, click on Download APP..

That's exactly what I did except it's swipe right not left. Still it's odd how it didn't show up in store when I did a search. (It's not a first time this happened..)

512... I'm almost crying. Thanks rovio:')

Does it need internet connection to play?

1) WP version released together with iOS and Android versions.
2) Available for 512 MB devices.
The above two reasons are enough for me to support the game. It being an RPG helps too.

So far it's a great game, but I can't figure out how to log in to my Rovio account so that I can pick my game up on my tablet and not continue to destry my phone's battery. According to Rovio's website you click the nest and go to the totem pole and sign in under Rovio account but all I see on my Lumia 520 is the ability to sign in to Facebook. What gives? Anyone having this same problem or know what I'm doing wrong?

I don't think Rovio accounts are supported on Windows Phone. This is why I gave up playing Angry Birds. I switch phones a lot and restarting is hugely disappointing.

Guys dunno y, but I am not able to login... It says login fail. Try again.. On my 620!

I get a facebook login fail too. And no ability to log in to my Rovio account. I installed the app on my android tablet and the option to sign in to Rovio account is there. So it's apparently lacking in the Windows Phone app version???

They lost me at "free to play".

Send them some money in an envelope if it'll make you feel better ;)

Why I cant login game,it spends too much time in loading balancing

Loging and balancing is an issue but so is the gameplay. Tap on your bird. Draw a finget to pig. Watch random generator deciding how much damage pig gets. Wait for pig to strike. Repeat. <YAWN!> You option is to hold finger for what appears to be "special power". Seriously, is this a receipt for a good game?

It's not so interesting like ANGRY BIRDS RIO...

This might be the first Angry Birds game that I enjoy.

Weird problem to bring up but does anyone hear a weird static noise when they listen to their speaker when they load this game or whatsapp?

Sorry i am not flying with u angry bird...no download for internet required games :escape:

Don't Freemium games bother anyone else? My Son has spent more than $200 on Clash of Clans in this Freemium model. It's always just another 5 bucks. I don't know anyone who would buy an app for $200, yet we are letting these companies get away with this? SERIOUSLY:
Look at their business model. They pit players against eachother in an online world, then continuously offer to sell both sides more powerful weapons to beat the other guy. MANY FREEMIUM SOFTWARE COMPANIES ARE ARMS DEALERS THAT SELL TO BOTH SIDES!

Sorry to say it but you have no one but yourself (and your son I guess) to blame for in-app purchases. Many of us have accepted fremium model and we're ok with it as long as it's "resanoble". EDIT: In my household we don't have any credit cards registered with any devices that support in-app purchases. Heck even my own phone is set to US region so carrier based charges do not work (unless yo change region and reboot). I give my son ocasional 25 dollar pre-paid card from wallmart and that's it... he does with it what he wants but he gets them extremely rearly so he has learned to "spend visely".

You just answered your own question really.. you allow your son to spend that much on a freemium game, do you wonder why they keep making them? It's because of YOU! Your MONEY supports the freemium model.

I don't mind that it doesn't have Xbox support. What's irritating is that the Rovio account is not supported on Windows Phone yet. I want to sync my progress across my devices Rovio! :( The game even mentions the Rovio account in the loading screen tips... awkard. :S

lets play this game .......... looks like awesome

c'mon already man, wtf with all these rpg.Where are arcade and solo games.I would appreciate even Metal Slug!

Nice to see a WP game that doesn't require xbox.

force close after 3 min played

What?! Free?! That's cool!

Wow, is this the first app/game to ever launch simultaneously on all the major mobile platforms? Must be a first for WP.

It seems good. But it crashes on the first boss fight...

Won't work. Can't log in.

Working smoothly on my Lumia 520.... :)

Hi guyz.....plzzz add me on FB as i have no friend on WP who play this game.....Mah id is amangup09....Thnxx
Windows Central Newsletter
Get the best of Windows Central in in your inbox, every day!
Thank you for signing up to Windows Central. You will receive a verification email shortly.
There was a problem. Please refresh the page and try again.