Sabrent USB 3.0 Hub review – Plug more devices into your Xbox console, tablet, or computer for cheap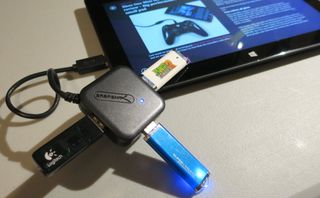 Now that several wired controllers are available for Xbox One (Power A's Mini Series controller and Spectra controllers, plus some on the way from PDP), a gamer could easily run short of USB ports on his or her shiny new console. Plug a hard drive and keyboard into your rear ports and you're left with only one to spare. You can hardly plug in multiple wired controllers or flash drives with media files under those situations.
Thus a USB 3.0 hub is in order. Of course there are no Xbox One-specific USB hubs, but pretty much any USB 3.0 hub will do the trick. With that in mind, I grabbed the Sabrent 4-port USB 3.0 Hub (HB-SGAR) for a mere ten bucks on Amazon. This little hub is perfect for Xbox One and 360 use (it supports USB 2.0 as well), and also goes great with Windows 8 and RT devices like the Surface.
A shapely hub
The Sabrent 4-port USB 3.0 Hub has a black square shape with rounded edges. It measures just 2 x 2 x .5 inches (52 x 52 x 13 mm or so). The front face of the hub hosts a Sabrent logo and a single blue LED. The rear is featureless except for a sticker with model and serial number.
Each side of the Sabrent hub's square holds a single blue-colored USB 3.0 port. With all of them being spaced out, you won't have to worry about a larger device getting in the way of the others.
The Sabrent hub plugs into your console, computer, or tablet via a 9-inch USB cable. That's a fair length, providing a decent amount of flexibility with where you can position the hub.
Power to the people
Before you purchase any USB hub, you want to make sure it can meet your power and data transfer needs. The Sabrent 4-port USB 3.0 Hub can handle the data transfer stuff as well as anything, since it meets the USB 3.0 transfer spec of 5GB per second. Of course it's USB 2.0 compatible as well, making it appropriate for use with USB 2.0 systems like the Xbox 360 or Surface RT.
Power is another story. This hub supports the use of an AC adapter, but it doesn't include one. The store description doesn't tell you the type of adapter you'd need, but Sabrent filled me in during our email communications. They offer an AC Adapter that works with this and other USB hubs for $12.99.
All on its own, the Sabrent hub supports a total current of 5 volts 900 mAh. I'm not sure how much power that really is, but the manufacturer recommends against trying to power a USB 3.0 hard drive with it. Still, the hub can handle common USB 3.0 or 2.0 devices easily enough, such as game controllers, keyboards, memory sticks, headsets, printers, etc.
External hard drives and 2.4 GHz wireless devices are pretty much the only things you wouldn't use with it. USB 3.0 hubs reportedly interfere with 2.4 GHz wireless devices, you see.
As an example, I connected the Sabrent hub to my Xbox One's front side USB port and then loaded it up with two Power A Xbox One controllers, a keyboard, and a flash drive. Everything worked great. The hub is much easier to reach than the Xbox One's front side port to begin with, and I love being able to plug in multiple devices at once.
I also spot tested the Sabrent hub with my Surface Pro and Xbox 360. In both cases, it passed with flying colors.
There are dozens (if not hundreds) of USB 3.0 hubs out there to choose from. If you're buying specifically for a Surface tablet, you might consider the Juiced Systems Surface Adapters. But for general or console use, the Sabrent 4-port USB 3.0 Hub really impresses. It's only ten bucks on Amazon and eligible for free Prime shipping, making it a great buy for Prime shoppers.
Paul Acevedo is the Games Editor at Windows Central. A lifelong gamer, he has written about videogames for over 15 years and reviewed over 350 games for our site. Follow him on Twitter @PaulRAcevedo. Don't hate. Appreciate!
Its £136 inc postage in the UK!!! :-/

Yeah, some crazy sellers have jacked up the price on Amazon UK and DE, so I left them out of the review. But Sabrent has other models that are reasonably priced on Amazon UK and DE, I believe.

Just buy the Easyacc 4 port USB 3 hub. It is better than this Sabrent hub as it has a DC in port which means it can power high drain USB devices.
It also has a 5 year warranty, and is more discreet too.
http://www.amazon.co.uk/gp/aw/d/B00ICZL3KG?cache=3217ff57027da1a706503ee...

As mentioned, the Sabrent hub has a power input port as well. But of course it's not a good option for UK buyers due to not being properly stocked on Amazon over there.

This is what I use: http://www.amazon.com/Cable-Matters-10-Port-SuperSpeed-USB/dp/B00DRLZFPE... Love it.

When USB OTG is coming to Windows Phone, if it ever will..

Im also playing the waiting game. Just depressing.

Since you briefly mentioned using such a device with the Surface Pro, I want to highlight the Plugable UD-3900 USB universal docking station. I use it with either my Surface Pro or my older Dell Notebook. Works great with Windows 8 and Windows 10.

I have this too it does a great job of adding 2 more monitors to my surface pro 1

That does sound really nice!

I was tempted to get one of those, but, got a great deal on the Surface Pro 3 dock.

Side USB port of Xbox One isn't 3.0

I believe that is incorrect: "There are three USB 3.0 ports on the Xbox One Console: two ports on the rear of the console, and another port on the left side of the console for easy access. You can only connect USB wired accessories designed for Xbox One to these ports" http://support.xbox.com/en-US/xbox-one/accessories/usb-port-use

Well, HD USB connected to use with media player app do not work on left USB port. Sorry about my mistake. :)

So I can possibly plug in 3 external storage devices to my Xbox One?

You can plug in 3 memory sticks for movies and music, as far as I know. I think it only supports one external hard drive at a time right now, though.

Update: The Xbox One supports two external hard drives at once.

Awesome! Thanks for the update.

Only 0.9 amps? That's barely enough to charge one phone, the Samsung one I use does 1.5A. Sabrent's HB-USB30 hub comes with a whopping 4A power adapter! That's the one I use to charge my Venue 8 Pro and have it do data too. Kinda a hack job, since to charge the tablet expects the data pins to be grounded together, but it works with the external bluray and the external hard drive. My only complaint is that any touch screen device that's plugged in doesn't quite work right. On my 928, Venue 8 Pro and the free Verizon tablet (their own branded Android tablet) all keep pressing in vertical lines from the top. I assume its from the transformer really noisy.

USB 3 ports can only output 900mah if memory serves (USB 2 is 500mah)...

Obviously most exceed the specs to allow "fast" charging, e.g. Apple's 2.1A charging method, and everyone else's 2A methods for tablets.
Now that I thought about it, I believe there's an addendum for USB specifications to "allow" it.

Sorry, I should have been more specific. USB 3 *data* ports can only transmit 900mah of power....
Given that this is a hub powered by the USB data port on the computer, it can only ever draw 900mah of current...

No, he said you can plug it into an AC adapter.

I only see the use of this when windows phones can use the otm to access flash drive storage!

Can I connect an external hard drive ?

You can read the article. :-\
Windows Central Newsletter
Get the best of Windows Central in in your inbox, every day!
Thank you for signing up to Windows Central. You will receive a verification email shortly.
There was a problem. Please refresh the page and try again.