Saddle up! Red Dead Redemption for Xbox 360 can be played on the Xbox One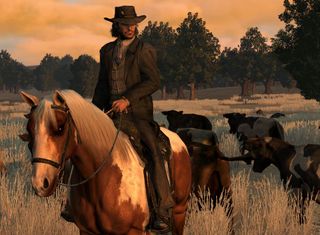 As promised, Rockstar Games' classic open world Wild West-themed action game Red Dead Redemption for the Xbox 360 can now be played on the Xbox One via its backwards compatibility feature.
The early reports on the game going live on the Xbox One started earlier this morning on Twitter, including from the official Xbox UK account:
Earlier this week, Rockstar Games offered info on how to get Red Dead Redemption playable on the Xbox One:
If for some reason you can't see the game download, or your console won't install the game from its disc, you should be able to get the game if you restart your Xbox One console.
Developed by Rockstar's San Diego studio and first released for the Xbox 360 and Playstation 3 in 2010, Red Dead Redemption was an instant hit with both critics and in sales. The Xbox One can play the original game, the zombie-themed DLC Undead Nightmare and the Game of the Year edition. If you want to get the digital version, it's currently available at the discounted price of $7.49 for Xbox Live Gold members
See at Xbox Store (opens in new tab)
Such an amazing game. Glad to know its legacy will continue!

Shoot em up ma homies! ACAB

I purchased this digitally today after hearing about the DLC currently up for free download, and in an effort to reduce my PS3's usefulness. I don't need two consoles when backwards compatibility returns titles to playability on new hardware.

Thanks for the heads up! just got three DLC's I didn't have

This is the best gaming news since it was "leaked" earlier this year!

Can't seem to get the undead dlc working.... It is an option on starting game but just takes me to downloaded content list ( yes I do own the dlc :) )

Highlight the game's tile, press the hamburger button & select "manage game". All add-ons should appear under the main game file & can be installed from there.

Now only if this was Play Anywhere

Bit of a stretch wanting old games to be included in that

This is one Rockstar game that I just never got to play through. Played some Online multiplayer but, never went through the story. Just too many games too little time. Now it's on the Xbox one, I might finally play through it. 2-3 games to finish up (about 90% through both of them) before attempting. Would still like to see them release Mafia 2 on the Xbox one, as Part 3 comes out in a few months and part 2 was a really great game.

I must have missed something, I hated this game.

You must have missed a lot if you hated this game.

You probably want to play that garbage-tier ilk GTA V.

Well, my fiance is gonna be pissed. Between this and the new update to Rust, my weekend is shot.

So excited, can't wait to ride with my crew again.

Probably got through half the game. Didn't care much for the story. I even bought the Undead Nightmare pack, it was on sale, but never even touched that. Crazy eh..spending money just because it's on sale and never actually enjoying it.

R* should bring it to PC.

I uploaded some footage. Game runs great on Xbox One! https://youtu.be/1dLr267S0v4

Both this game and Halo 3 are two extremely beautiful games.

I don't own/owned the 360 so I never played this game. I bought it today, looking forward to play with it

They need to fix the online issues in the servers
Windows Central Newsletter
Get the best of Windows Central in in your inbox, every day!
Thank you for signing up to Windows Central. You will receive a verification email shortly.
There was a problem. Please refresh the page and try again.