Agents of Mayhem is a new game from the creators of Saints Row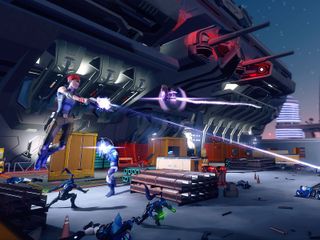 Volition, the developer best known for the Saints Row game franchise, has just announced its next game, a superhero-themed open world action game called Agents of Mayhem. It will be released in 2017 for the PC, Xbox One and PlayStation 4.
The game's publisher Deep Silver says:
The FAQ page on the official Agents of Mayhem site reveals more about its gameplay:
The FAQ page adds that Agents of Mayhem is being developed with an all-new graphics engine developed in-house by Volition "with all the technical bells and whistles that players have come to expect from this generation."
Windows Central Newsletter
Get the best of Windows Central in your inbox, every day!
Interesting. Given that Saint's Row 4 was basically an open-world superhero game, this move doesn't surprise me. I'll keep an eye out for this.

Amazing!!! I loved all the Saints Row games, they're a blast to play. I'm glad they still base their games in the same universe, but keep innovating and making new games in the same style. I'll wait for this game eagerly :)


I can get behind this, hope to see more at E3

I thought they were known for Red Faction?