Sally's Spa finally opens its doors to Xbox Live gamers on Windows Phone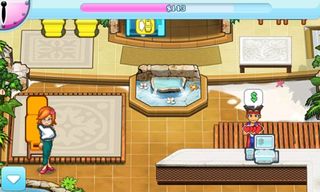 At lunch time on Wednesday, we were a bit hesitant to post a story about the Marketplace updating late. What if it updated within the next few minutes after the post went live? As it turns out, we needn't have worried. Sally's Spa, this week's Xbox live release, finally went live around 1 am EST Thursday. That's officially the latest a Windows Phone Xbox live game has ever been posted. Cheers?
There is some good news, however. While Game House quoted the game's price as $4.99 to us, it's actually showing up at $2.99 right now. Could the lower price be a mistake? I don't know, but if you're interested in helping Sally start her own spa chain, I would advise buying now rather than waiting. That price increase on Fling makes me antsy! But you know, $2.99 certainly is fair for Sally's Spa given that it's a bit shorter than its predecessor Sally's Salon and retails for $2.99 on iOS anyway.
The story of Sally's Spa starts out with Sally relaxing on a beach, pondering what her next business endeavor should be. A friend suggests the spa biz, and pretty soon the two go into business! It's simple but definitely better drawn than the previous game. The in-game sprites also look much nicer, as they are much larger in resolution.
During gameplay now, you'll need to scroll the screen up and down to see the entire playing field. It isn't a huge hassle as you might think, but tapping an object on the periphery to interact with it doesn't work that well, forcing players to go through the extra step of scrolling. Heck, even the main menu requires scrolling despite the fact that everything could've fit on screen at once. Feels a bit like a tablet game stuck on a phone in a hurry.
Scrolling aside, Sally's Spa plays much like the original game, but prettier and with a few new mechanics. If you've been wanting a new time management game or an excuse to put hot rocks on someone's back, that's all the excuse you should need.
Sally's Spa costs $2.99 and there is a free trial. Get it here on the Marketplace.
Thanks to Zebrasqual for the tip!
Paul Acevedo is the Games Editor at Windows Central. A lifelong gamer, he has written about videogames for over 15 years and reviewed over 350 games for our site. Follow him on Twitter @PaulRAcevedo. Don't hate. Appreciate!
It wasn't showing in marketplace for me either but you can use the download app link within the wpcentral app!

Thanks, but sometimes those links points to weird versions.

That only happened once, when someone gave us a batch of preview links. Since then, we make sure to use the standard download links.

Wasn't meant to spread f.u.d., I think it wasn't even here that that happened to me. Anyway it's nice to know you check it.

I wonder how much shorter it is as says its 9mb and sallys salon was 43mb I think.

Are the achievements tough?

Always wait for the link from WPC!!

I purchased it @ $2.99 just in case there is a pricing error. Achievements don't seem easy, more like a grind. But, just like the previous Sally game you can expect more of the same. Content with the price tag it has now. Didn't wanna wait 6 months or so for a $1 price drop, might as well get it now and enjoy it before WP8 comes out.

Sallys Salon's Achievements were fair, not dumb easy nor inhumanly hard.

Agreed. These are pretty much the same - doable as long as you learn to use the tea and candles.

That is lovely, but where is Sonic?

Indeed. Eagerly awaiting this one.

I've only played the trials of both games so far, and besides probably being the shortest trial in xbl history (or did I miss something that lets me play more than one day?) I think this feels much less polished. Dragging the customers in Salon felt much more intuitive than selecting and clicking. The graphics seem to have been mangled a bit through the porting process as well, and don't have the same punch as the first WP game.

Short trial for sure! The statistics feature of the app shows my trial play lasted for a whole 45 seconds.

Ok, bought it and played it for quite a while already. While it's still the fun, lighthearted yet well balanced Sally we know this time her businesses is not the Luxury Edition and it shows, unfortunately not only in name and price. It lacks some of Salon's finesse, in the controlls and other small details like non functional leaderboards, over simplistic and poorly menu layout. Still, it's a fun game, very enjoyable, and people seem to prefer cheaper, so..., that's what we get, I guess.

Great Game! But some of the Achievements that I unlocked in the game do not reflect my Gamerscore. For Example, "Best Seller" and "Story Complete I"

Try going to the games hub on your phone, going to the achievements tab and refreshing it until it says it's been updated or something along the lines of that.

You just need to wait, it will sync, sometimes it takes a few minutes.

I've done this and still nothing happens and its not updated on Xbox.com either. Same thing happened today with the "Best Friend" achievement. I should have 120pts not 90pts

The 'Survivor' Achievement hasn't synced for me as well. :(

That one worked, but I now have 3 that haven't worked which stinks! I'm an achievement whore!

Game House will probably put out an update. Till then, we just have to sit tight...

No DOTW yet? By the way, has Super Monkey Ball dropped to .99 cents recently?

It dropped a while back. We're investigating the missing DOTW, but Microsoft isn't being very helpful. :(

Yea, $2.99 I had to buy it...
Windows Central Newsletter
Thank you for signing up to Windows Central. You will receive a verification email shortly.
There was a problem. Please refresh the page and try again.