Sally's Salon permanently price dropped, Xbox Live Deal of the Week still on extended leave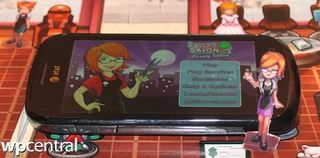 Yesterday Windows Phone Central reported that Sally's Salon Luxury Edition, the first game in the Sally's series for Windows Phone, had been reduced in price from $4.99 to $2.99. While many believed the price change to represent the return of the Windows Phone Xbox Live Deal of the Week program, we did say it could have simply been a permanent price drop...
Game House provided us with the definitive answer today: the $2.99 price on Sally's Salon Luxury Edition is a permanent price drop. The Windows Phone 7 version's price is now identical to the iOS version. I'm sure we can all appreciate the recent trend towards fairer pricing of mobile Xbox Live titles, though there are still occasional exceptions (darn that Little Acorns).
Potato or potahto?
Faced with the choice of Sally's Salon Luxury Edition or the newer Sally's Spa for the same price, which one should you pick (if only one)? Well, Sally's Salon is longer and easier, while Sally's Spa is shorter and harder. But Spa does add new minigames and a new beauty product sales mechanic, so some may find the gameplay more fulfilling. As a fan of time management games, I've enjoyed both immensely. Who cares how feminine their themes? Nobody who is secure in his masculinity, that's who. Check out my review of Sally's Salon here; I'll have a full review of Spa soon!
What of the Deal of the Week?
The permanent price drop on Sally's Salon is both good and bad news. I mean, price drops are always welcome! But we all love the Deal of the Week program and have missed it during its absence. Yet the DOTW is rumored to be returning soon – perhaps after Windows Phone 8 launches. We're hard at work finding out the truth behind its disappearing actn, so stay tuned for exclusive details.
Sally's Salon Luxury Edition Marketplace link
Paul Acevedo is the Games Editor at Windows Central. A lifelong gamer, he has written about videogames for over 15 years and reviewed over 350 games for our site. Follow him on Twitter @PaulRAcevedo. Don't hate. Appreciate!
Thanks for the update, Paul. Since you have inside contact, maybe next you can ask/pester GameHouse about when we're getting our promised Doodle Jump themes. :)

I actually did ask about that at Casual Connect and it sounded like they had stealthily decided not to update the game. :(

Really disappointed to hear that but it's not the most surprising news.

The title should be "Sally's Salon LE" not Sally's Spa

Yikes, but the similarity of those titles does confuse us. Thanks for catching that.

Our alpha male commenters wouldn't dare play this which is quite a shame.

This could easily be solved if they made "Sally's Strip Club" next...

Thanks for lettting us know but, I got them both for $2.99...

Q: Faced with the choice of Sally's Salon Luxury Edition or the newer Sally's Spa for the same price, which one should you pick (if only one)?
A: Sally's Salon as it doesn't have a glitched achievement in it!

I agree with the last little part that you wrote in, seeing a price drop is always nice as it makes it more likely for me to purchase a game, but I just want to know more info on the DotW as well since that's just a nice little bonus that I enjoyed looking forward to every week!

Personally, I'm stoked because I don't have this game yet. And I don't really care too much about DotW being MIA because it was causing me to buy too many games for a while. Besides, I'm fairly confident that it will return very soon anyway, so I don't think there's anything to worry about.
Windows Central Newsletter
Thank you for signing up to Windows Central. You will receive a verification email shortly.
There was a problem. Please refresh the page and try again.