Sally's Salon Luxury Edition gets cheaper. Could the DOTW be back?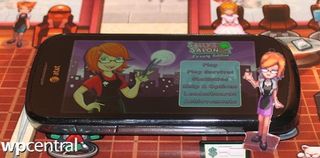 Since the Xbox Live Deal of the Week program's humble inception in March 2011 (with Frogger on sale), the program has become quite popular with deal hunting gamers. Perhaps I should say had become, because the deals of the week unceremoniously stopped coming after the August 8 late Marketplace update.
We theorized that Microsoft's Xbox Live gaming division might have been too busy gearing up for Windows Phone 8 to bother with poor little WP7 games any more. Whether or not that played a factor, the program just might be back! Sally's Salon Luxury Edition from Game House is now $2.99, down from $4.99.
But is Sally's Salon actually on sale, or has it received a permanent price cut? Sally's Spa, the sequel to Salon, has been out since August 9 and costs only $2.99. Spa's price may be due to either its smaller amount or levels compared to Salon or a desire to match the iOS version's pricing. Point is: Sally's Spa business might have been impacting her Salon business, if you catch my drift. In which case, Sally, I mean Game House could have chosen to drop the price of Sally's Salon in order to keep it selling.
Sally's Salon is a time management game in which players help Sally keep her customers happy by shuffling them between the various stations at a salon. Juggling the needs of a multitude of a room full of disparate customers is both challenging and fun – arguably more so than Sally's Spa, which ratchets up the difficulty a bit. See our full review for more details of Salon life.
We've contacted both Microsoft and Game House and will update when we find out the exact nature of Sally's Salon Luxury Edition's new lower price. Just in case it's temporary, you might not want to put off downloading it this week.
Update: The issue has been settled - see this article.
Sally's Salon Luxury Edition Marketplace link Sally's Spa Marketplace link
Paul Acevedo is the Games Editor at Windows Central. A lifelong gamer, he has written about videogames for over 15 years and reviewed over 350 games for our site. Follow him on Twitter @PaulRAcevedo. Don't hate. Appreciate!
Lol I just bought it for full price a couple days ago. Ah what the heck. Great game.

Hope DotW is back and this isn't just a price drop.

Anyways, the game wasn't really for me, but there's a ton of content here for $3.

LMAO ... Game is so generically bad that it is DOTW in record breaking time.

This is the first one, not the one that was just released a couple weeks ago.

My apologies...either way... Tired of the same gameplay just rehashes in ten different graphical masks. Hopefully WP8 brings original games.

Yeah I hope this is a DOTW too, there are many games I was going to eventually buy if they ever went on sale.

To the deal hunters out there, check out the new "Sales + Specials" app on your Xbox 360. Each day there is a new chance to win a free game PLUS a new XBLA game on sale. The hope is the idea goes very well and it is pushed to the WP XBL marketplace at some point. After being on a spending hiatus for nearly a year that "Sales + Specials" app got me to buy 3 new games.

That would be an awesome phone app!

Not available in Sweden :'(

That would be a great app for wp!

Probably just a price drop, but hope it means the DotW is returning.

I already own the game and I recommend it. 2.99 is a fair price.

Decent game, no complaints. I hope dotw is back, and price drops start coming every month like on the Xbox 360 game marketplace. Always an arcade game, games on demand, gets a price cut. Would be cool to see that for wp.

Sally Salon LE is much better than her SPA.

I installed the trial version before seeing this blog post. I thought $2.99 was the price it always had and was telling others that I'm waiting for the price to come down, hahaha!

Didn't Sally start at $2.99 on release(opening sale) ? At least that is what I paid for it....

I saw this and thought oh, no $0.99 ? I guess not, that is where it should be priced

If you liked the first Sally, this one is much the same but a little harder...

Come on David... Read the article. :-P

Salon is the place where you can relax and enhance your beauty. Most women spend hours together in a salon to regain their lost sheen. Today men have realized the need to look great. Earlier, men used to visit a salon for a hair cut but these days salons offer a wide range of services like facial, massage, hair coloring, pedicure, manicure, body wraps, exfoliation and a host of other services.Fresh4me Handmade Soap
Windows Central Newsletter
Get the best of Windows Central in in your inbox, every day!
Thank you for signing up to Windows Central. You will receive a verification email shortly.
There was a problem. Please refresh the page and try again.