How Samsung Flow already uses Windows Hello to unlock the Galaxy TabPro S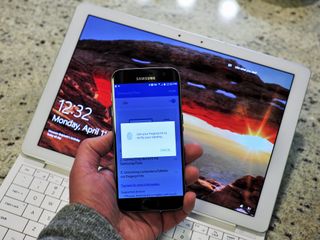 Earlier this morning Microsoft laid out the details behind the Companion Device Framework for Windows 10. The article revealed how developers can leverage external devices to unlock Windows 10 PCs when the built-in biometric hardware is not available on the intended PC.
Excitingly, Samsung is already utilizing this technology with their brand new Galaxy TabPro S tablet running Windows 10 Home. The $900 tablet is Samsung's first for Windows 10 and sports a fantastic 12-inch 2160x1440 Super AMOLED display – the first of its kind on any PC. At just 6.3mm thin it is also one of the nicest non-Surface tablets around.
Samsung calls their system Samsung Flow, and it is a Windows 10 app that utilizes a particular driver. The companion hardware in this situation is unsurprisingly Samsung's own smartphones with fingerprint readers, including:
Galaxy S6, S6 edge, S6 edge+
Galaxy S7, S7 edge
Note 5
Once the Samsung Flow app is installed on the Galaxy phone and Galaxy Tab Pro S the user just pairs the device using Bluetooth. Once paired, the user is instructed to register their fingerprint using the standard Windows Hello setup under Settings > Accounts > Sign-in options.
How it all flows together
Samsung Flow is relatively straightforward to the user as they can either launch the Flow app on the Android smartphone or just tap the NFC tag built into the TabPro S's keyboard base. The PC does not need to be on but can remain in Standby as Flow will wake up the TabPro S to complete the request.
Once Flow has initiated it presents a fingerprint notification screen on the Android phone, and the authenticator uses the built-in fingerprint reader to unlock the PC without ever touching the tablet. Since the devices need to be linked via Bluetooth, the smartphone needs to be in the presence of the TabPro S.
The setup works quite flawlessly with little to no delay especially if using the NFC tag, which launches all the necessary components with one tap.
One idea that Samsung had with the remote Windows Hello ability is that you could let others use your TabPro S without ever giving them your PIN or Microsoft Account password. The owner of the PC can, of course, revoke permission at any time to any phone granted access using Flow.
But wait, there's more! Notifications
Samsung goes even further, however than just unlocking the TabPro S. Samsung Flow also includes its own Notification service that mirrors notifications to the TabPro S from the Android phone including integration into the Windows 10 Action Center.
How it works is every time you get a notification on your Galaxy smartphone it also shows up as a notification on your tablet. If you dismiss it on your phone, it gets dismissed on the PC and vice versa. Flow even lets you preview the information e.g. you can view the image from Instagram directly on your PC without needing to open the website or your phone.
Users can also respond to text messages through the default actionable notification feature in Windows 10. (Currently, the Flow app also has space for typing out a message and sending, but it does not appear yet to work as it possibly needs some features found in the forthcoming Windows 10 Anniversary Update.)
All of this sounds a lot like Microsoft's new notification framework for universal dismiss and notification syncing coming in the Anniversary Update this summer for Android and Windows 10 Mobile devices.
Samsung is working closely with Microsoft as the Galaxy TabPro S was made with support from Redmond and we have confirmed with the company that Samsung Flow is utilizing the APIs from Windows Hello and the new Companion Device Framework.
Finally, users can also get an instant setup of their Galaxy phone as a mobile hotspot for the tablet akin to how Windows phones work with PCs now.
What about Windows 10 Mobile?
Of course, many on Windows Central will be miffed that Samsung Flow is an Android app feature and limited to Samsung's own Windows 10 Galaxy TabPro S tablet. However, these abilities need to be taken as an exciting development as it gives companies like Samsung a way to leverage the new openness of Windows 10 to help sell and push their own products. If we're totally honest with ourselves, there is little doubt that Samsung makes some of the best hardware around these days.
The important takeaway here is not that that you should necessarily run out and buy a Samsung device (although you could do a lot worse) but rather that Windows 10 is entering into a new phase of cross-device compatibility with advanced features previously limited to the Apple ecosystem of iOS and OSX.
Everything that Samsung is doing with their Galaxy smartphones and TabPro S can be replicated by other manufacturers looking to get in on Windows 10, Windows 10 Mobile and even Android hardware.
Will other Android manufacturers take advantage of Microsoft's Companion Device Framework? We'll have to wait and see.
Since the Companion Device Framework is open to developers and hardware manufacturers, we should see more of this tie in between hardware and the OS for consumers for not only unlocking PCs and tablets but eventually logging into websites using Microsoft Edge. The idea of signing into your bank account in Microsoft Edge and using your smartphone's biometric authentication is just around the corner, and that is a big advancement for pushing Windows 10 into the next era of security and privacy.
See the Samsung Galaxy TabPro S on Amazon (opens in new tab)
Windows Central will be reviewing the Samsung Galaxy TabPro S in the coming days, but for now, you can sound off in comments on what you want to know about it!
Daniel Rubino is the Executive Editor of Windows Central, head reviewer, podcast co-host, and analyst. He has been covering Microsoft here since 2007, back when this site was called WMExperts (and later Windows Phone Central). His interests include Windows, Microsoft Surface, laptops, next-gen computing, and arguing with people on the internet.
Want to know ALL about it!
Write an extensive review.
Then compare wih Surface.
Then when RedStone is ready
do it again!

Short take: one of the best Windows 10 tablets I have used. Gives Surface a run for its money and has a much nicer display.

True. Samsung makes the best displays .

I personally like the Sharp or LG Panels more. Samsungs are always to much saturated for my taste. Independent if we're talking smartphones or TV sized ones. Of cause there might be some exceptions.

I thought surface displays were already top-shelf quality Posted from WC 920, 1520, 920, 635, 640 or 950XL

They're great, but you haven't seen a display until you have seen a 2160x1440 Super AMOLED display. More contrast, more vibrant, and sharper looking when put side by side a Surface. I've let a few people pick which they think is the best at first glance and the AMOLED always wins.

But suffers from burn-in in a static image is left onscreen like old CRTs, Plasmas, etc. This is why the "never" option for autolock on the 950 XL is disabled.

Burn in is a ***** ... in my town we have a Lumia 950x and a screen + keyboard and touchpad for demo purpose in the electronics store, the message "This phone powers the monitor to the left" is burn into the phone`s screen when you want to use the phone and see what`s all the fuss about.

My sister and brother in law have an lg lcd led tv and after hours of playing videos on built in youtube app (not in full screen cuz it lags) it got burn in on nav bar, and frame around the video it self. If you leave a stati image on your screen for that long yea you'll end up with burn in effect no matter whan screen you have.

"But suffers from burn-in in a static image is left onscreen like old CRTs, Plasmas, etc. This is why the "never" option for autolock on the 950 XL is disabled."

I mean you bring that up as if Samsung does not know and did not take precautions to prevent that with this tablet. They explicitly talked about how the worked the technology to prevent such things. The same "issue" applies to the flood of OLED displays you are about to see hit laptops in the coming weeks, and once again, companies took measures to prevent it there too. So no, I don't consider that a disdvantage.

Any chance of a video review, especially showing the performance of the active pen it works with?

Will try to do a video, but the pen is not yet available to demonstrate.

Surface 4 better come with an AMOLED display and Intel Core m7.

That would make it prohibitively expensive.

the core m7 shouldn't be more expensive than a core i5 CPU Posted via Universal Windows App on W10

Funny, I thought it was prohibitively expensive now.

I find both of those within the bounds of sanity. I don't know why, but I thought I was replying to post about the surface book.

No, please no AMOLED. IPS is so much better!

Looks great. I don't like it's Win10 home which means no Bitlocker encryption.

Right, but you can just upgrade to that via the Store for $99 if really needed.

Just do an Insider update in Production ring when the Anniversary update comes and then opt out of preview builds. Voila! Your Windows 10 Home is upgraded to Pro without any risks for free.

JUST MAKE A SAMSUNG S7 EDGE WINDOWS 10 MOBILE CAPABLE thank you #SoldOutIn10Seconds

who would spend 700$ on a phone without apps

There are apps, true Android and iPhone have more and there may be a rare app you may miss official support from if you're an app addict, but I've never felt this as an issue. besides. I much rather use Edge in some cases as apps don't have all the features or options you get by visiting the full website. The Facebook app on all 3 OSes is crap.

so crappy xD. well our messenger is bad and not bad too at the same time since we dont get bad things the others get although we are closer to getting a new messenger and facebook app from facebook itself.... the instagram app is nice the windows 10 beta one for ppl who dont know that instagram has plans for it.

Let there be a high-end galaxy phone with windows and you will see. In fact I have been waiting for hardware prowess of Samsung to get married to the windows ecosystem. That will be second best deivce in my opinion, marginally behind the surface phone. In terms of sales though, it will leave microsoft far behind as Samsung knows how to sell much better than Microsoft.

Samsung can't clone their S7 Edge because Windows 10 mobile is very restricted on what they can do.

not really. As a matter of fact windows 10 is far more intuitive and provides a large number of tools for developers to play with. smsung is only waiting for widows ecosystem to stablize (and hopefully provide an evidence of growth) before coming up with a windows phone. As and when it does, it will be an inflection point for windows mobile as a whole.

SP4 is a better device. https://www.youtube.com/watch?v=yjdAxIzeM0I

But does it support the all new Pen API?

That comes with Redstone/Anniversary Update, but yes, it will. Samsung also has a full-featured smart pen coming out soon for the TabPro S.

Wow! A Sammy and MS news. It has been a while.

Would be nice if Samsung made the app available on windows store too.

I agree, but they are trying to boost their own hardware and I cannot really fault them for that at this time. Someday, if Windows 10 Mobile becomes a thing and they jump into the hardware portion of that, you can bet they will do some clever things with Microsoft.

Hey guys its available to download in their website the drivers for flow and the program but I don't know if it'll work for non samsung PCs

That means Windows 10 Mobile lacks some features that is stopping Microsoft to implement it. Ofcourse, it is going to change with Redstone.

Just remember that one of Microsoft's goals is to get OEMs to make the hardware. While Microsoft is in the hardware game, they don't want to necessarily win it from all fronts.

Comments section will explode if Samsung announces a W10 mobile powered Flagship.

The prospect of a Galaxy S phone with Windows 10 Mobile would be a very big day. Unfortunately, I don't see it happening until Samsung (and other big firms) see the value in pushing it, but Samsung is very good at enterprise and professional hardware and they know they can do something big with Mobile and PC when everything evens out. Their new Windows 10 PC and tablet lineup is very exciting and I hope they do well.

I see Samsung looking at Windows 10 mobile when their Galaxy S series starts becoming repeatative.

I think they will look at Mobile next year, to be honest I think its quite likely they are already playing with ideas and prototypes internally, it seems they have gotten much closer with Microsoft over the last year and I bet Samsung are actually waiting for Microsoft to implement specific features / hardware support / APIs that they have requested before they will officially jump on the band wagon.

I believe Daniel that they are taking your analysis of mobile strategy for Microsoft very seriously. They will wait for atleast 2017 (if not 2018) to see how things shape up with windows phones. More importantly, they want to see the potential that windows 10 brings to mobile devices. Following that (and hoping that windows mobile share also starts to improve by then), they will enter the market. But whenever that happpens, it will be a watershed moment in windows mobile history and possibly in the history of mobile devices as a category. Becuase it will not be just another Galaxy S running windows 10. They will compete with Microsoft toe-to-toe in making their phone more innovative than even Microsoft's offerings.

a ROM to 'upgrade' a galaxy S7 to W10 would be nice too!

I found it. Here you go :) http://kirill2485.deviantart.com/art/Better-Windows-10-Wallpaper-553255264

You've got to admit, this is pretty exciting and at this point in time also a very compelling argument in favor of Samsung's products. Kudos to them.

Brilliant from Samsung and Microsoft. This seamless integration of workflow, notifications and so on is the reason Im loving Windows 10 more and more.

The elite X3 plus the companion device framework should wield some pretty sleek combinations :P especially it has an iris scanner and finger print scanner. Kudos to Samsung showing other OEM's what is possible with the Windows Hello APIs and CDF. This should really spark some interest into the Anniversary update for Windows 10.

I read the amoled screen looks fantastic but it will auto dim or go to sleep to prevent burn in even when it's charging

It does. Samsung worked hard to prevent the burn in stuff and it even has a funky 90's screensaver thingy too. In speaking with them, they said they put a lot of effort to make that tech happen on a PC and were pretty proud of it.

Just picked one up at Best Buy. Love the display. A little expensive. Fairly quick too. On lite tasks.
Nice article. Thanks.

When Samsung releases a windows phone then I can think of trying it Posted via the Windows Central App for Android

Please, where can I get that wallpaper?

So.........Galaxy S7 then.........hold on while i try to sell my Lumia 950.............crap, nobody is gonna buy it, because you know.....apps.

Or, instead of being dramatic, you can wait a few months until MS rolls these features out in the anniversary update. And of course somebody will buy your phone unless you're silly enough to try and charge a new phone price for a used device.

welp, i think i might get $250-$300 for my 950 (i tried to go au'naturalle, no screen protector, and low and behold - my screen is scratched - my fault)...........My main point of frustration is that it seems Android, even running on a differnt OS, seems to be integrating better with desktop than W10 mobile, which is the same OS...........thats my issue...........somehow Samsung is able to customize thier phones to work seemlessly with their devices, pushing notifications, being able to text from PC, and vice-versa............and W10 mobile and Desktop are just not there yet. Its really the same on Android i guess - Samsung had side by side apps, and a ton of features built into their devices that vanilla Android never had.

well i have already send messages from cortana from my pc got to my phone and got send to my contact. On the new update you will be able to even do calls this way so i dont get it how W10 is back on that feature? all the features flow uses are used in cortana right now(well notifications from apps are on redstone build) nothing is missing you just have to search for it and in our Windows case is just to open cortana that they dont make global that;s where it stays behind.

@nasellok Remember that for this unlock feature to work, Samsung worked directly with Microsoft. Outside of this brand new feature that is eventually coming to our phones, Android and W10M have the same level of integration with the desktop. Don't forget too that Samsung has fewer device categories that they have to support with software than MS. Aside from that, from someone who has sold a fair number of things on eBay, if you decide to sell your phone do not sell yourself short. Don't assume that just because it does not have as many apps as the other operating systems or that it has a scratch that the hardware is somehow forgettable. It's still a very powerful phone that has been out for only a short amount of time and you should take that into consideration.

MS should create windows wear just like android wear to support smartwatch markers

I wished Dell could make a bridge to let an Android app use SmartLock to be able to unlock a Dell machine running Windows 10 desktop. Why? because most people have Android phones and WIndows PC's, nobody has Windows 10 Mobile, at least stats say W10 Mobile decreased from 3% in 2015 to 1 % in 2016.

But Samsung still sucks :P :D
Their flagship devices are ok, but all others are laggy, slow, and overall bad.
And I don't like the Samsung design in general, and I think it's ugly. But it's just a personal preference thing :D Posted with the Windows Central app for Windows 10 on HP 250 G1 notebook. It is a scary old monster, I think :D

Well cortana already displays my lost notifications from my phone on my pc ;D.
And the UWP skype app looks good, responds well not big problems its build well.

FOR GOD sake you the editors of articles in Windows Central, i just opened the article cuz I'm interested in the title itself, but how can you make us foucs on the Article itself while you're always using awsome wallpapers =D, plz if U can give it to us just do it, and I'm so thankful to you Mr.Daniel

Hi, Daniel. Is Huawei doing the same thing with its latest MateBook and Huawei android phones? I remember seeing something similar in the MateBook commercial.

Well, there's another point in the Android/Samsung column as I debate what my next companion device ("phone" is so 2015) will be...

Has anyone found a way to sideload the app on other W10 devices? I have a XPS 13 and S7E so I would love to get my notifications replicated, but have no need for a tablet (windows or otherwise).

Wait, so every time I want to unlock my tablet I have to pull my phone out of my pocket, turn the app on (or tap NFC) and then have my fingerprint authenticated? Sounds like a lot of work, especially for those of us who constantly turn on and off our tablets. I like the windows hello on my surface pro because as soon as I hit the power button it's looking for me and takes a millisecond to open, and my face is already front and center because it's a tablet. Dont get me wrong, the Tab S pro is an awesome machine, and as a Note 5 owner I really dig all the other stuff like notifications. But I do wish they put in windows hello with a camera or fp reader on the tablet itself.

Really wish Samsung and Microsoft will cross license some techs....really wnat to see Samsung Pay on Lumias....espeically since MS has ZERO phone payments on their ecosystem.

That is really cool, terrible name, but really cool tech. It strikes me that apple COULD do something similar with the fingerprint reader on the iphone and mac os x machines. But that would just make sense, and we can't having anything apple does make sense.
Windows Central Newsletter
Get the best of Windows Central in in your inbox, every day!
Thank you for signing up to Windows Central. You will receive a verification email shortly.
There was a problem. Please refresh the page and try again.