In May 2021, I reviewed the Galaxy Book Pro 360. A 15-inch laptop with S Pen and a convertible design brought a slick, fresh look to Windows laptops while also adding a lot of value via its plethora of Galaxy apps.
Besides the 15-inch model, Samsung also had a 13-inch Galaxy Book Pro 360 design, with a promised 4G LTE with a 5G variant due later. Well, that device is now available as the Galaxy Book Pro 360 5G with either an 11th Gen Intel Core i5 or Core i7 processor. I've been using the Galaxy Book Pro 360 5G 13.3-inch for the last few months over the holidays, and I'm pretty smitten with what Samsung has pulled off here for a few reasons. I also have a few recommendations on how Samsung could make it even better.
But the real killer feature of this laptop is one you can't see. It's the ability to turn this laptop into a fanless ARM-like PC with a flick of the key. Let me explain …
Bottom line: Samsung delivers a well-built, super light, lovely 5G laptop that is priced exceptionally well, especially if you can find it on sale. But Samsung needs to ditch 16:9 ASAP.
For
Thin, high-quality design
Unique fanless option
Excellent Super AMOLED display
Very good battery life
Always connected with 4G/5G
Most affordable 5G laptop
Against
16:9 display aspect is dated
12th Gen Intel is coming soon
No Windows Hello IR camera
No eSIM support
Galaxy Book Pro 360 5G: Price and availability
The Galaxy Book Pro 360 5G 13.3-inch is available directly from Best Buy and Samsung. Pricing starts at $1,400 for the Core i5 version with 8GB of RAM and 256GB storage. Pricing goes up to $1,600 for the Core i7 model with 16GB of RAM and 512GB of storage, although that version is more difficult to find.
Pricing has been mostly consistent. However, both Samsung and Best Buy have dropped the Core i5 version to just below $1,000 for short sales, which is a very compelling price if available.
Galaxy Book Pro 360 5G: What you'll like
The Galaxy Book Pro 360 5G 13.3-inch is similar to the 15.6-inch version except for no number pad and a much smaller overall design. I have used both extensively, but I prefer the 13-inch model due to its size and a better balance of features.
The Mystic Silver colorway with all black keys is also preferable to the 15-inch version's blue, which looked great but was a fingerprint magnet. The build quality is exceptional, with no creaks or flexes with the keyboard deck. That keyboard has very little travel at just 1mm, but the size of the keys and the actuation make it a joy to type on without the need for much effort. There is three-stage backlighting for those keys, which is sharp and excellent. Changing the brightness brings up an on-screen display to take the guesswork out of knowing that level.
Swipe to scroll horizontally
Header Cell - Column 0

Galaxy Book Pro 360 5G 13
Galaxy Book Pro 360 15
OS
Windows 10 Home
Windows 10 Pro
Windows 10 Home
Windows 10 Pro
Processor
11th Gen Intel Core i5
11th Gen Intel Core i7
11th Gen Intel Core i5
11th Gen Intel Core i7
RAM
Up to 16GB LPDDR4x
Up to 16GB LPDDR4x
Graphics
Intel Iris Xe
Intel Irs Xe
Storage
Up to 512GB NVMe SSD
Up to 1TB NVMe SSD
Display
13.3 inches
Super AMOLED
1920x1080 (FHD)
S Pen for inking
15.6 inches
Super AMOLED
1920x1080 (FHD)
S Pen for inking
Ports
Thunderbolt 4
Two USB-C
3.5mm audio
microSD card reader
5G SIM (optional)
Thunderbolt 4
Two USB-C
3.5mm audio
microSD card reader
Audio
AKG speakers
Dolby Atmos
AKG speakers
Dolby Atmos
Connectivity
5G (optional)
Wi-Fi 6E Ready
Bluetooth 5.1
Wi-Fi 6E Ready
Bluetooth 5.1
Camera
Front-facing 720p
Front-facing 720p
Security
Fingerprint reader
Fingerprint reader
Battery
63Wh
65W AC adapter
68Wh
65W AC adapter
Dimensions
11.9 x 7.95 x 0.45 inches
(302.5mm x 202mm x 11.5mm)
13.97 x 8.98 x 0.47 inches
(354.85mm x 227.97mm x 11.9mm)
Weight
2.29 pounds (1.04kg)
3.06 pounds (1.39kg)
Color
Mystic Navy
Mystic Bronze
Mystic Silver
Mystic Navy
Mystic Bronze
Ports are limited to just three Type-C, with two on the left and one on the right. Only one port (on the left) supports Thunderbolt 4, while the other two are standard USB C. A 3.5mm headphone jack is on the right side, while the microSD reader is on the left.
Image 1 of 2
But the real selling point of Galaxy Book Pro 360 5G is, obviously, the combo 4G LTE and 5G modem (carrier unlocked), which, when combined with the super thin and light design, makes this laptop a fantastic choice for those who need productivity on the go. The Intel 5G Solution 5000 M.2 module (developed with MediaTek) diverges from the usual Snapdragon 5G chipsets, but it gets the job done. Performance with 4G LTE and Sub 6GHz 5G (no mmWave) was fast and reliable with little effect on battery life compared to Wi-Fi.
Oddly, while this Intel modem technically can support e-SIM, Samsung only leverages a physical nano-SIM (on the right side) for that 4G/5G connection.
The 13.3-inch Super AMOLED display is on the low side for resolution at "just" Full HD (1920x1080) and peaks at just 283 nits of brightness (well below the typical 400 these days). But don't let that fool you. Super AMOLED blows away any standard LCD with similar specs. Screen brightness (along with a decent anti-reflective coating) is good enough for overcast days or in the back of a taxicab.
The Galaxy Book Pro 360 5G's color gamut is exceptional, with coverage for 100% sRGB, 96% AdobeRGB, and 100% DCI-P3 making it one of the most color-accurate laptop displays we have tested.
Besides excellent color representation, this display also supports touch and inking via the Samsung S Pen. I find the S Pen often superior and more fun to use than Microsoft's Surface Pen, which applies here. Mixing Samsung's excellent assortment of Galaxy apps and this is an outstanding 2-in-1 laptop for taking notes, primarily because of its unparalleled thin-and-light design.
Speaking of those Galaxy apps, here is the complete list, all of which are user-removable:
Air Command
Clip Studio
Connect
Galaxy Book Experience
Galaxy Book Smart Switch
Link Sharing
Live Message
Live Wallpaper
Online Support (S Service)
PENUP
Quick Search
Quick Share
Samsung Bluetooth Sync
Samsung Care+
Samsung DeX
Samsung Flow
Samsung Gallery
Samsung Notes
Samsung PC Cleaner
Samsung Recovery
Samsung Security
Samsung Settings
Samsung Studio Plus
Samsung TV Plus
Samsung Update
Samsung Voice Note
Samsung Screen Recorder
SmartThings
I think Samsung's Galaxy apps, especially if you have a matching Galaxy phone, are among the best PC and smartphone ecosystems around (besides Apple).
The 720P webcam is merely OK. This laptop came out before Intel 12th Gen was announced, so OEMs didn't scramble to put in a Full HD camera. While there is no facial recognition to log you into Windows 11 Home automatically, a very reliable fingerprint reader is built into the power button on the keyboard deck.
Audio is handled by the bottom-firing AKG Speakers featuring Dolby Atmos. While not my favorite location for speakers, they perform pretty well with excellent clarity and fidelity despite the lack of bass and resonance.
Image 1 of 2
But besides the 5G modem, one of my favorite features is one you don't see or hear. Samsung provides its own custom performance profiles for this laptop including Silent, Balanced, and Performance. Each one of those alters the fan speed to better match your environment. Fan profiles are not new, per se, but Samsung has a fourth one here I've never seen before: Fanless. Whereas Silent only uses the fan minimally, Fanless completely disables it.
As you would expect, turning the fan off will throttle the CPU to prevent overheating, which is reflected in benchmarks. But the result is still impressive. Geekbench performance for single-core is a good 500 points higher than Surface Pro X (SQ2) running a fanless ARM processor, although the Galaxy Book Pro 5G's multi-core falls score is about 1,000 points behind it. On PCMark 10, the Pro X takes the lead at a 5,088 score, while the Galaxy Book Pro only gets 3,555.
But the cool thing here is this is all user-choice. The option to take an x86 laptop with a simple keystroke basically makes it a fanless ARM PC to maximize battery life and keep things quiet is rather remarkable.
Image 1 of 5
Performance mode, however, is not significantly better than just using Optimized, which is what most people should opt for most of the time.
Battery life is also very good with this laptop, depending on how you run it. It is Intel Evo certified, so when combined with a Full HD display pushing 10 hours on fanless mode with the display at 75% brightness (~150 nits) is easy. Indeed, running fanless at those settings, the laptop hit 11 hours and 29 minutes, which is quite good considering this laptop's size. When run in Optimized mode, battery dropped around an hour to 10 hours and 38 minutes.
My real-world battery results from the Windows Battery Report with dispaly auto-brightness enabled averaged 8 hours and 35 minutes.
Recharging is fast and straightforward with the included 65-watt Fast Charger. The only way that charger could be better is if the prongs folded for travel.
Galaxy Book Pro 360 5G: What you won't like
The biggest issue with the Galaxy Book Pro 360 5G is its dated 16:9 display. It's too narrow, and while the top and side bezels are skinny, there is that old familiar chonky chin at the bottom. The result is you tend to do much more scrolling on web pages and documents since you see less information vertically compared to modern laptops. The Galaxy Book Pro 360 5G would be so much better with a 16:10 or 3:2 display.
While not a dealbreaker, there is no eSIM support, which is odd. A non-physical SIM is ideal when traveling as you can easily buy data-only 4G plans via websites these days instead of having to go and buy an actual physical SIM. Many 4G and 5G Windows laptops offer both the physical and eSIM solutions, so it's strange that it's missing here.
Samsung did announce new 12th Gen versions of this laptop, but minus the LTE and 5G. Intel's latest processors should be a winner, but we haven't reviewed them yet for laptops like this, leaving it a bit of a mystery. Samsung does have a new 5G laptop coming out, but oddly it's the 15.6-inch version and not this model. That means if you buy this laptop now, there's no immediate replacement on the horizon.
Finally, while I boasted about the fanless mode, the fans on this laptop are pretty audible when they kick in, which will be often. This is partly due to the laptop's thinness, but Samsung could also do a bit more to keep things quiet. Luckily, those fans keep the laptop cool, as I can't say this laptop ever gets hot.
Galaxy Book Pro 360 5G: Competition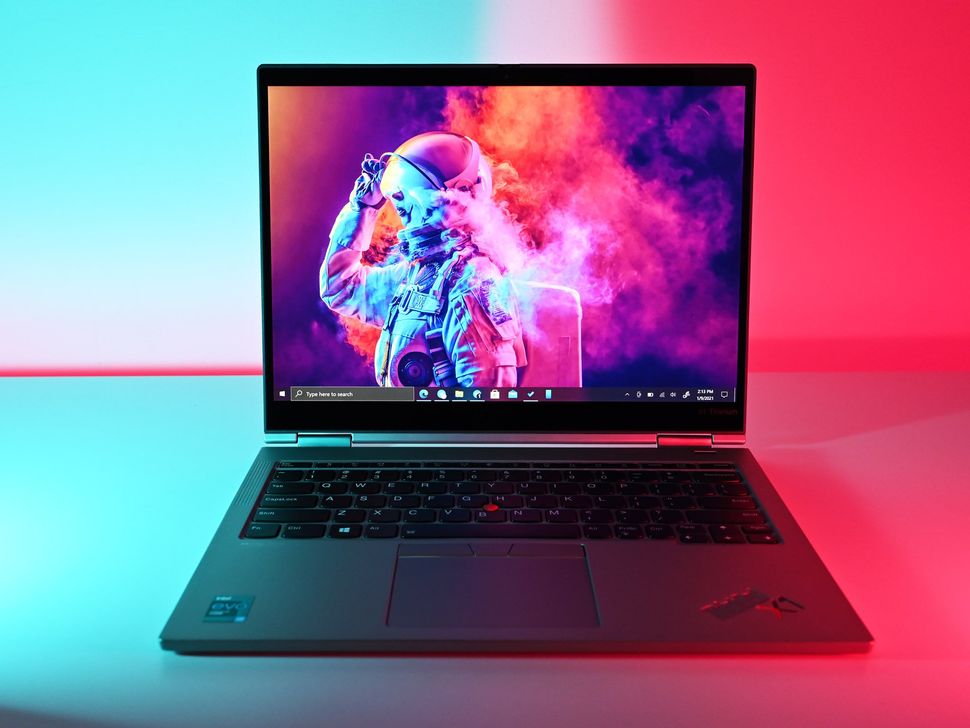 Competition in this space is limited since this laptop excels in two areas — extreme thinness and 5G. But there are a few alternatives, although none quite hits this price point. Most 5G laptops are still aimed at enterprise, which bumps the price up substantially due to more rigid hardware and security requirements, e.g., Intel vPro, which the Galaxy Book Pro 360 5G does not support.
HP has the excellent Elite Dragonfly G2 and G2 Max (and G3 is due in the first half of 2022). The G2 variant is also Full HD but adds HDMI and a full Type-A port. There are also options for 5G and support for a pen. Oddly, the forthcoming Elite Dragonfly G3 model drops the "360," making it no longer a pen-supported device. Pricing is also higher, starting at around $2,000.
Lenovo has the excellent ThinkPad X1 Titanium Yoga. It's a convertible with a 3:2 display and support inking. It has a titanium chassis and unique haptic trackpad, but the battery life is not as good as Samsung, and it hasn't been refreshed since its release. You can pick one up for $1,469 (minus 5G).
A more exciting choice is Lenovo's forthcoming ThinkPad X13s running Qualcomm's latest Snapdragon 8cx Gen 3 ARM processor. It should get more battery life and likely even better performance. Pricing also starts at $1,100 with support for 5G (mmWave and Sub 6). However, it's not a convertible PC, and it has no touchscreen — that device ships in May 2022.
If you like everything about this laptop but don't need or want 4G LTE/5G, you can get just the regular Samsung Galaxy Book Pro 360 (minus 5G) for $1,200 (on sale for $810).
Finally, Microsoft's Surface Pro X (SQ2) is an excellent convertible PC with support for the new Surface Slim Pen 2. Overall system performance is as good as the 11th Gen Core i5 Samsung Galaxy Book Pro, although that is only when running native ARM apps. But, unlike the Galaxy Book Pro, Surface Pro X does not support 5G (just LTE), and it is expected to be refreshed in the fall of 2022.
For more ideas, you can check our best 5G laptops guide.
Galaxy Book Pro 360 5G: Should you buy it?
You should buy this if ...
You want a very thin and light 13-inch laptop
You need 4G LTE/5G for an always-connected experience
You use a Samsung Galaxy smartphone
You want a premium laptop
You shouldn't buy this if ...
You want to play games
You don't need 5G
You need more power
I'll keep this short and sweet: I really like the Galaxy Book Pro 360 5G, even if the name is way too long. While I think the 15-inch version is unique (there aren't many convertible 15-inch laptops that are that light), I prefer the 13.3-inch model better. I had a hard time putting it down (and as Samsung will tell you, sending it back to them!).
This laptop has a lot going for it. The build quality is outstanding, and the keyboard and trackpad are excellent. The Super AMOLED display is striking, even at Full HD. I enjoy running it in the fanless mode for light tasks (email, web browsing, Slack, messaging, etc.), and the 4G LTE/5G combo makes this an excellent laptop for your backpack. Even being this thin and light, you can still open the lid with one hand.
Image 1 of 5
For those reasons, if you want a thin-and-light convertible laptop for taking notes in class or the office, it's easy to recommend this laptop due to the battery life being better than expected.
The price, while not "cheap" at $1,400, makes the Galaxy Book Pro 360 5G easily one of the most affordable 5G laptops on the market. Many of the others are enterprise PCs that hover around the $2K mark, and that's a big deal. If you can scoop one up on sale for $1,000, it's a steal.
Of course, my main issue is that Samsung is still fighting with one hand behind its back. The company needs to put in at least a 16:10 display, or even 3:2 with Super AMOLED. That'd result in more viewable content and extends the keyboard deck, making typing more comfortable. Tidy up the fans a bit and slap Intel 12th Gen into this design, and you have a premium yet affordable, always-connected PC without the limits of Windows on ARM.
Even if this laptop is not for you, I think Samsung is one to watch in this space. It's going all-in on PCs, and it has the chops to take on the big names like HP, Dell, and Lenovo. It just needs to stop using designs from 2019 and get with 2022.
Daniel Rubino is the Editor-in-chief of Windows Central, head reviewer, podcast co-host, and analyst. He has been covering Microsoft since 2007 when this site was called WMExperts (and later Windows Phone Central). His interests include Windows, laptops, next-gen computing, and for some reason, watches. Before all this tech stuff, he worked on a Ph.D. in linguistics, watched people sleep (for medical purposes!), and ran the projectors at movie theaters because it was fun.