Samsung to launch new 13-inch and 15.6-inch Notebook 7 models on June 26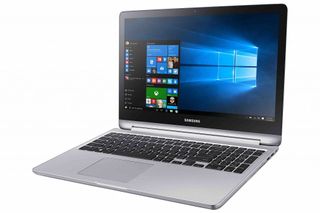 Samsung will release two new Windows 10 laptops on June 26. The 13-inch and 15.6-inch Notebook 7 models will have a starting price of $799.99.
Microsoft's blog post about the Notebook 7 laptops goes over some of their features:
The Intel Core i5 or i7 processor, an impressive 1 Terabyte hard drive, ample RAM (up to 12GB) and upgradable SSD options allow you to accomplish everything you need to without the loading times.
With just 20 minutes of charging, battery life is extended up to two hours. In just 90 minutes, the 15.6-inch notebook will be fully powered, while the 13-inch reaches a full charge in 100 minutes.
The 360-degree touch display offers incredible viewing angles. This PC can be transformed into three adaptive modes: use it as a notebook to touch and type as you connect with friends, stand it up to enjoy the latest movie in tent mode, or switch to tablet mode to surf the web.
The auto-backlit keyboard allows for comfortable typing in low-light conditions. The keyboard is ergonomic and convenient, with useful hotkeys that give instant access to functions most often used.
Built with a Full HD touch screen with Video HDR mode, content is sharper, colors are more vivid and textures truly pop. Video HDR mode instantly optimizes the video experience, so that every little detail comes to life.
The Samsung Notebook 7 models will be available on the company's website when they launch. They will also be available at Best Buy's stores and website.
Return of samsung in windows notebook business.
Welcome back!

They never left the business. They exited some markets only.

Here's hoping they don't make another huge problem like last year.
"Samsung telling customers not to upgrade to Windows 10"
and
"Samsung installs Superfish-like malware on computers"

What i heard was they were r going to focus only on chromebooks and there will be no more Windows notebooks.

I get that laptops are often going to inherently look like other laptops, but could they at least try to make the base/keyboard/trackpad area look a little less like a MacBook?

who is behind the Macbooks "Retina" screen??? Isnt it Samsung? :-) what kind of RAM (manufacturer) do Macbooks have?? Samsung? :-)

All trackpads are designed by Synaptic Inc.
.
Apple is merely outsourcing that component from Synaptic just like all the other OEMs.

What do those have to do with looks?

Apple does not have a trademark on the shades of gray. MacBook keyboards don't have NumPads either.

Who said they do? No one's making Samsung use the same colors as Apple.

Yes, everything has been copied from Apple. The phone? Apple A phone with a screen? Apple. The square? Apple. The colors blue and white? Apple invented those too. In fact, they also invented gold and then exclusively used it in their watch. Oh, and they invented the watch too. So you are right, they invented the laptop - a portable computer with a video screen and a keyboard attached.

Man, you guys sure are in denial.

How does this compare to the new LG laptop???

Cool. I hope it's light weight with under 3lbs of weight.
Windows Central Newsletter
Get the best of Windows Central in in your inbox, every day!
Thank you for signing up to Windows Central. You will receive a verification email shortly.
There was a problem. Please refresh the page and try again.