Samsung's new QLED gaming monitors pack HDR, FreeSync 2, and speedy refresh rates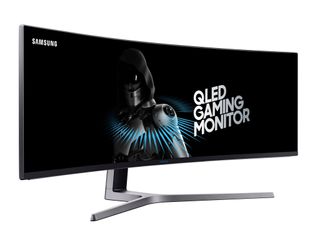 Samsung is going all out to impress gamers with a new trio of monitors. (opens in new tab) Coming in at 27, 32, and a massive, ultrawide 49 inches, each monitor packs the speedy refresh rates and low response times you'd expect from a gaming monitor, but with some added niceties that, at least on paper, should add up to a visual treat.
One of the main draws of these new monitors is that they are the first FreeSync 2 displays on the market. Announced back at CES in January, FreeSync 2 is an evolution of AMD's frame-synchronizing tech meant to prevent screen tearing amid framerate dips while gaming. The advantage of FreeSync 2 is that it is built to counteract extra latency introduced by HDR, which is becoming increasingly common on PC displays.
Speaking of HDR, it's present here as well, offering greater contrast and color gamut for games that support it. If you've seen HDR in action, it's immediately clear how much of a game changer it is for picture quality, so it's good to see it here. Throw in Samsung's quantum dot tech, and the picture quality should be pretty impressive.
Other, more gaming-related specs include 144Hz refresh rates, ensuring high framerates PCs powerful enough to push it. 1ms response times should ensure that twitchy gameplay feels good as well.
The CHG70 (2560x1440) will be available for preorder at $699 for the 32-inch model on Newegg or $599 for the 27-inch version at Samsung. Meanwhile, the much more massive 49-inch, ultrawide CHG90 (3840x1080) will be up for pre-order for $1,499 at Amazon. Note that you'll have to have an AMD graphics card that supports FreeSync to use FreeSync 2. Interestingly, Project Scorpio is expected to support FreeSync as well, so these displays could be a good match for the next Xbox as well.
Windows Central Newsletter
Get the best of Windows Central in your inbox, every day!
Dan Thorp-Lancaster is the former Editor-in-Chief of Windows Central. He began working with Windows Central, Android Central, and iMore as a news writer in 2014 and is obsessed with tech of all sorts. You can follow Dan on Twitter @DthorpL and Instagram @heyitsdtl.
Bud does it suffer from light bleed like their TV's?

Lets hope that Project Scorpio can support these aspect ratios.. It should easily handle the resolution as the pixel count is only half of a 4K panel. You could have one of these with a 1080p 16:9 monitors either side for some extreme surround gaming!

Anyone please answer. I understand this monitor doesn't have GSYNC but it has freesync. Will it still run well with an Nvidia card? I just want the refresh rate and response time to just be alright.

Yes, it will work just fine with an Nvidia card (given the requirements to run any specific game at the monitor's refresh/resolution). Your Nvidia card will just not make use of the FreeSync features.

I figured I'm just learning all of this. What really are the benefits of freesync/gsync

The article says the benefits. Gsync and freesync are pretty much the same just NVidia and AMD respectively

Ok so do you think I could technically get an AMD card to benefit the monitor while my GTX 1080 runs my games

Don't think you can do that. The whole point of the XSync tech is that the refresh ratio on the monitor is matched up with the variable frame rate of the game so we don't see glitches/screen tearing etc. Monitors have traditionally been constant refresh rate until now.

Nvidia needs to do something about gsync most monitos are freesync and I want something that works with my gpu

They recently said they feel no need to. They are happy catering to a lower market-share with higher margins.

Dear LG, Anytime now... Thanks

It's not real HDR, the only genuine HDR system that is garanteed is the UHD Premium Alliance used by TV's, there is nothing stopping PC makers from getting their hardware certified with it but they arent because they are pushing out inferiror forms of HDR so they can lower costs.

Of all things, WHY leave out the 4K res support at this point? I understand it'll increase the cost a bit, but when you're putting in all of the other bells and whistles and costs are going to be up there anyway, why would you leave out the last bit to make it feature complete? Geez...

Well I thought I had found the perfect monitor for the upcoming Scorpio but since these are only 2k monitors that's a big no. Oh well.

QLED isn't worth the price of admission, it's still just an LCD panel.

$1500 lol. For 2k. Even if it had magical pixie farts and unicorn poo I wouldn't buy it. I'll wait until when it's $100. Sticking to my 4k monitor.

49 inch vs what 24 or winch? That's obviously the price difference.

I like the 49" version. It is basically two 27" monitor side by side. However there are some design shortcomings:
1. The resolution is low. It should be 5220 x 1440
2. The design of stand is horrible. It is in the way of keyboard and mouse. I like its adjustability though.
3. I personally like flat screen. So there should have been a flat version.
With the above its MSRP price would seem attractive.