Satya Nadella to speak at the 2015 Dell World conference on Oct. 21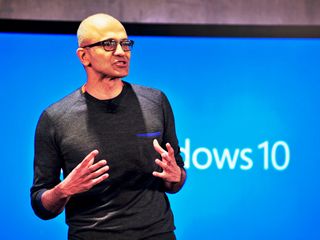 (Image credit: Windows Central)
Microsoft CEO Satya Nadella will be taking some time to travel to Austin, Texas on October 21. He will be speaking alongside Dell founder and CEO Michael Dell and others in the opening session of the company's 2015 Dell World conference.
Nadella and Dell's opening session is titled "A Future-ready World". Here's a general description of what will be discussed:
Microsoft and Dell recently announced a partnership through which Dell will sell Microsoft's Surface tablets to business customers in October. Dell also has some upcoming Windows 10-based devices in the works, according to some leaked marketing slides. One of them, the Dell XPS 12, will be a Surface-style 2-in-1 with a 4K display that will be out in, ironically, October.
Source: Dell
Let's see Posted via the Windows Central App for Android

'Posted via' is longer then your comment. Don't you find you look silly with a post like that? And yes, it's easy to change.

He just wants to make a point of using an android device on a windows phone app.

Should be booed off the stage.

Lol guys, at least the stuck up android people are commenting.

Hey bro... don't worry I'm with you on this one. What these troll-boys do not realize is that people from eco-systems have finally found a reason to turn towards microsoft and take notice. They are behaving like possessive lovers, akin to "what's mine is MINE alone!" Don't get deterred by this conservative lot... stay and show support purely for the love of technology. And just for people like you and me, I have... Posted via the Windows Central App for Android

Hopes. All that I have from Microsoft is they repay the trust I and my family have paid in them by using and promoting Windows Phones. Amen.

Yes.. People don't understand this very feeling and just put labels... I get what you mean... There has always been an emotional attachment to windows phone... From introduction to Lumia ... The Nokia Sale.... So many lay offs.. All the negative press... But inspire of all this.. Some of us have not lost HOPE...

ok. You sir need a grammar lesson. Please please please stop using ellipses so frequently, my brain doesn't process sentences like this

He might be remembering the old ellipsis style menu of Windows prior to 10...

No capital letter at start of sentence. Comma after "You." Commas between "Please please please." Semi-colon after "frequently." Full stop at end of sentence. Don't start unless you're squeaky clean.

That's how girls usually text here in India. He is a non native English speaker, please pardon him.

He will be at Microsoft Insights Week in Brazil on September 29 as well =)

Announcing closure of Manaus? Posted via the Windows Central App for Android

You can take your hate speech out of here. Useless.

Heh, sorry if you didn't appreciate the tongue in cheek joke. However, it is unfortunately quite possible that they will ramp down production in Manaus - in fact, now that I think of it, did they already announce some cuts? Believe me, I wish they didn't, I have family in Brazil.

Can see a reason for that. Windows phones and Xbox One are selling very well here.

What does everyone think of satya?

He is a mastermind but not a villain.. Lol.. Posted via the Windows Central App for Android

Nadella actually told us about this presentation in his 7/10/2014 "Bold Ambition and Core" vision-setting memo. Mastermind!

He's megamind. He's not the villain we deserve but the villain we need.

I like him. Pretty cool dude.

That use of the word "ironically" was ironic. :P

You shouldn't make fun of people who don't know what irony is. Instead you should provide helpful suggestions like using the word coincidentally in the place of this instance of the word ironically. :P

What happened to nokia world? Did microsoft sellthe term to dell??

Primitive stone tools unearthed in Redmond, Seattle dig - http://www.seattletimes.com/seattle-news/science/10000-year-old-stone-to... It's believed similar tools are still used by the Windows 10 mobile devs.

I'm sure it'll be something like "We will continue to prioritize our apps on android and ios over windows phone"

Or, ya know, he's at a Dell conference. So he's provably going to talk about stuff related to Dell?

Richard, unfortunately that thing called "logic" has no place in the typical Windows Central off-topic forum rant. ;)

He is doing the same thing to Microsoft that Obama is doing to the U.S. Cutting it up and giving it to the enemy.

I'm looking for something new in the XPS 18 neighborhood. Come on Dell...gimme gimme...please.....

Caption competition: "... and she had a rack like two puppies, man."
Windows Central Newsletter
Thank you for signing up to Windows Central. You will receive a verification email shortly.
There was a problem. Please refresh the page and try again.