ScreamRide will bring thrills and chills to Xbox One and 360 next year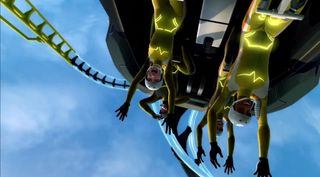 Today's Gamescom conference has offered some fresh looks at upcoming Xbox One games such as Rise of the Tomb Raider (exclusive to Xbox One in 2015!), Quantum break, and Forza Horizon 2. Microsoft also announced a brand new title: ScreamRide for Xbox One and Xbox 360.
ScreamRide comes from Frontier Developments, the UK developer responsible for Kinectimals, Kinect Disneyland Adventures, and the Xbox One launch title Zoo Tycoon. Whereas Zoo Tycoon merged the developer's love for animals with a simulation element, ScreamRide is entirely focused on building a futuristic theme park. That should be right up their alley, considering Frontier has previously developed both the Roller Coaster Tycoon series and the Thrillville series for consoles. Keep reading for our impressions and the announcement trailer!
Fast and furious
ScreamRide looks like a spiritual successor to both Roller Coaster Tycoon and Thrillville. Players will build a theme park filled with gigantic rollercoasters. According to the trailer, "Your measure for success is screams." It sounds like at least one of the goals will be to scare the crap out of park visitors. We certainly see a lot of screaming people riding impossible rollercoasters. (Speaking of which, the cartoonish art style for the humans is pretty hideous.)
Unlike its predecessors, ScreamRide has a big focus on physics and destruction. Roller coasters can actually launch through the air and crash into structures. In real life, that would be a worst-case scenario. But the game description explains that "creativity and destruction are equally welcomed," which implies that players won't be punished for going off the rails and wrecking some buildings.
Microsoft and Frontier promise three unique game modes, although we don't know just what those will be yet. Players will be able to participate in more than 50 unique events, seemingly providing a mission-based structure to the simulation. One of those modes will probably be a free building mode free of goals though, just like in Zoo Tycoon.
Graphically, ScreamRide looks to display some impressive environmental destruction. Hopefully that will make up for the relatively simplistic geometry and less-than-beautiful park visitors. Knowing that Frontier has so much experience with theme park simulations, we can safely expect a large and engrossing simulation from ScreamRide.
ScreamRide is due out in Spring 2015 for Xbox One and Xbox 360. Fingers crossed the Xbox 360 version won't be gimped like Zoo Tycoon was!
Paul Acevedo is the Games Editor at Windows Central. A lifelong gamer, he has written about videogames for over 15 years and reviewed over 350 games for our site. Follow him on Twitter @PaulRAcevedo. Don't hate. Appreciate!
Meh. Just waiting for RCT4 for PC. Never a big fan of console theme park games

But it comes from the exact same people, so it should be a similar experience.

Yes but alot of their own original titles after rct development was finished still don't hold a candle to rct

Since they also have so much Kinect experience in the past, I hope this game has a lot of Kinect features too.

Cant wait for it either. Rct3d was just a letdown

Not really related but I am really freaking excited about Quantum Break.

Naahh... All I want is a Roller Coaster Tycoon 3 type of game with Roller Coaster Tycoon 2 type of tunnel building! That would be worth putting some money into!

Loved the original Roller Coaster Tycoon on the PC (and as a tangent, Dungeon Keeper 2 rocked!...Disco Inferno rules all!!!). I would be very interested in this for the XBox 360 so bring it on! Techiedude

Happy to see this coming, since I can't get RCT4 (or anything from Atari) anymore.

Sweet. I love coaster games

Platform needs 3D support.

Looks like a bad Pixar movie trailer to me! Loved the original RollerCoaster Tycoon on the PC, would love for that to be simply ported to the Xbox! lol

Call me a sadist but this looks fun… especially the disaster scenarios.
Windows Central Newsletter
Get the best of Windows Central in in your inbox, every day!
Thank you for signing up to Windows Central. You will receive a verification email shortly.
There was a problem. Please refresh the page and try again.