How to complete your first Sea of Thieves voyage
Here's how to start your first Sea of Thieves mission and make a name for yourself in the pirate world.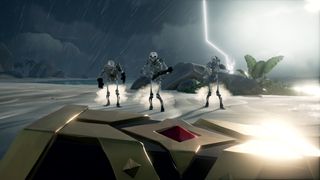 Sea of Thieves drops players straight into its tropical world with little guidance on what lies ahead. To climb the ranks and make a name for your pirate-self, you'll need to embark on "voyages" – the game's structured quests to hunt down coveted treasure. Here's how to get started with Sea of Thieves' voyages and bring back your haul of loot on Xbox One and Windows 10.
1. Finding your first voyage
To get started on your Sea of Thieves adventure, you'll need to collect your first formal voyage. Obtainable from various vendors across the game's world, these provide specific objectives to complete for rewards. Vendors are based at "outposts," found on set islands across the game's map. Players always spawn in outposts after launching the game, while those at sea can find outposts through their ship's map.
When at an outpost, you'll need to find the representative of the "Gold Hoarders" - the faction offering your first Sea of Thieves quest. These vendors are situated in dark cylindrical tents with gold paint on their faces. To initiate a conversation and browse the Gold Hoarders' offerings, players with a controller can press X, while keyboard users can press F.
Browsing the vendor's stock, a voyage will be purchasable for zero gold. When hovering over this quest, press A on your controller, or left-click with your mouse to add it to your inventory. New pirates can start voyages for free, although most quests require you to part with hard-earned gold.
2. Starting your first voyage
After collecting a voyage, you'll need to initiate it before setting sail. Your crew should return to your ship's captain's table, where voyages can be proposed and voted on. This can be found on the rear lower deck of sloops and in the captain's room of galleons.
Walk up to the captain's table, pressing X on your controller or F on your keyboard once prompted. This will open your inventory of purchased voyages, with the option to propose one among allies. Fellow pirates can put voyages down on the table at the same time, too.
To kick off the journey, your crew must place votes among the available quests. Once a majority of players have voted for a voyage, black borders appear at the top and bottom of the screen, indicating the voted voyage is underway.
3. Using maps to find islands
It's now time to embark on your Sea of Thieves adventure. But before setting sail, you'll need to know where you're going and how to get there. To find your destination, reference the cryptic treasure map added to your inventory. Hold RB on a controller or E on a keyboard to open a radial menu and select the map. With the map in-hand, press RT on a controller or left-click on your mouse to view it in full.
To find the island's location, cross reference your handheld treasure map with your ship's map table. Found on the rear lower deck of sloops or on the middle deck of galleons, this provides greater context for surrounding islands in relation to your ship's current location. Find the island that matches the one on your treasure map, which should be within the islands neighboring your ship.
It's now time to travel the seas! Lower the sails, raise the anchor and get on the way. Use the compass to keep on course, while referencing the map table for a real-time indicator of your position. For more tips on getting the most out of your ship, don't forget to check out our beginner's guide to sailing in Sea of Thieves.
Sea of Thieves ships guide: Tips and tricks for sails, combat, repairs and more
4. Tracking down the treasure
After hitting land, you're closer to treasure than ever before – but you still need to know where to find it. Once on the island, raise your treasure map and look for the "X" that marks the spot.
Referencing the map and surveying your surroundings, figure out your location on the island. Using key landmarks, coastline shapes and your compass, find the location of the treasure.
Once above the treasure, switch to your shovel and begin digging. An audible "clunk" of hitting a chest will sound, unless you're off the mark. The game allows a few meters of leeway to account for minor inaccuracies, but try to keep as close to the mapped location. Keep digging until the chest is entirely surfaced.
5. The risky return
You've now got your first taste of pirate treasure but the journey's not over. To complete a voyage you need to return the chest to a Gold Hoarder at an outpost.
Hold X on a controller or F on a keyboard to carry the chest back to your ship. Carrying a chest, you'll move slowly and be defenseless, so get your crew protecting you from skeletons. Also be wary of other nearby players hoping to steal your booty.
Using your ship's map table, find the nearest outpost and make the return journey. At the outpost, find the Gold Hoarders vendor and redeem your chest. Gold will be provided to all crewmates in return for your efforts.
Your journey
Have any other tips for new pirates on their early adventures? Make sure to drop into the comments and share your findings.
Sea of Thieves on Windows Central
Get the Windows Central Newsletter
All the latest news, reviews, and guides for Windows and Xbox diehards.
Matt Brown was formerly a Windows Central's Senior Editor, Xbox & PC, at Future. Following over seven years of professional consumer technology and gaming coverage, he's focused on the world of Microsoft's gaming efforts. You can follow him on Twitter @mattjbrown.