Sea of Thieves skins list: Clothing, weapons, and items
Be the most stylish on the Sea of Thieves with our complete list of skins and cosmetics so far.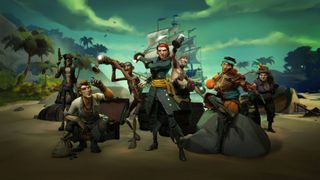 Throughout your Sea of Thieves adventure, pirates will want one thing only: gold. After completing quests and redeeming treasure, you'll have a healthy stash of doubloons, which can be spent on cosmetic items. This serves as a major aspect of the game's progression system, allowing crews to craft a unique identity across the seas.
Sea of Thieves allows players to customize the looks of their weapons, items, and clothing, allowing for a level of self-expression rarely offered in today's biggest titles. We've compiled a list of all cosmetic skins unveiled so far across the complete Sea of Thieves experience. Leading up to launch, and beyond, we'll be sure to update this list.
Sea of Thieves weapon skins
They'll help you out in a struggle, with a variety of different weapon classes each suited to different playstyles. If you're looking to slay challenging foes, you might as well look cool while doing it.
Cutlass
Pistol
Sailor Pistol
Bilge Rat Pistol
Scurvy Bilge Rat Pistol
Sea Dog Pistol
Rogue Sea Dog Pistol
Admiral Pistol
Ceremonial Admiral Pistol
Sovereign Pistol
Royal Sovereign Pistol
Ebony Pistol (Mixer Mixpot reward)
Mercenary Pistol (Amazon DE Xbox Live Gold exclusive
Blunderbuss
Sailor Blunderbuss
Bilge Rat Blunderbuss
Scurvy Bilge Rat Blunderbuss
Sea Dog Blunderbuss
Rogue Sea Dog Blunderbuss
Admiral Blunderbuss
Ceremonial Admiral Blunderbuss
Sovereign Blunderbuss
Royal Sovereign Blunderbuss
Midnight Blunderbuss (Seagate 2TB Game Drive exclusive
Eye of Reach
Sailor Eye of Reach
Bilge Rat Eye of Reach
Scurvy Bilge Rat Eye of Reach
Sea Dog Eye of Reach
Rogue Sea Dog Eye of Reach
Admiral Eye of Reach
Ceremonial Admiral Eye of Reach
Sovereign Eye of Reach
Royal Sovereign Eye of Reach
Sea of Thieves item skins
Each of Sea of Thieves' items is customizable, with skins adding additional flair to otherwise average quests. If you've ever wanted a gold encrusted bucket, look no further.
Spyglass
Sailor Spyglass
Bilge Rat Spyglass
Scurvy Bilge Rat Spyglass
Sea Dog Spyglass
Rogue Sea Dog Spyglass
Admiral Spyglass
Ceremonial Admiral Spyglass
Sovereign Spyglass
Royal Sovereign Spyglass
Measly Merchant Spyglass
Shovel
Sailor Shovel
Bilge Rat Shovel
Scurvy Bilge Rat Shovel
Sea Dog Shovel
Rogue Sea Dog Shovel
Admiral Shovel
Ceremonial Admiral Shovel
Sovereign Shovel
Royal Sovereign Shovel
Gold Hoarder Shovel
Lantern
Sailor Lantern
Bilge Rat Lantern
Scurvy Bilge Rat Lantern
Sea Dog Lantern
Rogue Sea Dog Lantern
Admiral Lantern
Ceremonial Admiral Lantern
Sovereign Lantern
Royal Sovereign Lantern
Bucket
Sailor Bucket
Bilge Rat Bucket
Scurvy Bilge Rat Bucket
Sea Dog Bucket
Rogue Sea Dog Bucket
Admiral Bucket
Ceremonial Admiral Bucket
Sovereign Bucket
Royal Sovereign Bucket
Compass
Sailor Compass
Bilge Rat Compass
Scurvy Bilge Rat Compass
Sea Dog Compass
Rogue Sea Dog Compass
Admiral Compass
Ceremonial Admiral Compass
Sovereign Compass
Royal Sovereign Compass
Gold Hoarder Compass
Mercenary Compass (Amazon DE Xbox Live Gold exclusive
Tankard
Sailor Tankard
Bilge Rat Tankard
Scurvy Bilge Rat Tankard
Sea Dog Tankard
Rogue Sea Dog Tankard
Admiral Tankard
Ceremonial Admiral Tankard
Sovereign Tankard
Royal Sovereign Tankard
Pocket Watch
Sailor Pocket Watch
Bilge Rat Pocket Watch
Scurvy Bilge Rat Pocket Watch
Sea Dog Pocket Watch
Rogue Sea Dog Pocket Watch
Admiral Pocket Watch
Ceremonial Admiral Pocket Watch
Sovereign Pocket Watch
Royal Sovereign Pocket Watch
Lowly Merchant Watch
Hurdy-Gurdy
Sailor Hurdy-Gurdy
Bilge Rat Hurdy-Gurdy
Scurvy Bilge Rat Hurdy-Gurdy
Sea Dog Hurdy-Gurdy
Rogue Sea Dog Hurdy-Gurdy
Admiral Hurdy-Gurdy
Ceremonial Admiral Hurdy-Gurdy
Sovereign Hurdy-Gurdy
Royal Sovereign Hurdy-Gurdy
Black Dog Hurdy-Gurdy (Sea of Thieves preorder bonus
Concertina
Sailor Concertina
Bilge Rat Concertina
Scurvy Bilge Rat Concertina
Sea Dog Concertina
Rogue Sea Dog Concertina
Admiral Concertina
Ceremonial Admiral Concertina
Sovereign Concertina
Royal Sovereign Concertina
Black Dog Concertina (Sea of Thieves preorder bonus
Sea of Thieves clothing skins
Walk the poop deck like it's a fashion runway with these cosmetic clothing items. While you won't see them yourself, you'll leave nearby pirates in awe.
Shirt
Sailor Shirt
Bilge Rat Shirt
Scurvy Bilge Rat Shirt
Sea Dog Shirt
Rogue Sea Dog Shirt
Admiral Shirt
Ceremonial Admiral Shirt
Sovereign Shirt
Royal Sovereign Shirt
Ferryman Shirt (Sea of Thieves controller exclusive
Jackets
Trousers
Gloves
Belts
Boots
Hats
Hair
Sailor Hair
Bilge Rat Hair
Scurvy Bilge Rat Hair
Sea Dog Hair
Rogue Sea Dog Hair
Admiral Hair
Ceremonial Admiral Hair
Sovereign Hair
Royal Sovereign Hair
Beards
Sailor Beard
Bilge Rat Beard
Scurvy Bilge Rat Beard
Sea Dog Beard
Rogue Sea Dog Beard
Admiral Beard
Ceremonial Admiral Beard
Sovereign Beard
Royal Sovereign Beard
Eyepatches
Sailor Eyepatch
Bilge Rat Eyepatch
Scurvy Bilge Rat Eyepatch
Sea Dog Eyepatch
Rogue Sea Dog Eyepatch
Admiral Eyepatch
Ceremonial Admiral Eyepatch
Sovereign Eyepatch
Royal Sovereign Eyepatch
Ghost Eyepatch (Pirate Legend)
Mercenary Eyepatch (Amazon DE Xbox Live Gold exclusive
Hooks
Peglegs
Sailor Pegleg
Bilge Rat Pegleg
Scurvy Bilge Rat Pegleg
Sea Dog Pegleg
Rogue Sea Dog Pegleg
Admiral Pegleg
Ceremonial Admiral Pegleg
Sovereign Pegleg
Royal Sovereign Pegleg
Ghost Pegleg (Pirate Legend)
Black Dog Pegleg (Sea of Thieves preorder bonus
Over to you, matey
Which Sea of Thieves cosmetics are you hoping to grab? Drop into the comments section below with your top picks.
Sea of Thieves is scheduled for release on March 20 and is available for preorder now for $59.99 on Xbox One and Windows 10. The game will also be available via Xbox Game Pass, which runs $9.99 per month.
Related reading
Sea of Thieves on Windows Central
Get the Windows Central Newsletter
All the latest news, reviews, and guides for Windows and Xbox diehards.
Matt Brown was formerly a Windows Central's Senior Editor, Xbox & PC, at Future. Following over seven years of professional consumer technology and gaming coverage, he's focused on the world of Microsoft's gaming efforts. You can follow him on Twitter @mattjbrown.