How to get new weapons in Sea of Thieves
Keep scallywags away from your booty with this weapons guide for Sea of Thieves.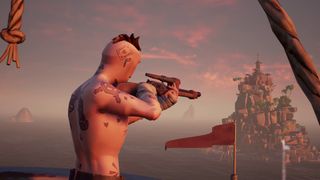 When starting off in Sea of Thieves, you'll be dropped straight in and left to work out the basics. With a ship, a trusty crew and an ocean of treasure to explore, you're on your way to becoming a pirate legend in no time. But even for the most skilled pirates, the journey won't be easy – a battle is always on the horizon.
Before taking to the seas, you'll need to choose the best weapons for the job. The game offers a range of weapons for new players, with dozens more to unlock, provided you know where to find them. Here's what you need to know about acquiring and equipping new weapons in Sea of Thieves for Xbox One and Windows 10.
How to change weapons in Sea of Thieves
After first selecting your character and dropping into the game's world, every pirate is equipped with a trusty cutlass and flintlock pistol. These weapons occupy your two dedicated weapon slots, accessible by tapping "Y" on your controller, or "1" and "2" on your PC keyboard.
Various other weapons are available at the start of your pirate career but must be manually equipped to be accessed. To equip new weapons, players must visit an "Armory" cabinet, found across various locations in the game's world. These cabinets provide access to your weapon collection, including all future purchases.
For new players, this cabinet will contain two additional weapons, the "Blunderbuss," a short-range cannon comparable to a shotgun, and the "Eye of Reach," a scoped long-range rifle. These two weapons can be swapped out for your cutlass or flintlock pistol, without prerequisites to unlock them. Here's how:
Navigate to an Armory cabinet. (These can be found on the rear lower deck of sloops, the front middle deck of galleons, or outside of an outpost's gun vendor.)
Press X to open the Armory.
Press LB and RB to navigate through weapon category tabs.
Use the right thumbstick to move your cursor over a new weapon.
Press A to equip a weapon.
Choose the slot the new weapon should fill.
After confirming the switch, your two weapon slots will now contain your chosen weapons. To rework your weapon choices, simply return to the Armory cabinet and select a weapon.
How to buy new weapons in Sea of Thieves
Beyond the weapons available at the start of the game, collecting new weapons is a major pillar of the Sea of Thieves experience. Currently, purchasing weapons from the gun vendor is the main way to obtain new firearms, using gold earned from quests.
Weapons that can be purchased via the gunsmith are entirely cosmetic, meaning they have no direct effect on gameplay. Variants of each weapon offer a differing design from the standard "Sailor" design, providing a way for you to stand out on the battlefield. Here's how to buy new weapons:
Visit the gun vendor.
Press X to speak to the vendor.
Choose to browse the stock.
Use the right thumbstick to move your cursor over a new weapon.
Press A to choose a weapon.
Confirm your purchase.
After purchasing a new weapon, visit the armory details in the above steps to equip your weapon. Next time you play Sea of Thieves, your new weapons will remain equipped in your chosen slots.
Which weapons have you picked up so far in Sea of Thieves? Make sure to drop into the comments and share your prized firearms.
Sea of Thieves on Windows Central
Windows Central Newsletter
Get the best of Windows Central in in your inbox, every day!
Matt Brown was formerly a Windows Central's Senior Editor, Xbox & PC, at Future. Following over seven years of professional consumer technology and gaming coverage, he's focused on the world of Microsoft's gaming efforts. You can follow him on Twitter @mattjbrown.
The fact that money is only used to buy cosmetic items means this game is DOA to me. idc about stupid clothes.

I WILL PLAY IT IF YOU DON'T BECAUSE IT ISN'T PLAY TO WIN

@Jimmy James: This has nothing to do with pay to win. Pay to win is when you pay real money to avoid playing the game as much as possible, to skip straight to a victory.
What the OP is referring to, is the exact opposite. It's about having a goal to achieve, giving you incentives to play the game as much as possible. If I can use treasure to increase the range of my cannons, I'll do everything I can to collect enough treasure. Why would I bother attacking other crews if all I can achieve is a red coat of paint on my pistol?

I play games to win, not play dress up. if i decide i wanna play with dolls there are cheaper ways to do it. Just to be clear, i've been in the alphas since the first. The gameplay is interesting, the game direction is not. Having no real goals is a failure, and making money meaningless was a silly idea, but i can see how it will be attractive to the casual/kid market. That being said, when i let my kids play the alphas, they hated it because they were attacked and sunk over and over and over by vastly better adults, and there simply was nothing they could do against them.

That's the thing. No real story. You go from point A to point B, get a chest, sell it for coins and use that to buy stuff. So is the whole point of the game to buy cosmetic items? This means that cosmetic items are really important making the microtransactions very important too. They are saying this game is a service. The intention is to sell stuff. It's using free2play economics and now their goal is to make as many player as possible to "play" or grind for coins so they can buy stuff. The focus is just to make gamers spend more money after the initial $60 purchase...

Spending what money beyond your $60.00 purchase or $10.00 Xbox Game Pass subscription monthly fee???? all items are brought with in game currency "NOT" real world money. Also the only paid for content "coming at a later date" is optional content such as pets. There is no microtransactions in this game that doesn't consist of spending gold/credits accummulated by doing quests from the different factions.

Sure, but once you have done something a few times, the fun part starts to diminish. That's when a goal comes in handy, to give you a sense of purpose.....

Yes, I don't think it's play to win because you play for nothing really. No real goals. No real story. You just play so that you can get constantly tempted into spending more money. That's it, really.

I find this very disappointing as well! If one spends all that time searching for treasure, you expect some kind of tangible reward. I don't care what colour my blunderbuss is. I care about it's range, damage and accuracy/spread. Those are tangible benefits! A player should be rewarded for his/her achievements, otherwise there is no point in excelling.
Treasure should allow you to upgrade your items and ship to give you an advantage over other players, otherwise treasure has no value.

They are basing their game around these cosmetic items. This is a social game. Looking "cool" is actually something important here. Becoming a legendary pirate, is all about getting those fancy cosmetic items that will help your resputation in this world. They are hyping the cosmetic items in such a way as that will make other players see who you are and fear you... This is a service. They are trying to turn gamers into payers by making them pay real money on a constant basis and once you've already bought the game. ofc when people say the microtransactions are just cosmetic. Well, cosmetic item is VERY important in their vision and it is part of gameplay. For me this looks like a full price "game" that uses Farmville economics. Make you "work" for cosmetic stuff to make your far look good. And sell you cosmetic stuff to make your farm looks good amongst other farmville player.

Fearing someone just because of their cosmetic changes makes no sense. As long as the changes are all cosmetic, all players are on an equal footing. If on the other hand, a black ship meant it was more maneuverable, or had better guns. Then you'd be right to fear it. What the f*ck were the devs thinking?

They are taking example from free2play games. A game like farmville. You work/pay to be able to buy stuff that will make your farm "cool" amongst your friends.
Windows Central Newsletter
Thank you for signing up to Windows Central. You will receive a verification email shortly.
There was a problem. Please refresh the page and try again.