Sea of Thieves buyer's guide: Release date, editions, merchandise and more
By Matt Brown last updated
Everything you need to know about Sea of Thieves for Xbox One and Windows 10, including editions, preorder bonuses, collectibles, and more.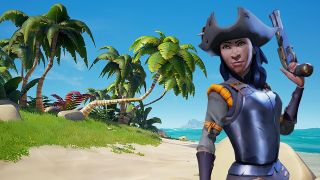 Sea of Thieves is sailing on the horizon, with less than a month remaining until the game's release. Microsoft's upcoming adventure game is showing promise as the ultimate pirate experience, sending players on adventures to uncover the most coveted loot. We've rounded up the top Sea of Thieves items available so far, ahead of its debut.
Sea of Thieves release date
Sea of Thieves is expected to launch for Xbox One and Windows 10 on March 20, 2018. Unlike many recent Microsoft Studios titles where a premium edition provides early access, there is only one edition of Sea of Thieves and it has a universal release date worldwide. The game will also offer its Xbox One X enhancements, including 4K resolution and High Dynamic Range (HDR) support, on launch day.
Sea of Thieves preorder bonuses
Games often see a range of store-specific preorder bonuses, although Microsoft is keeping it simple for Sea of Thieves. Players will receive a code for the "Black Dog Pack" from major retailers, including the Microsoft Store, Amazon, GameStop, and Best Buy. Once redeemed, your character will receive a range of cosmetic items, including a black jacket, hat, peg leg, boots and gloves. A matching cutlass, hurdy-gurdy, and concertina are also included.
Preorders from Best Buy will also receive a physical 3-inch metal coin branded with Sea of Thieves logos and icons, while stocks last.
Sea of Thieves (Physical disc)
Set sail onto the Sea of Thieves with the game's standard edition – currently the only way to experience the game on Xbox One. By purchasing this version, you'll be getting all content available at launch, aside from a few cosmetic bonuses.
The standard version of Sea of Thieves costs $59.99, with additional bonus content dependent on the retailer. This version should be stocked by all video game retailers worldwide.
Sea of Thieves (Digital)
A digital version of Sea of Thieves is also available for $59.99, sold as a pre-paid code to be redeemed via Xbox Live. Most retailers that stock codes will distribute them ahead of launch, to give players the chance to preorder and pre-load the title. Like digital copies purchased directly from the Microsoft Store, these copies of the game will unlock at 12:01 in your time zone.
Codes are valid for both Xbox One and Windows 10, with cross-platform purchasing, saves and multiplayer between the two platforms under the "Play Anywhere" program.
Xbox Game Pass
Although for many, Sea of Thieves will be purchased outright, Microsoft is also set to release the game on its Xbox Game Pass subscription service on March 20. As recently unveiled, future Microsoft Studios-published titles will hit the Netflix-style service and remain playable with an active subscription. Xbox Game Pass subscriptions also entitle players to an additional library of over 100 existing games on Xbox One. Xbox Game Pass subscriptions are priced at $9.99 digitally or $10.99 as gifts, making this a great way to save on your first trip to the seas.
Sea of Thieves Limited Edition Xbox One controller
Accompanying the launch of Sea of Thieves, this special edition controller is one of Xbox One's hottest accessories this year. With a nautical translucent purple casing etched in barnacles and a light copper rust, the controller looks freshly plucked from the depths. Other highlights include a gold trigger resembling a pirate's tooth, a glow in a dark skull symbol, and various other markings, fully capturing the pirate aesthetic. Buyers are also rewarded with the exclusive "Ferryman" clothing set in-game.
As a third-generation revision of the Xbox One controller, integrated Bluetooth support also makes for a perfect PC companion. The Sea of Thieves controller stock continues to rise and fall at $74.99, so make sure to check various retailers regularly to secure one for yourself.
Sea of Thieves Seagate 2TB Game Drive for Xbox One
Xbox One games continue to grow in size, especially when handling 4K upgrades on the Xbox One X. The Sea of Thieves special edition of the Seagate Game Drive adds an additional 2TB of external storage, tripling your capacity of standard Xbox One X consoles. Styled with a similar purple and cyan color combination, this is the great companion to the Sea of Thieves controller. Buyers of this drive will also receive a redeemable code for an exclusive in-game weapon, the "Midnight Blunderbuss."
The Sea of Thieves Seagate Game Drive is slated to hit store shelves on April 1, 2018, shortly after the game's launch. Preorders for the accessory are already live at some retailers, priced at $89.99.
Sea of Thieves Xbox One controller stand
If you're getting a Sea of Thieves controller, why not find a perfect place to store it? The Sea of Thieves limited edition controller stand from Controller Gear solves this, using a refreshed design officially licensed from Microsoft. Designed with materials identical to the Sea of Thieves controller, you won't find a better companion than this. A charging variant of this stand is also on the way to top up your charge while not sailing the seas.
The standard Sea of Thieves controller stand is set to release for $14.99, while the charging variant will cost $49.99. Both models are on track for an April 5 release, ahead of the game's launch.
Tales From The Sea of Thieves
"Tales From The Sea of Thieves" might serve as a perfect primer for the game, diving into its world from the perspective of three pirates. Exploring adventures on the seas, the book promises to expand on the game's towns and islands, while uncovering its mythical krakens and mermaids. Packed with illustrations and sketches from the Rare team, Tales From The Sea of Thieves should deliver for lovers of lore and art.
Tales from the Sea of Thieves is currently available for pre-order at Amazon for $26.96, ahead of its March 20 release.
The Art of Sea of Thieves
Interested in the creative process behind Sea of Thieves? This might be the book for you. Featuring over 200 pages of concept art, sketches, and other behind-the-scenes content, The Art of Sea of Thieves is a visual trip through the game's development. Expanding on the design of its world, the book also houses exclusive commentary, and breakdowns from the developer's art team.
The Art of Sea of Thieves will be available on March 20 for $35.99 on Amazon, and various other book stores.
Matt Brown is a senior editor at Future for Windows Central. Following six years of professional consumer technology and gaming coverage, he's focused on the world of Xbox and Windows PCs. You can follow him on Twitter @mattjbrown.
You should also mention its availability through game pass

Added :) Definitely a great option to experience the game.

In my region, the regular game costs about 90 dollars. So sadly I'll have to pass for now.

If you don't mind getting it digitally, switch your store to US or other country to buy it @ cheaper price.

So much stuff. I might have to look into this

So no physical PC edition?
Interesting, that's one way to combat pirates 🤣.

Have any physical editions of PC games been sold by anyone the past decade? I thought that archaic system died out 10 years ago? For some odd reason it still exists for consoles. I guess those players prefer to waste time traveling to a physical store, then using their disc to download the game from a server anyway. Having to insert the disc each time they want to play the game (which is both, cumbersome, slow and noisy). And running the risk of scratching up their disc's and having to buy a new copy. PC gamers found out it was a lot easier to simply click the "buy" button, a long time ago.

Collecting, have you ever heard?

Since this is an online only game, it is just basically a renting game that you'll never own. This is a game as a service so you won't be able to play it when MS decides to end the service (like they with AOE Online and project spark). It depends a LOT on the user base playing this game. Seeing the beta, I doubt many people will play it for 6 months. So I will say if you really want it just get it through game pass for 1 or 2 months max...

Are you aware that the beta only had a very limited amount of the launch content? Furthermore, they plan to add even more content on a regular bases after launch. I think that should keep people interested for quite a while.

I actually played it again this weekend and it was actually worse. I played 2-3 hours and didn't find a single ship. The problem is I've so little in the beta they would have to add a WHOLE LOT MORE. No voice acting, no real stories, Average graphics. No real goal, Awkward combat and gameplay,Very little to no attention to details. Oh but there is one thing they got right. It's the number of shops selling random stuff in the ouposts. But the real problem is the number of players playing this multiplayer-only game. I didn't meet a SINGLE player in around 3 hours!! This was suppose to be the weekend where we would get the most players. This was suppose to be the stress test!!! I'm here to warn people into wasting their money. Just rent it 1-2 months. Better safe than sorry.

In my region, the regular game costs 90 dollars converted to my local currency. So no, I'll pass for now.
Windows Central Newsletter
Get the best of Windows Central in in your inbox, every day!
Thank you for signing up to Windows Central. You will receive a verification email shortly.
There was a problem. Please refresh the page and try again.