Sea of Thieves update brings Skeleton Thrones event, color blind accessibility
It's time to hit the high seas for Sea of Thieves' first regular event.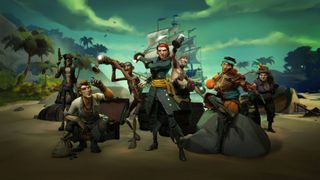 Microsoft had a whole lot to show off for Sea of Thieves future content at E3 2018, but if you're looking for something to dive into right now, the game's latest patch has plenty to do. The update, which comes in at version 1.1.2, includes the first of Sea of Thieves regular events, called Skeleton Thrones, along with a new colorblind accessibility mode and a whole load of new Bilge Rat content.
The biggest addition by far is the Skeleton Thrones event, which gives players a new bit of content to keep an eye on while sailing the high seas. Throughout the world, players will now be able to stumble upon five small thrones and five large thrones. You'll have to have good aim to get your crewmates on the thrones. But once you do, you can earn some new booty to take back home.
Other major additions include a new progression screen for the Bilge Rats, along with Bilge Rat doubloons, cosmetics, and titles. Colorblind players will also now be able to apply red-green and blue-yellow filters from the settings menu. And as a nod to Pride Month, there's a new rainbow flag for pirates to fly high.
What's New
Skeleton Thrones Event – The Skeleton Thrones are the latest addition to the world of Sea of Thieves. These thrones require a good sense of discovery to find, and for some an even steadier aim to reach. There are 5 small Thrones and 5 large Thrones, the small requiring just one pirate to sit on, but the larger requiring pirates to be sat on it from more than one crew. Look high, look low, and look within…
Bilge Rat Progression Screen - Bilge Rats now have their own dedicated progression screen! This information can be found on the front page of the progression screen via the [Menu] (controller) or [Tab] (keyboard) buttons. Chart your progress through the Skeleton Thrones event on this screen, not to mention getting some important clues as to the location of these elusive thrones.
Bilge Rat Doubloons – The Bilge Rats trade in their own currency, they don't have time for gold or any of that official stuff. Each Commendation in the progress screen details the amount of Bilge Rat Doubloons it unlocks with a total of 100 Doubloons available through the Skeleton Thrones event.
Bilge Rat Cosmetics – Spend your Bilge Rat Doubloons on exclusive time-limited items too! You have until the 26th of June to purchase the Bone Crusher Hat, Jacket and Dress – priced at 20 Doubloons per item.
Bilge Rat Trading – If you're feeling a thirst for a little extra gold in ye' pocket or fancy some Reputation in any of the three Trading Companies, the Bilge Rats can also pull a few strings and allow you to trade your Doubloons towards a bit of progress. These latter progression items will be a permanent part of the Bilge Rat shop and aren't time limited, so make your choice wisely!
Bilge Rat Titles – Completing five of the smaller Skeleton Thrones will unlock a unique Pirate Title, and finding all ten will unlock a unique Pirate Title. These titles will unlock straight into your Vanity Chest for maximum bragging rights.
Colour Blind Accessibility - Filters can now be applied from within settings to assist with red-green and blue-yellow colour blind pirates.
Merrick's Shanty - Merrick's shanty has been added to the list of playable shanties.
Sailor Drum - The Sailor Drum has been given to all players. Find it in the second page of your item radial.
Sailor Speaking Trumpet - The Sailor Speaking Trumpet has been given to all players. Find it in the second page of your item radial.
Drum selection - Admiral, Bilge Rat, Sea Dog and Sovereign drums have been added to the Equipment Shops on their respective Outposts!
Speaking trumpet selection - Admiral, Bilge Rat, Sea Dog and Sovereign speaking trumpets have been added to the Equipment Shops on their respective Outposts!
Rainbow flag - A new flag has been added to all pirates' flag inventory! Article 1 of the Pirate Code states that, "Everyone is welcome on the Sea of Thieves regardless of age, gender, race, sexuality, nationality or creed."
There are a number of performance improvements and general bug fixes tagging along with this patch as well.
Patch 1.1.2 comes ahead of the release of Sea of Thieves' next DLC, Cursed Sails, which is set to unleash more skeletal threats on the seas in July.
Sea of Thieves has managed to rack up more than four million players since its launch in March, and it has already picked up one DLC pack, called The Hungering Deep. The game is available as part of Microsoft's $9.99 per month Xbox Game Pass subscription, or on its own for a regular price of $59.99. However, it's currently available at a pretty nice discount of $29.99 at Amazon (opens in new tab), or $47.99 at Microsoft.
Windows Central Newsletter
Get the best of Windows Central in in your inbox, every day!
Dan Thorp-Lancaster is the former Editor-in-Chief of Windows Central. He began working with Windows Central, Android Central, and iMore as a news writer in 2014 and is obsessed with tech of all sorts. You can follow Dan on Twitter @DthorpL and Instagram @heyitsdtl.
Nice article and all but the patch hasn't come out yet, it might come out tomorrow.

Yeah, I noticed that too. I thought they usually come out on tuesday? Oh well, we'll get it soon.

I've just received my Razer headset so I can get into Sea of Thieves.

When are we going to get something besides dealing with skeletons and snakes and pigs,.. (Kraken is not what I mean). That has been my problem from the betas that the adversaries can really get monotonous and story are very limiting and repetitive. There is plenty of pirate lore, movies and even a few games (I think LucasArts has a few:) ) that the can get inspiration from. I have said this during the betas that much of the problem with the game is the lack of variety or experiences or lack of ingenuity. How about AI based government ships that seek out pirates and you try to avoid, especially when you are new or in most cases need to team up to battle. How about AI controlled commerce/transport ships, treasure originally had to come from someplace besides buried on an island and taken from other players. Of course, a much better tutorial. I watched my godson and his father play, definitely not the most experienced gamers and I can tell you the game is a little difficult to understand how to go about doing certain things and the purposes because the tutorial is so basic. If I wasn't there I am sure they would have been very frustrated (I can see that happening a lot) The NPC character interaction is too 1990's (A, B, C, D) and very limited and needs a rethink. I actually dos remind me of those old LucasArt games but without the much better interactions. There are a lot of things that this game needs to have done to it just at the basic level that should have been done before its release. But somehow during the Alpha and Beta period all they cared about was improving the look of the ocean - OK that is an exaggeration but many of my complaints have long existed by many game testers from get go.
Windows Central Newsletter
Thank you for signing up to Windows Central. You will receive a verification email shortly.
There was a problem. Please refresh the page and try again.