Patch for the Windows 10 Technical Preview update available, fixes missing characters bug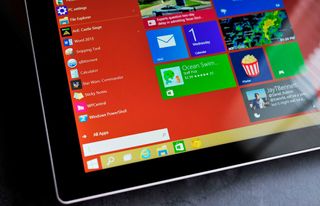 Microsoft may have released the first major update for the Windows 10 Technical Preview earlier today, but the company already has a patch available to download for that new 9860 build that's apparently designed to fix an issue with missing characters in apps and other programs.
If you have downloaded and installed the new Windows 10 version and see something like this when you visit Windows Central, you are not alone.
However, there is a second update available for download in the preview build when you go to PC Settings, the Update and recovery, and then Preview builds. We quickly downloaded it and it installed just as fast and it seemed to fix the missing characters on our PC.
Windows Central Newsletter
Get the best of Windows Central in your inbox, every day!
I once had the characters completely swap until I made that screen area update, that was way before Windows 10, though. (oh hey, first. c: )

I hope MS starts updating Windows 10 as fast as they have been updating the Xbox One

I think that's their long-term goal. They've already posted job openings for a Windows Update manager to be in charge of doing patches and adding new features in a more rapid release cycle. They also supposedly plan to offer an automatic "fast-track" update cycle for those who want stuff now, while also offering staggered updates for those who want others to find all the bugs and such (namely Enterprise). We can already see the beginning of this now, as evidenced by today's updates to Windows 10. The future is looking bright.

I have a missing backspace button where the enter button overlaps it. Lets hope that's resolved. Edit. Resolved! Thanks Microsoft for a in time Diwali gift !

I still don't see the update

Reboot your WTP installation and try again.

I saw the update through Windows update. Maybe that's it.

Updated through windows update and wierd letters are gone, no 2 update through developer preview

What it didn't ship with cortana & master chief

Even with the missing characters it makes more sense than any John Callaham article :P

Need some Antarctica for that burn, I suppose. :P

How long does the new win 10 preview suppose to take to download cuz win update is taking forever. Is there an iso?

No, it was confirmed there are not on Twitter.

Ha. The download is likely about 1-2 GB. But the install is super fcukin lengthy. A toast, to SSDs.

Nice how MS can "fix" things so quickly in this version of Windows. :)

A blessing and a curse in the same package.

Hopefully this fixes the corrupted text on GT Racing 2 for my Lumia 1520. Oh wait.... /s

hope this will fix the glitch found on Free the Network game on my 620.
Oh wait... /s

I'll check it out but I'm not in there full time

Does this preview update add a start menu animation when launched? I know it has been a huge user requested feature for Windows 10.

Yes, it now plays a Bugs Bunny animation when you click on the start button. Sorry, couldnt help myself.

I found and installed the update. It fixed things right up and now all of my characters have returned.

Are you able to find in the Windows Update history the KB number? I'm in trouble from a few days and no update is still available to me :-(

I had that problem, update fixed it :)

In games like blitz brigade there is still problem with letters. :/

These patches won't install to my PC. When I select Update, it said they're already installed, but after restart there's still missing letters. Update history doesn't show those updates.

Solved by doing another scan for updates

Are you able to find in the Windows Update history the KB number? I'm in trouble from a few days and no update is still available to me :-(