Sega Genesis Mini goes up for preorder for $80, comes with 40 games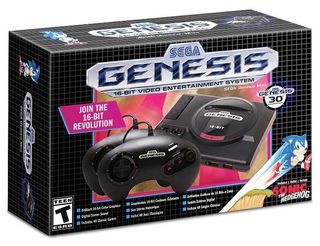 The day many of you have been waiting for is finally here, a Sega Genesis Mini Console is in the works, and it's launching on September 19. These devices are expected to sell out incredibly fast, so be sure to get your preorder in as soon as possible! The Sega Genesis Mini Console costs $80 and comes with 40 games.
According to Sega, "The iconic Sega Genesis console that defined a generation of gaming returns in a slick, miniaturized unit. The Sega Genesis Mini console... is plug-and-play ready right out of the box! Games will be announced in four waves of 10 games." So far, only the following titles have been revealed, and these alone justify the purchase of the console.
Ecco the Dolphin
Castlevania: Bloodlines
Space Harrier 2
Shining Force
Dr. Robotnik's Mean Bean Machine
Toe Jam & Earl
Comix Zone
Sonic the Hedgehog
Altered Beast
Gunstar Heroes
The console itself comes with quite a number of different items which are listed below. It's great to see that two controllers are included in the package.
Sega Genesis Mini Console
2 wired controllers
40 games
Power cable
USB adapter
HDMI cabled
Are you interested in purchasing the Sega Genesis Mini Console? Let us know.
Relive the good old days
(opens in new tab)
Sega Genesis Mini Console
Return to the classics

The iconic Sega Genesis console that defined a generation of gaming returns in a slick, miniaturized unit. The Sega Genesis Mini console comes with 40 games and is plug-and-play ready right out of the box.
Asher Madan handles gaming news for Windows Central. Before joining Windows Central in 2017, Asher worked for a number of different gaming outlets. He has a background in medical science and is passionate about all forms of entertainment, cooking, and antiquing.
I'd kill for an EA Sports edition featuring all the NHL and Madden games. I don't care how advanced the latest versions are, they will never take the place of the ones I played on my Genesis.

so far the games are trash except sonic. i want some mortal kombat on this or the Superman game that i could never beat. i'll wait to see if these games get announced.
i do appreciate the 2 controllers though. i wonder why they don't just announce all 40? they just want a bunch of publicity 4 times?

Gunstar Heroes is trash? GTFO

Altered beast is trash??
Did you see the trash line up of games for the ps1 classic? That was actual trash. Even the Sony fanboys seemed to agree with that.

Ecco, Sonic, and Toe Jam & Earl are in my top 5 all time. Excellent list so far! I have all three originals, and play them on a real consol often. I may pick this up just to keep for keeps sake.

You should definitely get one, your Mega Drive is probably ready to die at any moment! I dunno whether there are more people on my side or yours, but while I enjoyed Tj&E, Ecco and others on the list when I was a kid, when I think "do I want to play these again now?" The answer is no. If they put Earthworm Jim on there, we've got a different story.

How about Street Figher, Mortal Kombat, X-men, Sonic 2, Desert Strike, Jungle Strike, Golden Axe2, Looney Tunes, FIFA, Bruce Lee, Tom and Jerry, The Simpsons, Teenage Mutant Ninja Turtles, Terminator 2, Toy Story, The Smurfs. Scooby Doo, Jurassic Park. I know not everyone likes all of these games, but they sure could have picked better games.

I agree with you.
I'm not impressed with this list.

Of your list only three are of any interest to me whatsoever (The Strike's and Golden Axe 2). Whereas I'm keen to play six of those announced in the article. So I'm pretty happy with what's been announced so far.

I'd definitely go for Desert and Jungle Strike. They're much better than the recent rip offs. And am I the only one who would love to play some nice ROAD RAGE to de-stress at the end of the day?

up for preorder, only a quarter of the games revealed...sounds familiar

I quite like the list. Loved ecco and gun star. Would love to see flashback, speedball 2, landstalker, virtua racing and maybe phantasy star too. Jungle strike would also be a must.

This will be my first SEGA hardware since the Dreamcast. I missed out on the Mega Drive back in the day, but now I can finally fill that gap. It's a relief to hear that the wizards from M2 are working on this. Day 1!
Windows Central Newsletter
Thank you for signing up to Windows Central. You will receive a verification email shortly.
There was a problem. Please refresh the page and try again.