Selfie and facepalm among 72 new emojis approved for Unicode 9.0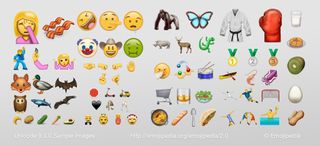 Who likes emoji? The Unicode Consortium sure does, which is why it added 72 new candidates that will be available in Unicode 9.0. The latest batch includes a variety of new faces and objects, with the most notable being the selfie, facepalm, bacon, and shrug emojis.
The new emoji are already available in preview builds, and Unicode 9.0 is slated for an official launch on June 21. Interested in taking a look at all the new additions? Check out the list at Emojipedia.
Windows Central Newsletter
Get the best of Windows Central in in your inbox, every day!
Harish Jonnalagadda is a Senior Editor overseeing Asia for Android Central, Windows Central's sister site. When not reviewing phones, he's testing PC hardware, including video cards, motherboards, gaming accessories, and keyboards.
But we've got them for months now in the preview builds? The news should've been "Windows first" xD (I know the Unicode 9.0 set just got approved, but the author seems to miss that)

Err, this is just to confirm that it's all official.

My comment points that we already have the nee emojis, while you state they're coming "in an upcoming build". Hence the info. :) Sent from my laptop on Windows 10 Pro Insider Preview

Was like whaaa too. Posted from Windows Central for Windows 10

Most likely another of these cases where the author just wants to bring the news. But he's a bit late either way. I can't be arsed to check Android Central but they could use some special news as well, since the latest Android N Developer Preview also includes the new set. This article, as it was written, should be posted on iMore instead. Sent from my laptop on Windows 10 Pro Insider Preview

Ugh, forgot that they were available in preview builds. Updated. Thanks.

I wonder when or if we're going to get the country flag emojis.

That's my question too. Would definitely make sense with the Olympics right around the corner....

Where is the middle finger emoji...

It's been there since last year. Windows got it way before Apple. Sent from my laptop on Windows 10 Pro Insider Preview

It's missing from the keyboard on redstone builds.

You have to type "f*ck you" and it will come up as a suggestion.

Windows emojis look best: https://twitter.com/emendoza/status/738590831905406976

Am telling ya'...
Human species are getting weirder day by day.

Emoji smoji, where's SnapChat?!

Snapchat crapchat, who cares

She's left you for good bro, just move on

This is how the world ends. Not with a bang, but with an emoji. Posted via the Windows Central App for Android

Colbert Emoji is also coming soon.

Isn't that for 2017, though?

I think one day we will be using emoji to communicate.

Tom Scott made an emoji social network a few years ago. I think it was supposed to be a joke; not really sure how that turned out.

Cool, just like in ancient Egypt!

Almost the most useless thing in world

I personally don't like using emoticons if I can just use text instead. But they're useful for some things. For instance, imagine that you visit a foreign country and you don't know the language spoken there. If there's emoticons printed on a sign or whatever, it'll be easy to tell what the sign means. But Facebook Messenger's wannabe emoticons (stickers) are completely useless.

I dont think they care about what you feel to use the emoticons. Instead you can draw what you want ex: You want chicken legs, you draw the chicken and highlight the legs

I only really use them for showing emotion in messaging... The rest seem to be useless decorations...

Recharge your mobile dth @ www.chargetm.com

A good thing is that we already have these emojis on preview builds.

Shrug and face palm were the ones I wanted the most :P

Do people really care about crap like this ?

One one hand, I like and use emoji. On the other, I think it's getting little out of control. Already takes longer to search through them than it's worth most the time. Thank goodness for the favorites list that keeps the handful i actually use in one convenient place.

WtF, still no moose? Do we REALLY need handball and juggling and whatever trash "Mother Christmas" is, but no moose?

When will emojis get slightly bigger

new windows emojis are huge ​i think it's up to type size en developer's choice of implementing them on their apps now

http://az648995.vo.msecnd.net/win/2016/04/MICROSOFT-EMOJI-V3.gif

Any self respecting man would avoid emoji's it all costs. leave it for girls and children to enjoy. No woman is ever going to take you seriously if you use emoji's. Grow a pair and type out what you want to say..

Great! Now make it so I don't see boxes when my girlfriend texts me emojis from her iPhone 6s.
Windows Central Newsletter
Thank you for signing up to Windows Central. You will receive a verification email shortly.
There was a problem. Please refresh the page and try again.