Shenmue I & II announced for Xbox One and PC [updated]
A Shenmue collection is coming to modern systems soon.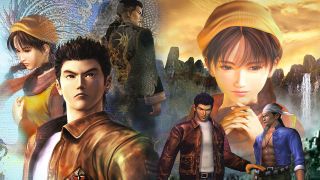 Today at Sega Fes 2018, the publisher announced that a rerelease of Shenmue and Shenmue II should launch in 2018 for Xbox One, PC, and PlayStation 4. The updated version will get physical and digital editions known as "Shenmue I & II".
Updated March 14, 2018: From the newly-released trailer, it seems as though the game has received a resolution upgrade but the textures and other mechanics remain the same. The collection is expected to cost $29.99.
Players take a thrilling voyage across faithful recreations of Hong Kong and Japan in a tale of revenge and mystery. Both of the titles are regarded as cult classics, and Shenmue II is one of the most requested games for Xbox One backward compatibility even to this day.
Keep in mind that Shenmue I & II isn't a complete remaster. The visuals will mostly be the same. The game features scalable resolution, choice of modern or classic controls, PC graphics options, an updated user interface, and the option to select original Japanese or English voiceovers.
Shenmue I & II comes with original features like the captivating jujitsu combat, investigative gameplay, role-playing elements, and odd mini-games. The title is set in a real-time open world that that includes proper day-and-night cycles and weather changes.
According to Sega, the Shenmue franchise has established a passionate following and is revered as one of gaming's greatest series of all time. These revolutionary masterpieces deliver a gripping story of retribution as Ryo Hazuki sets out to avenge his father's death and attempts to unravel the secrets behind a mysterious artifact known as the "Dragon Mirror".
It'll be interesting to play these games again on modern machines to see if they hold up after all these years. What was considered revolutionary years ago might not be good enough today. Luckily, Shenmue III is expected to launch on PC in 2018 so the franchise may get another chance if the rerelease doesn't live up to expectations.
Keep an eye on WindowsCentral.com/Gaming for all the latest in Xbox and Windows 10 gaming, accessories, news, and reviews!
Windows Central Newsletter
Get the best of Windows Central in your inbox, every day!
Asher Madan handles gaming news for Windows Central. Before joining Windows Central in 2017, Asher worked for a number of different gaming outlets. He has a background in medical science and is passionate about all forms of entertainment, cooking, and antiquing.
It absolutely was revolutionary at the time, but it almost certainly is not going to hold up. Personally, I don't think it really still held up by the time Shenmue II came out. I loved the original Shenmue, but I only made it about 45 minutes into the sequel. I hope the people who are so excited for the third edition enjoy it, but I'm happy letting the series stay in the past.

I didn't play the originals but I'm excited to see why everyone loves the franchise. I'll also check out Shenmue III later this year just for curiosity's sake. All those people can't be wrong? Right?

Frankly speaking, all us love it when it came out almost 20 years ago, at which time the game was absolutely amazing. However, it's really hard to say if new gamers would still love this old game (especially no HD texture). Another reason old gamers really want Shenmue III is because of the unfinished story.

We all love games that were great in their time but haven't aged well and are pretty much unplayable now.

I think the switch from English dubbing in 1 to Japanese dubbing with English subs in 2 didn't help things. I had no problem with subs, but even I didn't like it just because it was jarring... Almost made it feel like a different game with a different protagonist... From Ryo Hazuki to SAMURAIIIIIII, BOYYYY!

Japanese is always better.

I've been waiting for a remaster. It this will do. I never fully beat them both. I remember reading a game book decades ago and seeing all the things I missed. Always wanted to go back and 100% it.

Oh yes!!!! PC version purchase for sure.

The best forklift simulator ever returns! Seriously though, they were revolutionary games in their day and would hope they'd still be worth playing for nostalgia. SIII has been so long coming.

"hey Ryo, are you going to go to work today?"

All I can say is... HELL YES!!

I Still have my Dreamcast and shenmue as well as shenmue 2, I enjoyed the first one immensely, the second one was ok, it would be good to see what happens to the story in shenmue 3/4, I Doubt 3 would finish the story unless they shortened the storyline.
I already shenmue 3 preorder on Kickstarter

This, I don't think I'd get it on PS4 or PC, but I probably would for switch. Not sure why...

Actually it's just weird why it's not on Switch considering the relationship between Sega and Nintendo is pretty good. The only reason I could think of is this game is only on PS4 in Japan, and not on PC or Xbox One. So probably there's some exclusive agreement in Japan. On the other hand Nintendo probably don't want such game only release outside Japan on their platform.

Yeeeesss Take my money and bring Shenmue 3 to Xbox too 😆

If it comes to Xbox One it'll probably be a year or two after it launches on PlayStation 4 and PC. And only if it does well on the systems.

Not much reason to own an xbone... It is weird though, the PS4 and xbone have basically identical hardware architecture, can't see that it would be much more development work.

Depends how much Sony want to pay Sega to keep it exclusive.

I loved this on the Dreamcast (my favourite console) so I will definitely pick this up on XB1. Hopefully Shenmue 3 will end up on XB1 also. I am pretty sure it won't have aged well, but I just want to play it to recapture the magic of experiencing it one more time (I also never really got to play the second game).

I wish they had collecters edtion for shemue with added stuff like a t shirt

Yaaaaaaaaaaaaaaaaaaaaaaaaaaaaaaaaaaaaaaaaaaaaaaaaaaaaaaaaaaaaaaaaaay!!!!!!!!!!!!!!!!!!!!!!!!!!!!!!!!!!!!!!!!!!!!!!!!!!!!! For me this is the most memorable game I've ever played, only played less than a hour when the game came out on dreamcast and still remember the gameplay vividly to this day.