WhartonBrooks should target Windows phone USERS with Cerulean Moment — not fans
Last Friday, March 31, we exclusively reported new details on WhartonBrooks's first Windows phone for Windows phone fans: the Cerulean Moment.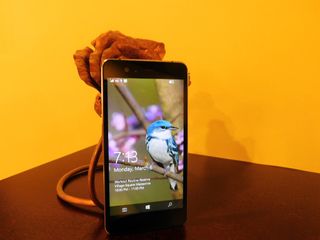 Before the announcement, there had been a high degree of anticipation, excitement, and skepticism about the device that was shrouded in secrecy.
Anyone following the response of the Windows phone community since the Moment's big reveal knows that the phone has been generally poorly received. Granted, we're only a week in, and WhartonBrooks has about a month left to garner support for its Indiegogo campaign. Still, at just 2 percent of its goal, 87 backers and $23,101 of a $1.1 million goal at the time of this writing, the progress to date is discouraging.
So, what happened? I think there are two points that many people can agree upon. Expectations within the Windows phone fan community were set very high by WhartonBrooks's marketing language, which included statements like:
This statement was, in the minds of the Windows phone fan community, combined with a promise of a device for the fans. Together this built huge expectations within a community that has endured seven years of disappointment with an ever-shifting platform and lack of brag-worthy flagships. Ultimately many Windows phone fans, WhartonBrooks's stated target audience, expected more than a midrange smartphone.
Is WhartonBrooks targeting Windows phone fans or Windows phone users?
To add a little clarity to what I believe is contributing to the backlash from the Windows phone fan community, I submit that there is a difference between Windows phone fans and Windows phone users. Windows phone fans are the enthusiasts or loyalists.
This group is characterized by a passion for the platform, usually has an affinity for tech, has a proactive desire to seek out news and engage with others about the platform, and it possesses greater knowledge about the platform. Most fans (though there are exceptions) usually want a device with the highest specs available, and the most advanced features on a smartphone that optimally represents the platform.
Windows phone users are usually typical smartphone users that have no real passion for or specialized knowledge about the platform. This group is more or less satisfied with the basic features a smartphone provides and feels no real commitment to Windows or any other mobile platform. Most people in this group are likely smartphone users that purchased a low-end Windows phone motivated by the device's affordability rather than the OS it was running. This analysis is borne out in the data.
Historically, low-end and midrange Windows phones, like the ever-popular Lumia 520, are the phones that sustained Windows on phone. High-end devices like the Lumia 950XL, 950, 1520, 1020 or even the 920 sold in such low numbers they did little to impact the platform's market presence. The above Sway gives a snapshot of this reality as reflected in the past.
Now if one were to follow the messaging from WhartonBrooks via its podcast, my exclusive interviews or even the video above, one can clearly see that WhartonBrooks CEO Greg Murphy sees his potential target market as the millions of Windows phone users not the subset of that group, the Windows phone fans. I shared this thought with Murphy a few days ago, and he agrees.
So where does WhartonBrooks go from here?
Clearly, this first smartphone from WhartonBrooks is indisputably not the high-end phone many (but not all) enthusiasts want. This small Connecticut-based company with limited resources could not build that type of device on its first run. A future high-end device that matches what loyalist fans want may be in the future if this first device succeeds, however.
The Continuum-enabled Moment's mid-range specifications of a 1280 x 720 5-inch display, 3GB of RAM, 32GB expandable storage, 13MP rear camera, 5MP front camera, 617 Qualcomm processor, $299 price tag and complementary streaming stick characterize it more as a device Windows phone users might find appealing. Again many, not all, fans or enthusiasts find these specs to be below the cutting-edge standards that subset of the Windows phone using community wants.
So how does WhartonBrooks get this midrange phone (that is known to the enthusiast community who avidly follows Windows phone news) in front of Windows phone users who have no idea it exists. These cost-motivated users (in most cases) usually walk into a store looking for an affordable device or visit online retailers searching for the same and leave with what they can afford. Such purchasing behavior neither leads to an allegiance to the current platform in use nor to Indiegogo sites (or company websites) where one would find a Cerulean Moment.
The long-term effects of Microsofts low-end push
Taking a moment to fine tune the Moment's target market
WhartonBrooks needs to capture a portion of these low- to midrange Windows phone users before they all switch to other more affordable and highly-competitive options on Android. The data proves that low-end purchasers are more inclined to switch after all.
The advantage that WhartonBrooks has is that low- or mid-range Windows phone users are familiar with the Windows phone OS. If the company can "get out in front" of these users and pitch the Moment, with the benefit of Continuum and the free streaming stick it may succeed. The low and midrange devices most of these Windows phone users own don't have Continuum, after all. The Moment would be an upgrade.
WhartonBrooks will need more marketing help from Microsoft than a tweet of its announcement from the @MicrosoftOEM Twitter account to pull this off though.
What can Microsoft do to help put these affordable devices in front of the market that is most likely to buy them?
Managing community response and expectations
Murphy has been busy engaging the Windows phone community in comments on articles and on social media since his announcement of the Moment. Those efforts have included expressions of gratitude for support, solicitations for support and the expected damage control from the fallout from the disappointed enthusiast subset of the Windows phone community who expected more.
In my first exclusive interview with Murphy last October, he shared how Windows 10 Mobile, and what it brings to the table with Continuum, was part of his vision of the disruptive technologies the company was bringing to the table. Here is an excerpt from the response he gave when I asked about those "disruptive technologies" in that first interview:
Clearly, Windows 10 Mobile and the opportunity it brings are what Murphy envisioned as part of that "disruptive technologies" description. He conceded that he could not reveal his entire vision in that regard and continued that same restraint in our most recent interview, as you can see in the following video.
Will WhartonBrooks hit its mark?
The Cerulean Moment is not the high-end device that many enthusiasts were expecting, though I did reveal last year that it would likely be a midranger.
Will WhartonBrooks hit its crowdfunding mark? Time will tell. One thing is certain, though: the Windows phone enthusiast community wants to see the success of the platform they love. So as a vocal community with a passion for the platform, though this phone may not be for you, perhaps there is something you could do to help WhartonBrooks make it visible to the folks who may want it.
Are you up for the challenge?
Follow the story
Get the Windows Central Newsletter
All the latest news, reviews, and guides for Windows and Xbox diehards.
Jason L Ward is a columnist at Windows Central. He provides unique big picture analysis of the complex world of Microsoft. Jason takes the small clues and gives you an insightful big picture perspective through storytelling that you won't find *anywhere* else. Seriously, this dude thinks outside the box. Follow him on Twitter at @JLTechWord. He's doing the "write" thing!