Should you buy the 128GB Surface Laptop?
By Cale Hunt last updated
Is the 128GB Surface Laptop worth the money? Or should you upgrade for a few hundred dollars more?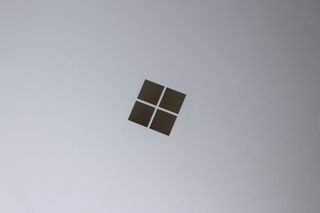 The baseline Surface Laptop, which comes with a seventh-generation Intel Core i5-7200U processor (CPU), 4GB of DDR3 RAM, and a 128GB solid-state drive (SSD), costs about $1,000 (opens in new tab). For anyone with a hard budget of a grand or less, this device might seem like a pretty attractive option. You're still getting a laptop that's built well, has outstanding battery life, and has a beautiful display. But do the hardware specs suit your needs? Let's take a look at the $1,000 Surface Laptop (opens in new tab) and determine whether or not it's right for you.
See at Microsoft Store (opens in new tab)
Does an Intel Core i5 CPU have enough power?
Although a Core i7 CPU will in most cases outrun a Core i5, the difference in performance will likely go unnoticed unless you're primarily working at a specialized task. For word processing, light multimedia editing, and web browsing, a Core i5 is more than enough power. Do note that the Core i7 does include Intel Iris graphics, which will provide a better overall experience for gamers.
The price difference between a Core i5 and Core i7 model, which includes a mandatory upgrade to 8GB of RAM and a 256GB SSD, is about $600 (opens in new tab). This is a big jump in price, and likely not worth it for most people based solely on CPU performance. Both CPUs have two cores, both share the same thermal design point (TDP), and both have the same base frequency.
Bottom line: Unless you're interested in specialized tasks, like heavy multimedia editing or 3D applications, the Core i5 CPU should be enough power.
Intel Core i3, i5, and i7: Which processor is best for you?
Is 4GB enough RAM?
The RAM question, like the CPU question, really comes down to exactly what you plan on using your Surface Laptop for. If you're looking at productivity tasks, like word processing, writing emails, browsing the internet, and occasionally watching videos, 4GB is plenty. Keep in mind, however, that performing all these tasks at once will likely result in a hit to performance.
For gamers, 8GB of RAM is basically as low as you want to go. Anything less and you'll no doubt run into issues when you try playing many popular modern games. Likewise, if you're working with a lot of multimedia, 4GB of RAM can fill up fast. It's usually recommended to go with at least 8GB if you find yourself editing video on a regular basis.
At the Microsoft Store, you can choose to upgrade a Core i5 configuration to 8GB of RAM, but this also includes a mandatory upgrade to a 256GB SSD. The price of this configuration is about $1,300 (opens in new tab).
Bottom line: 4GB is enough RAM for everyday productivity tasks. For just about everything else, including gaming and editing, you'll want at least 8GB.
How much RAM does your Windows 10 PC really need?
Can you live with 128GB of storage?
Here lies the biggest question: is 128GB enough space for all your data? We have to consider the actual space you'll have upon first booting up the Surface Laptop. Windows 10 and associated software take up space, leaving you with around 99GB of free storage.
Continuing the trend, a 128GB SSD should be enough for anyone focusing primarily on productivity. Word documents don't take up much space, and you'll still be able to install all your entertainment streaming apps. If you foresee yourself staying rooted to a desk most of the time, you can always pick up an external hard drive to boost your storage space. Likewise, if you're an Office 365 subscriber (opens in new tab), keep in mind that you get 1TB of OneDrive storage included in the plan.
If you have a very large collection of music or photos, or even a moderately large video library you want to keep locally, 128GB may not be nearly enough storage for you.
Bottom line: For those who don't need to save a lot of files, or those who don't mind using a cloud storage service, 128GB of SSD storage space should be enough to get by.
More resources
Interested now more than ever in a Surface Laptop? Have a look at these other articles about this killer device.
Cale Hunt is a Senior Editor at Windows Central. He focuses mainly on laptop reviews, news, and accessory coverage. He's been reviewing laptops and accessories full time since 2016, with hundreds of reviews published for Windows Central. He is an avid PC gamer and multi-platform user, and spends most of his time either tinkering with or writing about tech.
Strictly talking storage, now that on demand files are back, 128 gb is doable for me. It's what I have on a Surface 3...

I think 128GB is really to small for video and photo editing, because, if we take in example the Adobe suite, a lot of media cache is generated by Premiere Pro and Lightroom.
Also, the suite is very large in terms of space occupied.
Plus the lifespan of a 128GB ssd is shorter than 256gb unit (but in any case very long compared to the life of the Laptop). Probably the Laptop will die before the SSD.
4GB is really too low for video editing, I suggest at least 8GB. The CPU is already a ULV one, if you put so few ram you are going to have serious issues during the editing.
Usually the sweet spot is on 256GB units in terms of performance/price ratio.
Laptops with larger stock SSDs (which are normal NVME SSD) are charged way too much compared to a retail SSD.
Company should change their minds about this, like charging a lot more for 16GB ram onboard.

IMHO, don't buy entry level Surface laptop. Its just not worth it. Sure, the device looks pretty with good display but it just doesn't hit the value for money thing. Save a little more and buy better or if you don't need that much horsepower you probably don't care for how beautiful a device looks, just go for a cheaper laptop. like something from Dell 5000 or 7000 series something. Its hard for me to think of someone who will care for a beautifully designed machine with very below average specs without caring for bang for the buck but I am sure there are people who will fall in this category though, I mean people buy iPad pro :P if you fall in that category, then sure go for it :D

Should've stuck with 8gb of RAM for base model just like Surface Book 2. 128/4Gb of RAM is doable but for a $1000 device is a no-no.

These specs are so much constraints

I do OK with my 4GB Surface Pro, but these days the base should be 8GB, especially for the price of a base Surface Laptop. 128GB is OK for me.

It is already more useful than any chromebook or pixelbook, so yeah.

most people don't have a $1000 emergency fund, how do they afford a $1000 computer

Simple, you just decide your personal limit as to what you'd like to spend on a laptop, and then you save for it.

Still waiting on the WoA successor to the S3. Though with Andromeda I bet Surface will keep WoA for that. Other OEM will fill the WoA laptop hole.

I'm with bleached. 128GB is plenty storage, probably could have benefitted from 8GB on my SPro, but couldn't justify the pricehike (especially here in Oz). It's working great, just need to keep the number of open windows under control

Honestly, I still don't get the point of this product at all. It's priced absurdly high. I'm not a big fan of the Surface Pro because of the flimsy keyboard, but I would MUCH sooner purchase one of those than a Surface Laptop, where I lose the hybrid device functionality. It's priced at a premium, but makes you take a step back in time to the classic laptop/ultrabook design that I thought the Surface line was meant to move people on from. I'd thinking inking to be really awkward and unappealing on an inflexible laptop chassis. I feel like I'm not getting anything noteworthy with the Surface Laptop, except the noteworthiness of how backwards the form factor is in 2017. Surface Pens are neat things, but I'd much more quickly grab a non-Surface from another company and use a Wacom Bamboo because I honestly can't see the value in an inflexible laptop in 2017.

No. Any overpriced gamer laptop would cost the halve and have like twice as good specs.

Still running my SP4 base model with 4GB RAM, core m, etc. (The SD card slot helps) Its fine for my use, web, note taking email, spreadsheets, managing databases with SQL Server Mangement Studio, Active Directory tools, playing music, video, even some very light gaming and basic photo editing (opening RAW files, tweaking colors, exposure, cropping, HDR processing). You can absolutely get by with minimal specs. However, if I were buying new today, I would probably be looking at 8GB minimum.

Actually, given how long people hang on to their laptops / PCs, it isn't worth buying one with less than 16GB RAM. That would be the absolute minimum, to me.

Been living with 32GB storage and 2GB RAM on my dell Venue 8 pro for years. unfortunately i can't get the fall creators update on it due to lack of disk space.
Windows Central Newsletter
Get the best of Windows Central in in your inbox, every day!
Thank you for signing up to Windows Central. You will receive a verification email shortly.
There was a problem. Please refresh the page and try again.