Should you buy the Dell XPS 13?
Is the Dell XPS 13 the right laptop for you? Check out these reviews to find out.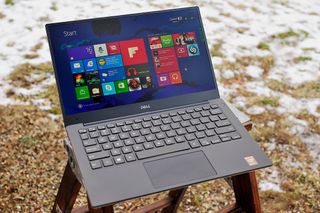 It's been a few months since Dan has given his hands-on with the Dell XPS 13, and lots of other owners have weighed in with their opinions. We're rounding up critic opinions and giving a brief tour of the Windows laptop so folks considering a purchase can get a comprehensive perspective on whether or not it's the right move for them. Of course, we welcome existing owners to sound off in the comments with their own experiences as well.
The Dell XPS 13 made a big splash at CES as an ultrabook with an exceptionally thin border around the display. Touch and non-touch varieties of the XPS 13 are available, and the whole package weighs in at about 2.6 pounds and 0.7 inches at its thickest. Under the hood of the base model is an i3 2.1 GHz processor, which can be bumped up to i5 2.7 GHz processors in the higher-end versions. That's paired up with 4 GB of DDR3 RAM, which can be upgraded to 8 GB in the top-of-the-line model. A 128 GB SSD should be enough to cover your storage needs, and two USB 3.0 ports can handle peripherals. The resolution of the 13.3-inch display comes in at 1920 x 1080.
Buy now (opens in new tab)
We Like
Nearly invisible bezel
Great display
Super slim
We Don't Like
Awkward webcam placement
No HDMI or Ethernet
Middling battery life
Image 1 of 6
Critic Reviews
Our take
Buy it. The super slim profile and the bezel-less infinity display make the Dell XPS 13 one sexy laptop.
Buy now (opens in new tab)
Windows Central Newsletter
Get the best of Windows Central in in your inbox, every day!
I was going to buy it, but a lack of USB Type-C is keeping me away. I will wait for Skylake and hopefully OEM's will get with the program and include Type-C at that time.

Do you actually own something that is USB Type-C compatible? If so, I'm impressed because I haven't even seen anything use it thus far.

He is from future... Welcome grand master

No, but I am not going to buy something I am going to be stuck with for years that doesn't have it. I am assuming the next Lumia flagship will have it this summer and I want to standardize on it as soon as possible.

I can see the point here. Having a bit of future proofing on an expensive laptop is nothing to be shy about. Type-C will take a few years to catch on, especially with peripherals, but yeah, having one USB 3.0 and a Type C would be interesting.

Dusteater & Daniel - Agreed about future proofing. Wait until August (back to school season) and see if Dell has USB-C :) Oh, it may also be a 2-in-1 the likes the market hasn't yet seen...think wireless

Lol!!! I haven't even thought of having the Type-C yet. I was think of at least 2 USB 3.0 at least.

http://lmgtfy.com/?q=USB+Type-C Or if you prefer
http://lmbtfy.com/?q=USB+Type-C

I understand your concern for "future-proofing", however for me I have imbraced the move to wireless devices. I use BT keyboards, mice, etc. I'm also looking at wireless mobile storage drives. I am curious as to what 3rd party vendors will come up with for the new port.

Type-C port will allow you to connect multiple displays as well as external hard drives and other peripherals. The 20GB througput will allow it to connect to a hub that can offer multiple connectivity types, such as DisplayPort, HDMI, USB 3.0/3.1, eSATA, Ethernet, etc. It can also act as a power connector. While wireless storage drives can be an option, they are no match for the speed that can be obtained here. HDMI or Displayport is almost a must for hardcore gamers, as wireless display just doesn't keep up, nor does it allow multiple monitor setup.

Yes, I understand the specs of Type-C and the performance of a wired connection in special cases. I'm a PC gamer too and have my DP/HDMI connections. But let's face it, this isn't a gaming laptop, so it would be more for an average user who doesn't require such performance gains nor constant wired connections. As stated above, I'm still curious how 3rd part vendors my utilize the port. They may come up with something that I didn't even think I needed and I would end up buying it.

I just want to point out that the current devices with Type C, such as the new Macbook and Chrome Pixel, are simply using the new Type C connector on standard USB3 chips. As a result their throughput is only 5Gbps, not the full 10Gbps that USB 3.1 offers. There is no 20Gbps USB spec yet, that is Thunderbolt you are thinking of.

Good call out Fleetwood! Dell will most likely wait until Skylake and 20GB throughput is an option

Well, again, its 10Gbit. There is no 20Gbit USB spec now or on the horizon. USB 3.1 at full speed is a 10Gbit spec. USB4 is not even in the planning stages yet, so its likely to be a few years before 20Gbit becomes a reality.

I guess everyone should skip this and the many other products that don't have it. Touch and wireless are not the in thing. Gotta go with what standards Apple sets.

I have been holding off buying any electronics for about 6 months because of Type-C, long before anyone knew Apple would even adopt it. I don't know about everyone else, but I am not spending thousands of dollars on laptops and phones that I am going to be stuck with for years that don't come with the latest connectivity/charging standard. It simply doesn't make sense to do so.

Guess we should all wait then.

Honey you will have to wait few more years...

Lol type C is the new hotness. It's not a reason to avoid buying what you need today. Check back in 2017.

Obviously (s)he's not in dire need of a laptop. I completely understand the point. (s)he's also not telling anyone else not to buy. I fail to see the problem people have with that rationaliziation

When USB Type-C becomes mainstream then you can buy an USB 3.0 to USB Type-C Convertor to use it on this device(when you need to connect pheripherals which supports only type-c port)

Yes, but you won't have the same throughout or power.. Um.. delivery(?) Just like your USB 2 port won't magically turn into USB 3 when you plug USB 3 device in it

The Verge's review is ridiculous IMO. Not because of the score, but the criteria they use to judge it.

by criteria you mean MacBook?

If it doesn't have an Apple logo on it, then it doesn't meet criteria.

Yeah that's iVerge for you, and don't forget iCNET the hater of everything Microsoft.

You can be sure the majority of tech journalists owns and uses an MBA. This have been proven at MS's surface events. Rows and rows of Macs! Not sure about WC staff though. At the end tough, buy what serves you best, not what serves popularity crowd.

Middling battery life? I thought it has a long battery life, especially the FHD version. Anyway, at the end of march I can test it myself ;)

I find the battery life one of the best on the market. The FHD version can get 10 hours easily with regular, real-world usage. AnandTech's review is the best, IMO, but their format did not allow us to include it in this roundup.

Use your Dell Advantage rewards "5% store credit" to buy the 10200mH extenral power adapter! Can get closer to the claimed 15 hr battery life!

I have the QHD version and get about 7 hours consistently doing a mix of light Excel and web browsing. You can get more our of it but a lot of the life comes from high efficiency of the chips when under low load not necessarily added battery size or anything else. What that means is that stuff like the keyboard back light and the screen suck up a lot more power relative to the bat life. Just the keyboard back light takes about 45min to an hour off. If you keep that off, brightness at medium, and stay light on things you can do 7-8 hours on the QHD. Things that will kill your battery and get you down to only 4 hours would be google chrome (qhd scaling issue that burns battery), google drive (it has a bug where sometimes it consumes an entire core for no reason at full load), and google hangouts. That's been my experience anyway. I love chrome but had to ditch it. Now my battery life is good, but not 11 hours.

Don't forget 'Battery Saver' helps too, which is one way I got to 10 hours ;)

I'm waiting for Windows 10 (not that it matters too much), skylake, and to see what MS has up their sleeve with Surface 4.

Oh, dell sponsored article again :)

Not really. This is a series we're doing, it just started with Dell. Watch in the coming days for other roundups e.g. X1 Carbon, Yoga 3 Pro. (In fact, if this was sponsored, it is odd that we left out the most gushing review from AnandTech) Sorry to have not earned your trust on this, but that is not what drives these articles.

LOL not really?! that was a weak reply cause you didn't deny it...it's OK to say YES cause money pays the bills and not the commenters, just ask iVerge.

Well considering both Dan and I have our own XPS 13 which was paid for by money not coming from Dell, I think it's fair to say that we're pretty excited by it round here.

Wakawaka We'll actually be doing more in the coming weeks, like the Lenovo X1, but yeah, this is the most exciting laptop in our opinion. Even more, it spans a price range from affordable to highend.

I'm gonna agree with Daniel on this. If I was in the market for a new machine there are only three machines im looking at now. The Asus 303/305 or w.e, this laptop and the surface 3. As it stands I have a yoga 2 pro and have no need. Please Daniel, definitely include the asus laptop as well. It looks like a great machine.

Where I can get FHD version in EU?

I know Dell wasn't selling it directly through its own store last time I looked in the UK.

Only semi-related, but the Dell monitor I'm often pairing my XPS 13 with at the moment came with a miniDP cable in the box. Probably why I didn't miss the lack of HDMI.

Still a better buy than 2015 Macbook.

Yeah, a better comparison for that is the Yoga 3 Pro.

Had a good long look at this laptop at the Microsoft store and I like everything about it accept one thing. The webcam; or more specifically the webcam location. Since it is located at the bottom of the screen bezel and used when the laptop is actually on your lap, the view is a rather unflattering view up your nose. Or if you actually happen to be using the keyboard at the same time a large percentage of the screen is taken up your hands in the picture. So as much as it kills me to say this; but with video conferencing becoming more important to me; I cannot buy a laptop, as great as it is with a webcam I cannot use. I'm hoping that a similar laptop comes out with the webcam in the usual location at the top of the screen. That I will buy.

I saw one at the MS in my area, for some reason the screen looked rather dim... I checked the brightness setting and it WAS at full. Am I missing something?

Rating of the QHD+ is I believe slightly brighter and can hit 400 nits. 300 nits is the industry standard for laptops. If you want really bright, look at the Samsung ATIV Book 9 (2015) it can reportedly hit 700 nits. I should have that device in very soon and will talk more about it.

Verge 7.5! Lolzzzz! Cracks me up!

Well Simon Sage you just contradicted yourself, cause you like the no bezel but hate the award placement of the webcam...well where the hell you expected them to put the damn camera with no bezel?! On the the damn screen?

That is not a contradiction but a legitimate concern. Solving that engineering problem is not our responsibility, but Dell's. See the comment above from jim_920. He is purposefully skipping this device due to the webcam placement. Is it wrong to point that out in reviews as a negative? No way. Sure the explanation about the bezel is the tradeoff. Still does not detract from the fact that this laptop may not be ideal if you teleconference often.

Well you can't like something then dislike the samething for another reason, the no bezel screen and wrbcam go hand in hand. I would understand if he said he doesn't like the no bezel because it leaves no space for the cam.

It's not a contradiction. It's a trade-off. You have to weigh whether the bezel or the camera placement is more important.

Saw this at the IT show just now. Looks slick! Good for school.

I should. But how? Take yeeeaaars to come to my country. Sometimes I do want to live in USA.

One of my core laptop experiences is gaming, how well can the xps 13 run the latest games? coz I don't see a dedicated graphics card listed in the spec.s. If gaming is a compromise, I don't see myself shelling out that much for a laptop even if it oozes such design flair.

Why not build a desktop gaming rig? This is clearly not for gaming but for design and portability.
Have a look at the MSI Ghost series and ROG laptops.

who thinks about hardcore gaming on a ultrathin ultrabook? Look at Alienware, Asus ROG, MSI GS, Razer Blade for gaming laptops.

Ultrabooks are not made for gaming.

I'm comparing this and the HP Spectre x360 to buy before I start my studies in college, which one is better and why? Thanks in advance :)

As much as I like the idea of this notebook, I'll have to pass. Without being able to dock to an external monitor through HDMI, DisplayPort, or USB-C, I just can't utilize it the way I would need to. For now, I'll have to stick with what I have, which pretty much has the same or better specs but is much larger than the XPS 13. (15.6") Would love to have a smaller form factor for portability sake in the future, but I can wait until I can get something with everything I want, which may be a while.

It has a miniDP out. I have a miniDP to DP cable plugging it into my monitor and it works great.

I have one of these units and dock it to all external devices (mouse, wired network, monitor, USB headset, Webcam, through a Targus Universal USB 3.0 DV Docking Station with Power (I dont work for Targus) Works great EXCEPT, if you dock or undock on the fly, you have to signout and in again otherwise the icons and text look cartoonish on a regular monitor (on the recommended size) or if you undock the icons and text are too small to see. This appears to be a MS issue not a dell issue as I had access to a surface pro 3 and it needed to do the same thing. Its the 1080 vertical resolution that does it. any laptop with 768 vertical resoloution can upscale fine and doesnt require any changes to the fonts and icons sizing.

If they offered it with a 360º hinge, I'd be very interested.

I'm sorry to tell this, but I know join people who think that there is something between Dell and WCentral. One more article about the XPS13? Seriously? :-/

Its the hottest ultrabook on the market right now, with several innovative features nobody has matched yet. Dell has been hitting it out of the park consistently the past couple years since they went private. It really shouldn't be a surprise that any Windows focused site is writing a lot about Dell these days, they have delivered a lot to write about, and haven't had any major screwups like the Superfish one with Lenovo.

What about new HP Spectre X360? Seems better value and 360 degree folding. Downside might be that's little bit heavier but battery life is just as good it seems. Not sure about display.

It looks like its made from children's toys plastics...probably creeks whenevery you type on it

What's the cost in India i5,4Gb,256gb touch

Dude, you're getting a Dell!

Again with this laptop. Check out the MSI GS30. Lightweight Quad Core small good integrated graphics and a dock for full size graphics gaming. The GS30 is a REAL Powerhouse all around laptop.

You aren't comparing similar products

Why don't you point out that it can be spec'd up to a core i7 and QHD screen?

Just got on via work! The display is absolutely stunning! But having a few issues with applications in windows not supporting the über resolution! Other than that I love the device, it turns heads everytime people walk into the office!

I'm thinking of getting the Spectre X360. Anyone got any opinions on it?

I'm debating a new laptop as well, but would like it to have the stronger GPU. Currently only laptop satisfying this is the macbook pro retina (it has Iris). Why doesn't any pc manufacturer include option for faster GPU? Only one I know is surface pro 3, but that one hasn't yet been updated to 5th gen i7s.

Because intel graphics is shit, doesn't matter if its iris or HD series, intel and strong GPU doesn't go hand in hand. Look at Nvidia 960M, 965M, 970M based laptops for strong GPU.

You are correct, but I am not looking for computer with strong gpu. I want mainly long battery life, but if there is an option for better gpu with that same long battery life, I want it and am willing to pay for it.

I was close to buying it, but I've got a 512GB SSD that doesn't share the same form factor as the SSD inside the XPS13

I don't suppose we can expect an Asus Zenbook review? I'm curious to see if they fixed a few build quality issues from previous generations. At this point, while the ultra slim bezels are nice, touchscreen is a must for me. The glass surface feels more durable, and tends to be easier to clean.
Windows Central Newsletter
Thank you for signing up to Windows Central. You will receive a verification email shortly.
There was a problem. Please refresh the page and try again.