Should you install Windows Insider builds to the Surface Book and Surface Pro 4?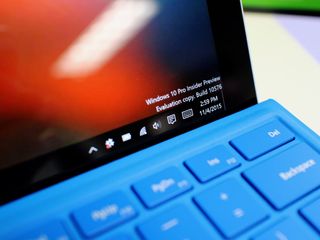 There are many new owners of the Surface Pro 4 and Surface Book these days who have lots of questions. Don't forget, there are some users jumping from the Apple world to Windows and with that there is lot to catch up on from the last two years.
One question we see a lot and one that will cause constant debate is whether or not you should install Windows Insider builds to either device (or any new PC for that matter).
Today, we're going to take a look at the pros and cons of becoming an insider with a new Surface.
On the face of it, many of you will rightly point out that for your main PC installing a beta version of the OS is never a good idea. This advice is something we stand behind and have been advocating even for Windows Phone users early on (the latest build, however, is borderline due to the increased stability).
Still, what about users who use the Surface Pro 4 or Surface Book often, but don't necessarily rely on it 24/7? Are there benefits in using the latest version of Windows 10 on such machines?
We have been using Windows 10 build 10576 on our Surface Pro 4 and Surface Pro 3 both with Core i5 processors. For the most part, we stand behind that build of Windows 10, but we should point out a few important things:
Insider builds will rarely address problems caused by bad or non-optimized drivers and firmware
While you can roll back to a stable build, it is not always a smooth and clean experience
You may create new problems and confound (and compound) any bugs
Results and experiences will vary on each PC
Windows 10 Threshold 2 (aka Fall refresh) is expected for November 12
We've reached these conclusions from our experience, but also a cursory look at what people are saying in support forums, Reddit, and our Windows Central forums. Indeed, the best way to describe it is people's experiences with the latest Insider build is all over the place. Some users say it dramatically improves their Surface while others note no change or worse, increased instability with various BSODs and other driver failures.
A response to the above is quite the opposite:
Others also have mixed results even before the latest firmware:
Meanwhile, on Reddit a user is thrilled with the latest Insider release:
Other Redditors chime in:
In that same thread:
The bottom line
Even assuming your new Surface is a secondary or even tertiary device, installing an Insider build right now seems unnecessary.
1. Timing
The main reason would be that the 'big' Fall refresh update is due on November 12, according to our sources. And if not on that date, certainly very soon. All the Insider builds are leading up to that one making the official wait just over one week.
2. Inconsistent results
As you can see, your results will vary, and there is no concensus from users who did jump to Insider builds. If we could point to a dependable experience or say 'yes, this will be better' we would be less hesitant, but that is not the case.
3. OS does not fix drivers
Most of the issues and complaints about the Surface Pro 4 and Surface Book are driver and firmware related. No OS update will fix that on its own. If you are having constant display driver crashes, BSODs, issues with the Type Cover not being detected and trackpad woes there is no clear evidence that using an Insider build will make those go away.
Your best bet? Wait until Microsoft releases more official Surface and OS updates. At this time, there is no obvious benefit from using an Insider build on these new devices. Even if you are using these as secondary computers the effort in upgrading although minimal seems unworthy with Threshold 2 right around the corner.
So sit tight, folks and just wait until next week. If you want to take the risk, just read our guide on how to do a proper backup.
Anyone in our audience running an Insider build on a Surface Pro 4 or Surface Book? Let us know what you think in comments!
More resources
Not sold on either device yet? Check out our Surface Pro 4 review and our Surface Book impressions or jump into our forums.
Microsoft Surface Tips and Tricks
Daniel Rubino is the Executive Editor of Windows Central, head reviewer, podcast co-host, and analyst. He has been covering Microsoft here since 2007, back when this site was called WMExperts (and later Windows Phone Central). His interests include Windows, Microsoft Surface, laptops, next-gen computing, and arguing with people on the internet.
I had thought about it but I can wait a week. Insider builds on my phone is one thing. Not my surface.

windows 10 simply is not build for user privacy, especially the insider builds..

At least once (if not more) in every article, Daniel writes "Indeed,..." It's become a sort of "where's waldo" finding game for me.

I also see "census" where "consensus" should be used. Yep. I just became *that* guy. *runs*

Why buy an expensive machine like that to install beta software? Doesn't make sense to me

As I mention, this may be your side device and not something you rely on for everyday usage. And let's be honest, it's not like even Fast Ring is that unstable. I have rarely had new problems with them on new hardware. More to the point: If you spend all that money on a PC and you really like the hardware but the software is buggy, asking if you should install the latest Windows 10 to make it better is a legit line of reasoning, no? That is why, after all, people are wanting to do this thinking it may make their expensive machine even better. It's not crazy talk.

I so wish I had the bones just to get something like these as a side device lol ;p

I've found it much better on my Surface 3 but that is probably related to updated drivers. I actually feel like the RTM feels dated when I use it. Also Edge is far better on the fastpath TP.

Mark feels the same about his Surface Pro 3, so you're not alone.

Well for me, the last time I installed preview builds, it bricked my inspiron; I considered it to be expensive and the hustle I went it through to fix it was overwhelming which is why I'm so opinionated about installing beta software. I haven't taken the plunge too on installing w10 preview on my 730 (daily driver)

With all the issues being reported, you pretty much are already running the insider build.

Are Apple users really buying the new Surfaces?

Sure. Read the forums and Reddit and you'll see people talking about jumping over to try it out.

Many people buy MacBooks not for the OS but because that kind of premium hardware just doesn't exist in Windows land. Most of them use OSX without attachment just because it's there by default, and some install Windows on it instead. I'm in the latter camp; I own a SP3, but at work that wasn't on the list of hardware I could request from, so I asked for a MBP and then installed Windows on it.
Now that premium hardware *is* available in Windows land, many people for whom it was a deciding factor but never used or got attached to OSX are looking at the Surface Book for their next upgrade.

Yeah, I really like the MBP 15-inch with Windows 10 mostly for the aspect ratio. Like you said, Surface Book is the first device to nearly match the hardware (and excel in some ways).

Do you think Microsoft will launch a 15 inch Surface Book with more powerful GPU to counter the 15 inch MacBook Pro. Coz there are many Apple fanatics trying to defame Surface Book by comparing it to the 15 inch MBP.

You are generalizing. Many people that I know buy MacBooks because of the hardware AND the stability of the OS. And one of the reasons why some of us are even given the Surface Book a shot is because it is the first time that both the hardware and the software are both made and optimized by the same company. Like Apple does all the time. I must say, the experience has been slightly disappointing. But this is their first go around. So, I expect it to get better.

Some people might run into a problem of reverting back to normal builds. At least mine had a problem. It wouldn't reset back to normal build and for some reason my opt-out option wasn't working at all on Surface book. Worked perfectly fine on a desktop though.

Running 10 on my late 2012 Mac mini i7 (It's my main OS on here ) the th_2 insider builds have been as solid as 10240. On an HP Stream 7 on the other hand, they were a disaster.

This is the very question I've been going back and forth with myself all week. I'm in that lucky camp that hasn't had a Surface Book problem, even after installing all of the software and apps that I use regularly, so I wasn't really itching to enroll it into the TP. I also have the TP on my other laptop so I feel like I'm not really missing anything. After reading this, I'll keep the TP off of my SB.

I tried to install insider build in my Asus Transformer but the option is not available in update advance options (the introduction button is gray). In my desktop is available, same MS account... but I use the desktop for work and don't want to install previews on it. Anybody knows how to solve this?

I admit that I couldn't wait more than 48 hours before I installed the Slow ring (see, I have SOME self-control) on my SP4, which is my primary work PC. And I'm a lawyer. I'm kind of insane, but then, there's a guy in my firm who doesn't run anything but beta OS X on his Macbook. It's kind of a techno-lawyer-geek thing. Gives us street cred. Or maybe we're just dumb or gluttons for punishment. Either way, no issues here.

You can always dual boot W10 with W10 insider on your SP4 or Surface Book. I have been dual booting Win 10 Home PC RTM with Win 10 Insider which is the Pro version on my Asus Zenbook UX31E with no issues. But the insider seems newer and quicker and more robust than the Home version.

Dual boot is problematic too. I have a dual boot with 8.1 now and 8.1 is really slow to launch now.

Not for me. I mean it works well and all that but I don't want that persistent "label" on my spanking new Surface 4. When we get to the next build on my desktop, I'm plan to bounce from insider.

Not a chance. I was running it on my T440s, Surface Pro 3 and Dell desktop. All had issues. I know, preview = beta = expect issues, but I got tired of stuff breaking. Flattened all of them and am running stable releases only from now on. Too important to tinker. My 640 is on the insider preview since a Nexus 6P is my main phone.

I moved my Surface Pro 4 in to the Slow Ring over the weekend just so I could have the newer features & UI updated I had become accustomed to, as I have my laptop & desktop in the Fast Rings. Insider Builds currently have a smoother overall experience --- but as the article mentioned, they're not going to fix the real issues the device has. Drivers still crash and/or become unresponsive altogether, requiring a hard reboot.

The last thing I would want to do is spend that kind of money and then take a chance of bricking it.

Not if I spent that much money on such expensive device.

I do not have the SP4 to comment on, but Windows 10 in gernal runs so poorley on both my Surface Pro 1 and 3, I would not just the Insiders build on the new Machine.

Has your opinion on installing insider builds on the Surface line changes since you wrote this article? Posted via the Windows Central App for Android
Windows Central Newsletter
Get the best of Windows Central in in your inbox, every day!
Thank you for signing up to Windows Central. You will receive a verification email shortly.
There was a problem. Please refresh the page and try again.