Should you wait for the Surface Phone or buy a Lumia 950 now?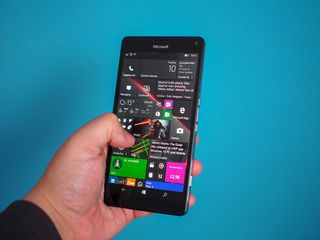 (Image credit: Windows Central)
Now that Microsoft is starting to sell it's remaining Lumia stock, a new question has arisen from the ashes that is Windows phone: "Should I buy a Lumia 950 now or wait for the Surface Phone?" Of course, the answer to this question depends on many variables, so let's run through them and decide together.
Reasons why you should buy a Lumia 950 now
1. Surface Phone might never come
Let's not forget that the Surface Phone is currently just a product that's in-development internally at Microsoft. Since they've yet to officially announce a Surface Phone, Microsoft could cancel the project at any time. Don't think they wouldn't, because they have done in the past. A good example is with the Surface Mini, that was cancelled just days before being announced.
2. It'll be expensive
Assuming a Surface Phone does arrive, don't expect it to be cheap. It being a Surface Phone means Microsoft is going to position it alongside its other top of the range Surface devices, including Surface Pro and Surface Book, both of which are expensive, premium products.
3. Business first
If you're a consumer looking for a Windows phone, Lumia is your best bet. The Surface Phone will be primarily targeted at businesses, much like the recently released HP Elite x3. That doesn't mean consumers won't be able to buy the Surface Phone, however.
4. The Lumia 950 is really cheap right now
Depending on where you live, the Lumia 950 and Lumia 950 XL is the cheapest they've ever been. In the UK, you can grab a Lumia 950 from Microsoft for just £249, with a free display dock too! That's an incredible deal — especially when you consider that the original retail price was £429.
5. Lumia 950 is still a flagship
Although not the best flagships in the world, the Lumia 950 devices are still Microsoft's latest flagships, and therefore will be treated as such for the foreseeable future. You'll receive continued support via software updates and firmware patches too.
Reasons why you should wait for the Surface Phone
1. It's a Surface Phone
I mean, c'mon. If you love Surface, you're going to want to wait for the Surface Phone. It'll likely look and feel like other Surface devices, too, meaning it won't feel cheap like the current Lumia 950 series.
2. The Lumia line is ending
It's no secret, Microsoft is done with its Lumia line of devices. That doesn't mean buying one now is a bad idea, it just means there won't be any new Lumia devices in the future.
3. Possible software exclusive features
Although a rumor at this point, Redstone 2 is said to feature a number of new mobile-specific features. We won't be surprised if a few of these features are exclusive to the Surface Phone, such as Windows Ink support with an active pen.
4. Guaranteed support
The Surface Phone being the latest mobile device from Microsoft means you can guarantee support for the next few years with feature updates and service updates.
5. Better specs
If the Lumia series isn't powerful enough for you, you can bet the Surface Phone will be packing some beefy specs. Although we don't know much about the Surface Phone yet, it being released in late 2016/2017 means it'll be rocking either a Snapdragon 820 or 830, which is an improvement over the Lumia 950's 808 and 810 processors.
My personal take
If the above reasons aren't swaying your choice, allow me to weigh in here. It all depends on your budget, really. At the end of the day, the Lumia 950 and the Surface Phone are products from Microsoft, which for the most part will run the same software and do pretty much the same things. Same software, different case.
If you're looking for a premium handset that costs as much as it feels good, and are interested in business-type features like the rumored Windows Ink support, you'll likely want to wait for the Surface Phone.
If on the other hand, you don't mind missing out on a few exclusive features, and are okay with a device that doesn't feel amazing but doesn't feel terribly bad either, the Lumia 950 series it the way to go, especially since they're so cheap right now.
Microsoft ending production of the Lumia line doesn't mean buying one now is a bad idea, since Microsoft is fully committed to Windows 10 Mobile and will continue supporting the Lumia series for at least a couple years.
Get the Windows Central Newsletter
All the latest news, reviews, and guides for Windows and Xbox diehards.