Simple Background Music Player app for Xbox One adds more languages and file formats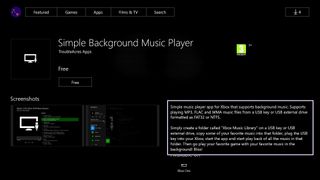 The Simple Background Music Player app for the Xbox One, which allows owners of the console to play music in the background from a USB key or external drive, has been updated with support for more languages and file formats.
The updated was revealed by Microsoft's Mike Ybarra on Twitter. He stated that 11 more languages are now supported by the Background Music Player app. More importantly, it can now play audio files in both M4A and MP4 formats, in addition to MP3, WMA, and FLAC. Finally, the app can now be accessed in nearly all of the Xbox One's markets around the world, with the exception of China.
How to play music from a USB drive on Xbox One using Simple Background Music Player
Windows Central Newsletter
Get the best of Windows Central in your inbox, every day!
I'm surprised this article isn't already filled with 100+ comments considering this is what everyone has wanted up to now, and is still lacking from Groove afaik.

Xbox should really need a way to play locally stored music and any media files on Groove and also for any other 3rd-party media app. Thing is unfortunately there is a limitation around UWP on Xbox, which somehow hasnt been solve even on Anniversay update. Hopefully this can be addressed with patches. If not then...well see ya soon in next Redstone 2 I guess.

No, we wanted an app that actually works, is able to play more than 200 god damn songs, and organizes songs into albums/artists instead of one single long ridiculous list.

Not available in Czech Republic :/ As is Groove..

Will it consider a phone a mass storage devoce to play music from?

No. At least I tried with two different phones and even though the music was on a folder called "Xbox Music Library" as instructed by the app, it didn't work. Posted via the Windows Central App for Android

Is not in mexico... I cant find it

It is not available in the store. You have to type it into the search bar in the store and it will appear. That worked in the UK

Can anyone comment on what types of FLAC files are supported? I've been struggling to find something that will properly play multi-channel FLAC files. PLEX seems to convert them to stereo when playing throug the XBox One.

How about you update it to handle more than TWO HUNDRED GOD DAMN TRACKS, Microsoft?! That should take priority over anything, certainly more important than languages or M4A formats. Second priority is organizing tracks into albums or artists, instead of just throwing them all together in ONE stupid list. Then the app would start to resemble something even remotely what we all expected after such a ridiculously long wait and hype from Microsoft about how awesome it would be. THEN start worrying about file formats and languages, for god's sake.

Chill out Brah! http://troubleacres.com/ This isn't even Microsoft that created this app! It is an individual family. Save your anger for when Microsoft finally makes the Groove UWP App available for non xbox preview members. Till then, count this as a blessing, cause if this family didn't decide to make this app and throw it in the microsoft store, we'd have nothing to play music in the background with, except for listening to podcasts in the background with CAST. And i don't know about you, but I don't even listen to podcasts on their own, let alone while i'm gaming.

Really wish they'd update the Media Player app.