How to play music from a USB drive on Xbox One using Simple Background Music Player
Play music from your USB drives with Simple Background Music Player for the Xbox One!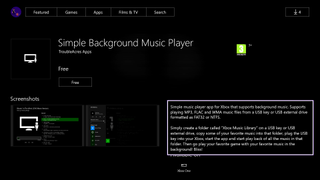 The Xbox One Summer Update added support for the highly anticipated background music feature. As suggested by the feature's name, select Universal applications on the Xbox One can now output audio while minimized off-screen.
Currently, only a limited number of applications support the feature, including Microsoft's Groove Music service and podcasting application, Cast. A developer at Microsoft has now debuted a new application that utilizes the feature, known as Simple Background Music Player.
As you'd expect, Simple Background Music Player only has a minimal set of features but allows for music to be played off any USB drive. The app's current offering is far from glamorous but acts as a reliable method to play locally stored music.
For now, the application is limited to a select number of countries, with more to follow as the developer localizes for additional languages. As of release, the app is only accessible to those in the United States, United Kingdom, Canada, Australia and New Zealand.
Here's how to get started with Simple Background Music Player on the Xbox One:
Preparing your USB drive and music files:
Format a USB drive as either NTFS or FAT32.
Open the USB drive's root folder (the lowest-level of the USB drive in Explorer).
Create a new folder.
Name this new folder 'Xbox Music Library'. This folder will be used as a fixed location for Simple Background Music Player to fetch your files.
Add your music files to the Xbox Music Library folder. Currently, Simple Background Music Player only supports MP3, WMA, and FLAC file formats.
How to play background music off a USB drive on your Xbox One with Simple Background Music Player
Ensure the Simple Background Music Player is closed
Insert the prepared USB drive into your Xbox One.
Open Simple Background Music Player.
When prompted, press Y on your controller to search for music. All music contained with the Xbox Music Library folder should appear on-screen. Press Y to refresh your music collection at any time while using the app.
After locating your files, Simple Background Music Player will automatically start playing your music. Using the analog stick, music can be paused, skipped and scrubbed using the controls in the lower left of the screen. If you're yet to use the Xbox One's new background music feature, make sure to take a look at our in-depth overview and guide!
Need more?
Check out our other articles for more info on the Xbox One Summer Update.
Windows Central Newsletter
Get the best of Windows Central in in your inbox, every day!
Matt Brown was formerly a Windows Central's Senior Editor, Xbox & PC, at Future. Following over seven years of professional consumer technology and gaming coverage, he's focused on the world of Microsoft's gaming efforts. You can follow him on Twitter @mattjbrown.
Does this work with phones? (Windows 10 mobile)

Nice. I'll have some Prodigy on while Im playing tomorrow.

Just tried this, works a treat. Mr developer, if you're reading this. Could you make a change so you can play specific files/ albums in their entirety, instead of all the tracks from whole albums being shuffled. Thank you.

It didn't work from my windows phone for me

your phone isn't a hard drive. in other words you can't format it for windows.

how this is simpler than using groove? pls

Groove doesn't support background music

Actually, it does with the new UWP version for those on the Xbox Preview. I used it last night playing music while playing with the new Maps app, it was glorious.

Oh cool, that's good it'll be available soon. Still, this is good for those that don't want to be in the preview.

i have the xbox preview on the latest update and it didnt work for me. is there any option to turn it on?

"how this is simpler than using groove? pls"

With Groove you need to put your music on OneDrive and not everyone has 10, 15, 20, 80GB of OneDrive space. So this is ideal for people with no OneDrive and no Groove Music Pass. Just a quick/dirty way to play music. Also good if at a party and someone brings some music on a thumb drive, etc.

You don't need to have 10,15GB...or whatever. OneDrive will allow you to store 50k songs FREE no problemo. https://www.microsoft.com/en-us/groove/onedrive

50k is the max number of songs it supports, they still go against your storage limit. Pass holders get an additional 100GB.

Oh, I confused. I had 19GB worth in there, but I'm also an office 365 subscriber, so I guess that's why that much was allowed. Man, that's a terrible solution then. More fuel to my fire of No Xbone. Currently using Google Play Music to store my collection.

Will this app work (play background music) from an MP3 player connected via USB (like on Xbox 360). Is there a way to play music from your iPod, Zune, etc.?

now for an update to the app to play via network share :-)

Someone has a nice taste in music :) kpop

Dlna background music please! Dont wanna plug in stuff all the time..

Can't see why I will use this. I don't listen to music much when I game.

@swizzlerz - Good thing the entire roster of Xbox One features is not exclusively taylor made to you personally at the expense of everyone else, isn't it. Some of us would rather listen to something than game in total silence.

One example I use it for is Rocket League. The music in the menus is great and would love for that music to be in the matches, where there isn't any music at all. With this app I can have the menu music plus some Foreigner going when I'm playing. Games that have dialogue would be a great reason to not listen to music when you game. You will find something to use background music with!

This app is absolutely useless - it can only handle 200 tracks or less loaded onto it, and even more amazingly, doesn't even allow you to choose which 200 you get - it selects them for you! Wow, how incredibly useful for someone like me who has a library of over 40+GB of music. The Xbox Original could handle this feature better than this. What a god damn embarrassment.

Maybe this is the first step

Tried it while playing Elite Dangerous...love it!!!
Windows Central Newsletter
Thank you for signing up to Windows Central. You will receive a verification email shortly.
There was a problem. Please refresh the page and try again.