New Xbox One app adds background music support from USB key or drive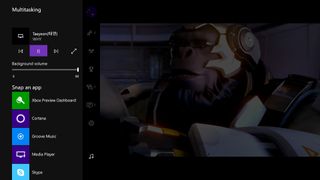 A new app for the Xbox One has added the ability for owners of the console to play music in the background from a USB key or external drive.
The app itself, as revealed by Microsoft's Mike Ybarra on Twitter, was created by one of the company's own developers.
The Simple Background Music Player supports MP3, WMA, and FLAC file formats, and owners of a USB external drive must have it formatted for either NTFS or FAT32 for it to work with this app. Microsoft added background music support to the Xbox One as part of its big Summer update last week.
For now, the application is limited to a select number of countries, with more to follow as the developer localizes for additional languages. Currently, the app is restricted to those in the United States, United Kingdom, Canada, Australia and New Zealand.
Need more?
Check out our other articles for more info on the Xbox One Summer Update.
Windows Central Newsletter
Get the best of Windows Central in in your inbox, every day!
Does it work if you plug your phone to the Xbox and read music from your phone?

To get it working, you have to create a root folder called 'Xbox Music Library' on the USB drive. So if you create one, it should work fine!

Even on windows 10 mobile? Lol

Will groove support play from USB and other external devices?

What's the point when you've got this app

Awesome, will give it a try now!

Beautiful. Something that should be part of Groove really. I wonder if the dev plans to add the ability to read music from a network location. That would be beautiful. Or if the dev just plans on leaving this as a proof of concept.

My thoughts exactly, either Groove or the Media Player app (forever in preview) should provide this capability

Is Microsoft finally delivering on the UWP consumer promises? This could be a game changer in the console war.

Can you have music and games on an external drive and have them both working?

That I would like to know.

Doubtful. They are separate for a reason on current system. Performance. Maybe down the road, but it is not controlled by app, it would be a core OS change.

Seems pretty silly to lock the app to those regions only because of localization, specially now that we can actually have a different language from the region. But oh well, a simple temporary change of region solved the problem anyway.

Can't see it in the store.. (Australia). Edit: ok found it.. didn't realise that you had to search for it to show up.
Windows Central Newsletter
Thank you for signing up to Windows Central. You will receive a verification email shortly.
There was a problem. Please refresh the page and try again.